10 Planners That Will Help You Focus in 2018

Make 2018 your most awesome year yet!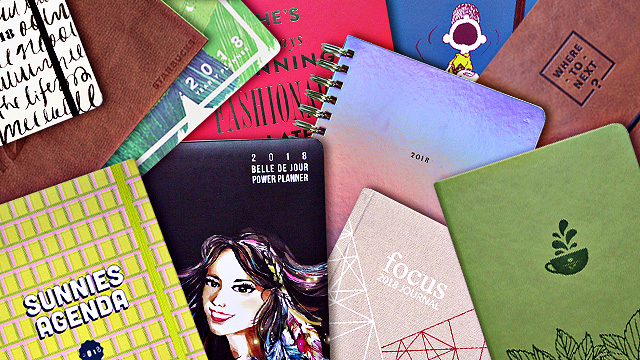 2018 is just a few days away and surely, for a mom, there's a lot of planning that needs to be done for the coming year. Whether it involves travel, budgeting, or celebrations, you know you must write them down so you won't miss any of them. This is where a planner comes in handy! Looking for one? Here are our top picks:                      


"Sana Payat nalang Ako, Payat pa Rin, Payat nalang ulit" and other Wishes (P520)
This 2018 planner will definitely remind you of John Lloyd and Bea's 'One More Chance' movie but in a funny and realistic way! It includes a monthly calendar spread, pockets and ribbon bookmark, and 54 hilarious bonus features! This planner surely has a lot of surprises and is definitely entertaining! Available at selected Fully Booked stores and online.

ADVERTISEMENT - CONTINUE READING BELOW





Papemelroti 2018 Pocket Planners (P20)
These are a classic, without burning a hole in your pocket! Choose from 14 different designs. Available at Papemelroti stores or online.





365 Wonders (P1, 195)
This planner is specially created for empowered women like moms. You can choose between the (gray) Jewel Wonder Collage cover or the (purple) Girl Portrait cover. It features art and written pieces from talented Pinoys, and sends a message that one must keep on wondering and discovering things around her. Available at FullyBooked BGC, Rockwell, and Greenhills. You can also order online. 





Sunnies 2018 Agenda (P599, or P199 with any Sunnies purchase)
Its bright colors and fancy patterns will surely brighten your mood! Available at Sunnies Studios, Sunnies Specs Optical Stores and online.





2018 Belle de Jour Power Planner (P560–P690)
BDJ created this planner to encourage Bellas to develop their own uniqueness and mold themselves to become better individuals. The planner's pastel colors also features awesome illustrations and calligraphies. There are also inspirational stickers you can use to boost your positivity and motivate you to achieve your written goals. Order online.

ADVERTISEMENT - CONTINUE READING BELOW





Scribble Planner (P595)
Moms, this is a great gift for your teen girl to start planning her "lakad" with friends and family gatherings. She can also list down her homeworks, schedule of deadlines, and exam dates here. This pink planner has cool artworks inside, cute stickers, and a back pocket to store IDs, memo notes, and her secret money as well! 
Available at Fully Booked Stores and online.

ADVERTISEMENT - CONTINUE READING BELOW

  


Mercury Drug: My Write Life Suki DayBook 2018 
Keep healthy and organized with the help of Mercury Drug's health reminders that can be found in this handy planner. It also helps you to track your food and water intake, and there is even a Social Media Detox plan that you can try! Suki Card holders may redeem it for only 30 points! It comes in three colors: Blue, Pink, and Green. 
Visit the nearest Mercury Drugstore for details.

ADVERTISEMENT - CONTINUE READING BELOW

Limitless Planner (P630)
The Limitless planner is perfect for moms who love simple things. There is a lot of space to write your plans and an expense tracker is also included inside. You can also choose between a vertical and horizontal layout. A no-tear double sided pocket and fun stickers are also inside this planner! You may order here.

ADVERTISEMENT - CONTINUE READING BELOW

Likhain 2018 Mulitifunctional Planner (P850-P990)
This planner might seem small but it can hold all your necessities. Aside from the dateless planner, it comes with the planner's wallet that has a card holder, coin purse, passport holder, a slot for paper bills, a key ring holder, mobile/cord storage, and a pen holder. You can even personalize it by adding your name on it! To order this multifunctional planner, visit the Jacinto and Lirio website.

ADVERTISEMENT - CONTINUE READING BELOW

Where to Next? Planner (P680)
Plan your hiking, beach and island hopping with the family! The leather cover has a vintage and natural feel, and inside you'll find pictures of beautiful landscapes, vacation leave list, questions to ask a stranger and more. Aside from planning your family getaway with this planner, you will also be able to take part in caring for Mother Nature, because for every planner sold, a tree will be planted in the ancestral domain of the Aetas in Zambales.Available at selected Fully Booked stores, or you may order online.

ADVERTISEMENT - CONTINUE READING BELOW

See more planners at Spot.ph.

Trending in Summit Network