Join the next Smart Parenting Giveaway and get a chance to win exciting prizes!
Join Now
14 Celebrity Moms and Their Christmas Trees (2016 Edition)

What's your Christmas tree like this year? Share a photo via our Facebook. You can also add the hashtag #SPchristmas2016 on your Facebook and Instagram photos.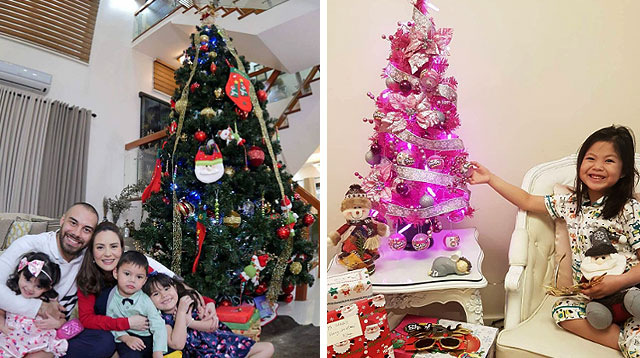 It's that time of the year again, and we know you're already busy finalizing your holiday decorations. Also, not to pressure you, but December is just around the corner so you need to put up your tree stat! For inspiration, we have compiled photos of the Christmas trees that some of your favorite celebrity moms have already put up. From pink trees to designer trees, check out which tree puts you in the merry spirit of Christmas. 

ADVERTISEMENT - CONTINUE READING BELOW

Vicki Belo commisioned American decorator Stephen Brown (whom Oprah Winfrey has used!) to ensure Scarlet Snow can freely touch the Christmas tree without causing much damage, of course. 

Team Kramer went for different designs for the kids' holiday stockings this year.  

ADVERTISEMENT - CONTINUE READING BELOW

Danica Sotto-Pingris enlisted the help of the whole family including husband Marc to decorate their tree. 

ADVERTISEMENT - CONTINUE READING BELOW

Neri Naig put up two Christmas trees, one in her and Chito Miranda's home in Manila and another in the small bed-and-breakfast cottage in Tagaytay. 

Sunshine Cruz has a colorful red-and-gold tree this year, perfectly in tune with her blooming love life.

ADVERTISEMENT - CONTINUE READING BELOW

Rica Peralejo Bonifacio and family are celebrating Christmas with new nephew Pablo this year!

Rufa Mae Quinto posed with a huge tree to mark the new chapters in her life as soon-to-be wife and mom. 

ADVERTISEMENT - CONTINUE READING BELOW

Bettina Carlos and daughter Gummy have a hot pink and silver Christmas tree!

ADVERTISEMENT - CONTINUE READING BELOW

Dawn Zulueta's tree is gold all over this year!

Nicole Hernandez de los Angeles posted a photo of eldest son Alonzo with their tree, which has polar bears!

ADVERTISEMENT - CONTINUE READING BELOW

Dimples Romana's son Alonzo can't help but gaze in awe and wonder at the Christmas tree lights!

Aubrey Miles and Tory Montero's tree is scarlet red (and they also had their interiors newly painted, DIY style)

ADVERTISEMENT - CONTINUE READING BELOW

ADVERTISEMENT - CONTINUE READING BELOW

Marjorie Barretto has a Christmas village this year, complete with fake snow!

Amy Perez says it was her husband Carlos who put up their tall and lean Christmas tree

What's your Christmas tree like this year? Share a photo and a short description in the comments below or via our Facebook. You can also add the hashtag #SPchristmas2016 on your Facebook and Instagram photos.  

ADVERTISEMENT - CONTINUE READING BELOW

More from Smart Parenting