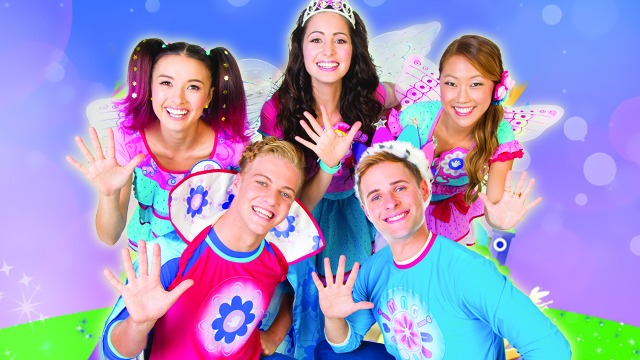 Just when you thought Christmas—the most wonderful time of the year for kids and adults alike—couldn't get any more exciting, here comes a festive and engaging show your kids wouldn't want to miss. The popular Australian kiddie program Hi-5 will be in town this weekend of December 16 to 18 to stage their most exciting show yet!
As part of its Grand Fiesta Manila holiday celebrations, Resorts World Manila presents the Hi-5 Fairytale live and exclusive at its award-winning Newport Performing Arts Theater. The show will feature the beloved, classic children's fairytales with special Hi-5 twists as narrated by the charming Chats from her book of Sharing Stories.
Here we give you three irresistible reasons (as if you and your kids need any more convincing!) to not miss this theatrical show for the world.
It is a visual and experiential treat
In true keeping with the Resort World Manila's holiday theme for the year—"The Magic is Everywhere"—Hi-5 Fairytale promises to delight with its spectacle of lighting effects and projections. Plus, the endearing and entertaining characters such as the Knights and Princesses, Sir Bucket Head and Speedy the Art are guaranteed to keep the youngsters grin, chuckle and even talk about it long after watching the show.
It is educational
The fact that Hi-5 was recognized as the Best Preschool Programme of 2015 at the Asian Television Awardees, among its other awards in the previous years, is a testament to the show's ability to seamlessly weave together the educational component and the entertainment value.
Developed by educational experts, the show is especially known for its signature engaging and easy-to-follow song, dance and play segments. Hi-5 Fairytale targets the current crop of "media-literate" children, and incorporates play-based learning that delves on aspects of learning theories for children.
It is the swan song of some the cast members
Do your kids particularly like Mary, Dayen, or perhaps Tanika? Hi-5 Fairytale marks the farewell tour of these cast members. Watch them one last time as they perform with Lachie and Chris, and encourage your youngsters to sing along with the cast as they render their hits like "L.O.V.E", "Making Music", and "Living In a Fairy Tale."
Such festive show is a good prelude to Christmas, which happens to be exactly a week away. And it's a great chance to bond with your kids, too! Shows are slated on December 17 (11:00 a.m., 2:30 p.m and 6:00 p.m.); and December 18 (2:30 p.m. and 6:00 p.m.).
Tickets are available at the RWM Box Office at the ground floor of the Newport Mall and all Ticketworld outlets. Call (632) 908-8888 loc. 7700 or 891-9999 or visit www.rwmanila.com.
This article was created by
Summit Storylabs
in partnership with Resorts World Manila.