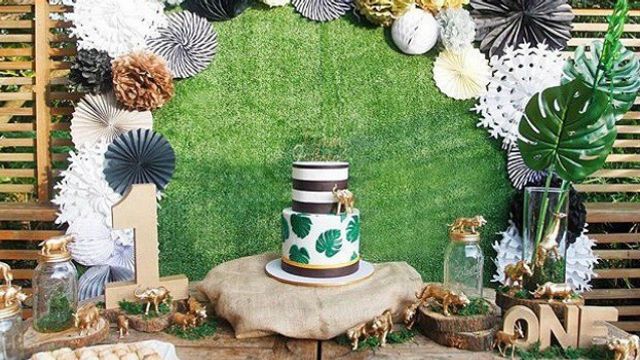 Kiddie parties these days come close to weddings and debuts, complete with coordinators, stylists, photographers, hosts, the works. Beautiful styling equals beautiful photos, right? The DIY game, however, is strong, and you just have to take a look at the photos from these parties. Props to the moms and their family and friends who helped achieve these pretty party looks!
1. An elegant safari-themed party
We think the gold, black, white and green color scheme is fancy!

DIY party tip: Plastic toy safari animals can be bought in department stores. Spray them with gold paint, and you've got yourself elegant-looking party props!
2. A nostalgic 50s diner party
This mommy's Coca-Cola bottle collection came in handy while styling this 1950s-inspired diner party.  See more details here. 

DIY party tip: If you have limited space, do away with a fabulous stage set-up. Focus on your dessert table, and use that as the main backdrop of your event.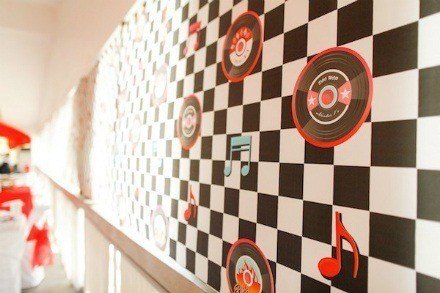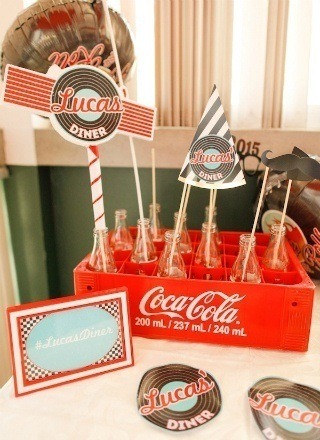 3. A gorgeous dessert spread

This sweet-looking table is definitely a beauty. And it's made even more special because the celebrant's lola DIYed the dessert spread!
DIY party tip: Custom-desserts usually come at a price. Mix up your dessert table with custom-made and store-bought treats to save on cost. 

4. The Frozen fever
Take notes, moms, because this theme is will never get old, and you can play with a lot of party elements. See the full photos here.
DIY party tip: Picking a theme with well-known elements (in this case, Olaf, snowflakes, crowns, etc) makes the party styling easier.


5. Flowerland
Mommy's got some flower-making skills! A quaint café was the perfect backdrop to these giant flowers. See more of the party here.
DIY party tip: Find a venue that already has character so you only need to add little details to personalize your party.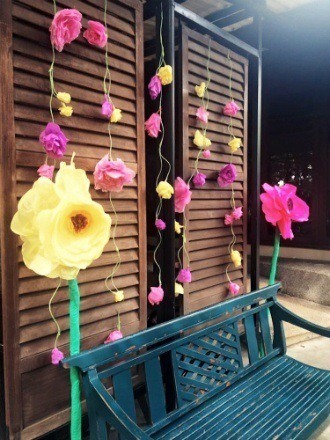 6 and 7. Two different construction party executions
Hard hats, tools, orange cones. This theme is a favorite because there are so many elements you can use. See more construction party inspirations here and here.

DIY party tip: Gather large boxes and turn them into makeshift buildings. It's a nice personal touch -- and a practical thing to do -- to use your kids' toys as party props just as how these Tonka trucks were used.
8. A Breakfast with Tiffany
Don't you love it when moms think out of the box for children's party themes? You won't see any pinks or pastels here! See more inspiration here.

DIY party tip: Kiddie parties don't always have to have a lot of loud and bright colors (or pinks for girls and blues for boys.) Colors like the classic black and white can work beautifully.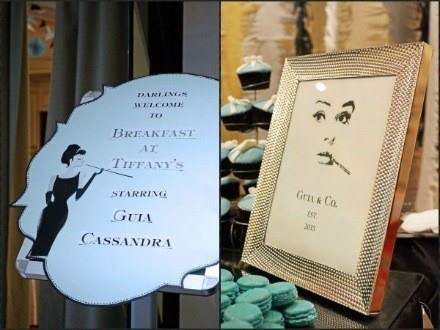 9. A wall of paper rosettes
These paper rosettes were truly a labor of love and completed the look of this DIY dessert spread. 

DIY party tip: Enjoy the moment! When you feel like it's taking so much of your time, this momma said it best: "Sometimes, I would look back and think if all the time and effort was worth it. At the back of my mind, 'Ito na yun? Isang table lang lahat yun?' But at the end of the day, the answer to my question is always the same... Yes, it's worth it." 

Monica Rios Arcinue daydreams of parties all day in between running a household and raising a toddler. After leaving the corporate world, she decided to pursue her passion for party planning through her blog, Homemade Parties, where she features DIY parties of moms just like her.