We Love These Halloween Family Costumes! From Book Characters To Netflix Hits, Here's Our Top Picks

These families take Halloween costumes seriously!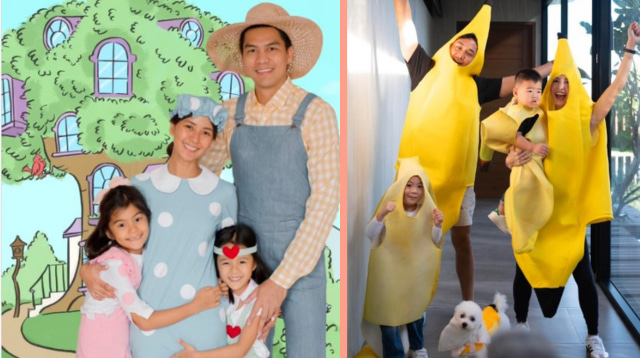 If there's one holiday when we can freely dress creatively - not just the kids but ourselves, too - it's Halloween! Whether you want to be prim and proper as a Disney princess, or scary zombies or monsters, from well-planned make-up and costume to whatever-is-available, from funny to trendy, every get-up and costume is welcome!

What other parents are reading

Aside from the sugar rush from all the trick-or-treating, celebrity Halloween costumes also came flooding in. We rounded up some of the cutest celebrity Halloween get-ups, from kids to the whole family dressing up!

Bianca Gonzales-Intal and family

One of the first families to share their Halloween costumes is the Intal family. The Intal brood dressed up as their family's favorite book series - The Berenstain Bears. JC Intal was Daddy Bear, Bianca was Mommy Bear, Lucia was Sister Bear and Carmen was Honey Bear. The Intal family completed their costumes with a backdrop based on the movie. How adorable!

Sheena Halili

Another whole family affair this Halloween is Sheena Halili, her husband, and their daughter Martina's costumes. According to Sheena's IG post, Martina specifically requested their family's costume for this year. The whole family dressed in all black, based on the hit Netflix series Wednesday. Martina's costume was complete with the scary hand on her head and shoulders! Sheena wore the iconic black hair of Morticia Addams.

Camille Co

One creative and fun concept was by social media influencer Camille Co and family. At first, their IG reel was just Camille and her daughter showcasing their Jasmine and Aladdin costume. But towards the end of the short video came the fun - Daddy was the flying carpet! "Should we maybe make dressing @jonikoro as an inanimate object a Halloween tradition already? ???? Happy Halloween from #TheCokoros," Camille wrote in IG.

The Crawfords

The Crawfords also made Halloween a family affair - but it seems like Daddy Billy was not happy with his costume! In an IG reel shared by Coleen Garcia-Crawford, the whole family based their costume and set on The Wizard of Oz. It was complete with special details like the yellow brick road and Dorothy's red shoes. Amari dressed up as The Cowardly Lion, Coleen was Dorothy, and Billy was Tin Man. He was not even smiling in the video, as he was painted with silver paint!

ADVERTISEMENT - CONTINUE READING BELOW

Skyfam

Social media influencers Kryz Uy and Slater Young chose a simple yet cute concept for the whole Skyfam! This Halloween, they all dressed up as bananas. Yes, bananas - Sagingfam! "Happy Halloween from the #sagingfam! ???? what a chaotic 2 min photo session with yaya making an accidental foreground on all the pics and sevi losing it ????," Kryz wrote in IG. As it was with all picture-taking with a child, it will always result in a not-so-perfect photo - a tantrum on the side, crying at the end, and a whole lot of chaos. But it made the Skyfam's Halloween get-up special and memorable!

Max Collins and Skye

Max Collins and her son Skye did a magical and creative concept for this year's Halloween. Max was dressed as Tinkerbell, with fairy wings, iconic hair, and strappy sandals. Skye was of course Peter Pan, with his little hat on. Their photo was fantastic and looks like a scene from Peter Pan!

What other parents are reading

Isabelle Daza-Semblat

"Well, well, well," Isabelle Daza-Semblat, mom of three, shared her Halloween costume for 2023. She was dressed as Maleficent - complete with horns and protruded cheekbones. Belle was almost unrecognizable in her costume, and one netizen said, "Is that you Ms. Belle, Hindi ko nakilala!" Way to go, Belle!

Lahbati-Guttierez Brothers

The Lahbati-Guttierez brothers Zion and Kai decided to be Ninjas this year. "Ninja sandwich," Mom Sarah wrote in her IG. The boys' costumes came with a sword and face covers. They wore their costumes while trick-or-treating in their village.

Kidlat Velasquez

Kidlat Velasquez, the only son of social media influencers Cong TV and Viy Cortez, dressed up as a little cutie vampire. His costume was complete with a cape, and his Vampire headband looked adorable, too! He wore his costume at Congpound's trick-or-treat party.

Alex Gonzaga-Morada

Alex Gonzaga-Morada has always made their Halloween costumes special. In 2021, she recreated Sarah, Ang Munting Prinsesa with sister Toni Gonzaga. This year, Alex and her family's Halloween costume was still spot on and funny but also came with a bit of sadness. "Carl and Ellie forever! ????????If you know their love story you'll know why this year I chose them ????," Alex wrote in IG. Carl and Ellie were characters from Disney-Pixar Animation "UP", where the couple experienced losing their baby. Alex and Mikee Morada had a miscarriage in 2021.

ADVERTISEMENT - CONTINUE READING BELOW

Alex's parents Daddy Bonoy, Mommy Pinty, and Uncle Jojo Cruz completed the Halloween get-up.

What other parents are reading

Maine Mendoza-Atayde

Maine Mendoza-Atayde, newly-wed to Congressman Arjo Atayde, served a memorable Halloween costume for 2023. Maine has been popular to have poker-face reactions during roller coaster rides. Even on the scariest loops, she was stone-faced. They also recreated these reactions in their creative wedding video. That's why she decided to dress up as a roller coaster herself! "Roller coaster of emotions. Lol who needs a rollercoaster when you can be one? ????," Maine wrote in IG.

Already thinking about next year's Halloween costume? Get inspired with this.








Trending in Summit Network