21 Pregnancy Announcements That Made Us Go Awww (and LOL)

These pregnancy announcements are so creative and inspiring!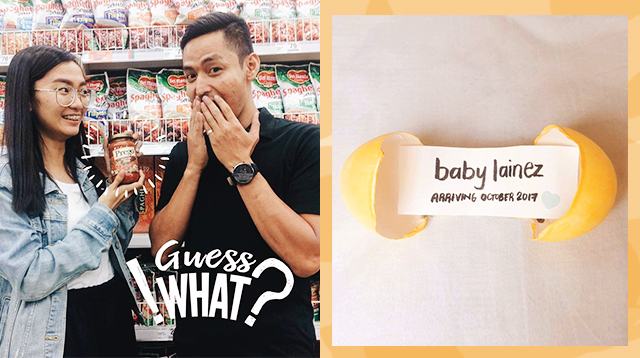 Pregnancy comes with a roller coaster of emotions, from disbelief to excitement to unexplained joy to anxiety. There are just many thoughts to process including birth plan, your diet, baby name, nursery room design, and the list goes on. But before all of these is the question of how do you reveal the big news to your hubby, families, and friends? Check out these fun and unique ideas for your pregnancy announcements!

What other parents are reading

Flaunt that baby bump!

The most obvious way to announce that you are pregnant is to show off your baby bump, and Paula Pangilinan did it via social media.

Paula posted this photo on her Facebook account with a funny caption, "Yung busog ko ng Pasko, hanggang 2018 na!"

"The announcement was inspired by the holiday season. We decided to announce it to the family first during the Christmas celebration. And then we posted it on social media before 2017 ended. Since there were a lot of festivities and everybody was eating a lot, we thought of announcing it to make people think that I was only full from all the eating, but my stomach shall remain big until I give birth," Paula shared.

ADVERTISEMENT - CONTINUE READING BELOW

Cielo Go didn't think her pregnancy would reach full term because it had been a difficult journey.

"Those progress pictures became my announcement photos [which were taken]

a  month 

before I actually give birth. I didn't expect we'll get that far!"

She treated the "progress" photos of her pregnancy as a "remembrance of sorts"  in case she lost the baby. Thankfully, it was the not the case — and she had the photos already for an announcement.

Aileen Padilla had been bugging her husband to make the announcement on social media, but he wanted to wait a little longer.

Her husband's surprise to make this photo happen was what made it unique and magical for Aileen.

CONTINUE READING BELOW

Recommended Videos

Then, one Sunday afternoon, he suddenly asked Aileen to stand while he sat beside her and lovingly rubbed and hugged her growing belly. The photo was raw and one of the most-heartwarming times of her pregnancy. "It reassured me that despite the mommy stripes, the huge tummy, unmanageable hair and skin and all other sudden physical changes, I feel so loved and lucky to have a husband who supports me."

What other parents are reading

Fergie Mae Icaro-Esguerra saw her baby as heaven-sent, so her announcement had this background for the photo.

Keep it real and positive.

Another proof to show in your announcement is the pregnancy test stick that you took that showed the two lines. 

Add a little creativity and humor like how Tin Edem Mendoza did when she surprised her husband with the pregnancy.

"His initial reaction was (nanlaki yung mata): 'Saan mo nakuha 'to?!"

ADVERTISEMENT - CONTINUE READING BELOW

For Laidee Camille Reyes, one pregnancy stick was not enough to confirm that she was expecting. She needed nine!

"You were so positive you were very pregnant!" was all Laidee's husband could say.

She wanted to surprise her husband in the most creative way possible at the beach, so she bought nine pregnancy sticks to form the word "HI," added a personalized note, and framed the whole thing!

What other parents are reading

Involve the siblings.

Getting a new sibling must be pretty exciting. Why not involve the future ate and kuya as early as you can in your pregnancy journey?

Ira Muyot's eldest was so thrilled when he found out mommy was pregnant. On her 2nd trimester, Ira took this cute shot of her little boy holding the copy of Ira's ultrasound.

ADVERTISEMENT - CONTINUE READING BELOW

Jetrina Martinez-Velasco made it look like her son was looking at the colorful balloons.

Angel Francisco-Naval wanted their firstborn to take a big part in the announcement. "This was not just a celebration of us being second-time parents but her being officially an ate."

Mimi Alojado-Muliano and hubby decided to keep the pregnancy a secret until Christmas. They wrapped this photo of their eldest son in a frame and gave it to the grandparents as a holiday gift.

ADVERTISEMENT - CONTINUE READING BELOW

What other parents are reading

Get the "other" members of the family in action, too!

We're talking about your furry friends or pets who are also part of your family, moms, and dads! They're part of big family events, so it just makes sense that they become part of the pregnancy reveal, too.

Chloe Eunice Manalo had PCOS and had been trying to get pregnant for eight years.

She eventually gave up and diverted her attention (and love) to her dogs. When she finally got pregnant, it was her fur babies who announced on Facebook that they're getting a human.

On his wife's birthday, JR Ordinario posted this photo of Maria Gelli Mariz's ultrasound and their pet fish on Facebook.

ADVERTISEMENT - CONTINUE READING BELOW

What other parents are reading

Incorporate your favorite hobby or interest, or make it a theme!

Pennelope Baria is a voracious reader, so she used the reading corner, a wedding gift to her from her husband, in their room as the background.

Margaret Tipton-Siytangco and hubby are huge Harry Potter fans!

When it was time to share the news, there was no doubt it was going to have a Harry Potter theme.

ADVERTISEMENT - CONTINUE READING BELOW

The couple met at a Harry Potter quiz night, and Margaret's now-husband popped the question during a private showing of Harry Potter. They had a Harry Potter-inspired wedding and honeymoon where they went to the Universal Harry Potter Wizarding World in Japan!

Freedom and Carlo Holganza, a diving instructor, took the opportunity to make a beach-related photo announcement just because they LOVE the ocean!

What other parents are reading

Be resourceful! Check the household or outdoors for props.

Can you believe this beautiful, movie poster-inspired photo was just taken at home?

Shannalene Napay and hubby were inspired by the film Knocked Up. They decided to set up the camera, add some props and ta-da! Instant preggo announcement!

ADVERTISEMENT - CONTINUE READING BELOW

For Mimi Castanares, simple, cute and mysterious was the way to spill the beans.

Pam Remoluna and hubby were just doing their usual grocery shopping when they saw this product, and thought, why not?! LOL!

What other parents are reading

Make an announcement gift for the future grandparents and aunts/uncles.

If you prefer to keep the announcement private and subtle, but still create that same level of excitement in your family, give the future lolo, lola, tita, and tito simple gifts with your message.

ADVERTISEMENT - CONTINUE READING BELOW

Maria Kathrina Eugenio found out she was pregnant on Valentine's Day.

"See you in September. Love, baby."

She and her husband gave their families cupcakes and cake lollies with a post-Valentine's greeting and a message that said, "See you in September. Love, baby." Not everyone got it at first. "Most had second thoughts and asked, 'Baby?' We just nodded and smiled, and that's when they got the message. They hugged us and were very excited!"

Take advantage of the holidays!

Holidays, festivities, and other celebrations present cool ways for you to announce your pregnancy.

I, for one, took advantage of the Christmas season when I officially announced my second pregnancy via Facebook. It was the best holiday gift for me.

ADVERTISEMENT - CONTINUE READING BELOW

Dawn Manlapaz-Lainez, on the other hand, had a straightforward yet cute way of sharing the news on Easter Sunday.

They decided to do a "cracking open the big news" theme, in time for Easter which happened to be husband's birthday that time.

What other parents are reading

Celebrate your pregnancy milestones!


Enter your details below and receive weekly email guides on your baby's weight and height in cute illustration of Filipino fruits. PLUS get helpful tips from experts, freebies and more!

You're almost there! Check your inbox.


We sent a verification email. Can't find it? Check your spam, junk, and promotions folder.
Trending in Summit Network