I Lost 12 Kilos After Giving Up On Keto

The ketogenic diet may be effective to lose weight, but it's not a long-term solution.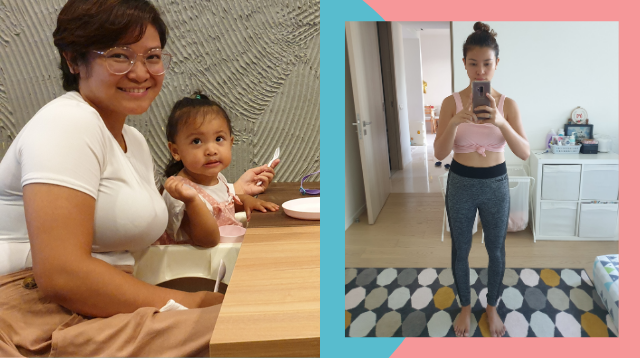 If you're a new mom, you'll know that it might take a while before you can take photos of yourself again. So, I didn't realize how much I've changed until a couple of years after giving birth.

To paint you a picture, this was me before marriage, during pregnancy, and almost two years into motherhood.

PHOTO BY

Courtesy of Camae Dela Rosa

As I stared at this unflattering photo that my sister took, I started to wonder who this girl was and what the hell happened to that girl on the beach. I wanted to bring the latter back, but how?

Discovering the ketogenic diet

Before losing weight, I was 63.8 kilos.

PHOTO BY

Courtesy of Camae Dela Rosa

ADVERTISEMENT - CONTINUE READING BELOW

My husband John, had just started his keto diet. He was already a month into it and I saw how much weight he lost, so I decided to give it a go.

So what exactly is the "keto diet" and how does it work?

Keto or ketogenic diet is a high-fat, adequate-protein, low-carb diet. First, you lose the water weight. Then, when you enter a state of ketosis (measured by ketones in the urine, or when you get keto breath), your body burns fat instead of carbs.

One of the challenges of doing keto was the limited food choices and staying within macros. So what did we eat? Nuts (macadamia, pecan, cashew, and pistachio), cheese, seafood, avocado, salad on olive oil, eggs and meat.

You'll find tons of recipes on the web so you can mix it up. Some veggies are high in carbohydrates so we only ate limited amounts of it and mostly ate leafy ones and cauliflower. As for fruits, most of them are high in carbs so we ate maybe one or two strawberries a day since that has the lowest carb count.

To keep track of macros, John and I used the app Cronometer to calculate how much fat, protein, and carbs we needed for our specific BMI. It's a nice app that lets you track your macros so you stay within limit.

For our sweet cravings we turned to Seriously Keto. They have all sorts of keto friendly food — sweet and savory! You have to be really mindful though because you can't have cheat days on keto, otherwise you won't achieve ketosis.

CONTINUE READING BELOW

Recommended Videos

Keto works great if you do it properly, but I won't advise it for longer than a month as it can cause some health issues.

More ways to lose weight 

I used to have a love-hate relationship with physical activities mainly because I'm just really lazy. Haha. But something was different this time. I wasn't forcing myself to do it like before. I felt good about the next-day body sore like it was some kind of reward for exercising and the sweat was an indication that it was working.

I downloaded the Nike Training Club (NTC) app and started from there. You can create a plan suited for your activity level and available equipment. It's great for me because I don't have to worry about looking for a daily exercise and there's a balance of which muscle group to exercise and when to have recovery. The best part is it's free!

After some time, I also got into intermittent fasting. This means eating only at a certain time period. I started with 8 a.m. to 4 p.m. (16/8, where 16 is the fasting hours) then progressed to 1 p.m. to 5 p.m. (20/4).

This is me right before I stopped doing keto. I had already lost 7.3 kilos two months into this whole fitness journey. Not bad, right?

ADVERTISEMENT - CONTINUE READING BELOW

Giving up Keto

By now you're probably thinking it's too much. You are absolutely correct.

One morning, I was doing a high intensity interval training (HIIT) workout and my whole face felt numb. I thought I was having a heart attack.

John took me to the nearby clinic where the doctor told me I needed electrolytes and advised me to eat more carbs or stop doing HIIT. My body wasn't able to handle all the burning while getting none of the nutrients. 

I needed to stop keto at some point anyway so I went with more carbs.

The road to a healthy lifestyle

Happier at 51.5 kilos.

PHOTO BY

Courtesy of Camae Dela Rosa

While recovering from that heart attack scare, I decided to have a 2-week break from everything. Then, the pandemic hit hard and we were left without a nanny. I just didn't have the energy to exercise after juggling work, chores, and taking care of our daughter, Amaris.

ADVERTISEMENT - CONTINUE READING BELOW

I still continued with low-carb diet and had cheat days on weekends. My target was to go down to 50kg and achieve the ideal BMI.

When our yaya came back after four month, I was able to restart my exercises. I asked friends for recommendations and they suggested PopSugar Fitness and Lizette Pompa on YouTube. I tried some of PopSugar's workouts for a while but I hated cardio so I couldn't keep it up.

I tried Lizette's workouts and I fell in love immediately! Until now I'm following her program. What I love about her workouts is that she incorporates weight training with yoga.

She only posts yoga classes on her YouTube, but her Instagram has all sorts of quick workouts. I also downloaded her Playbook app which is somewhat like NTC. I love her strength training program and I've done it twice already.

Although our keto diet was short lived, it did jumpstart healthy eating habits. My husband and I don't eat chips as much and we only drink alcohol maybe once or twice a week. We limit our sugar and carb intake.

I exercise regularly and have felt my progress. In terms of weights, I started with 2kg dumbbells and now I can carry 5-8kg. I can feel my form improving as well especially when doing push ups.

From almost 64 kilos, I am now at 51.5 kilos. It might have taken a year before I was able to lose 12 kilos but I am shedding the weight in a healthier way. My next goal: convince my husband to exercise!

ADVERTISEMENT - CONTINUE READING BELOW

This piece is by SmartParenting.com.ph reader Camae Dela Rosa and first appeared on her blog, "DLR Stories." Edits have been made by Smart Parenting editors. 

Camae is a software engineer by day and mommy by night. Follow her family's adventures as expats at dlrstories.com.

Looking for more weight loss tips? Click here.

What other parents are reading




Celebrate your pregnancy milestones!


Enter your details below and receive weekly email guides on your baby's weight and height in cute illustration of Filipino fruits. PLUS get helpful tips from experts, freebies and more!

You're almost there! Check your inbox.


We sent a verification email. Can't find it? Check your spam, junk, and promotions folder.
Trending in Summit Network