8 Simple Ways to Care for Yourself While Caring for Your Child

Taking care of your mind and body is the only way you can fully care for your family.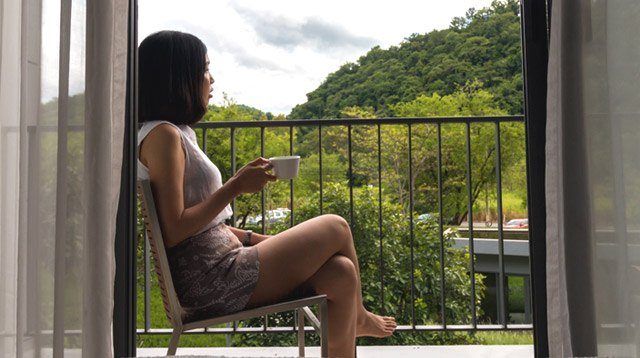 First things first. Self-care isn't indulgence — it's necessary. When parents ignore the physical needs of their body and the emotional needs of their soul, it invariably leads to chronic stress, burnout, depression, says Dr. Monique Tello, a physician and contributing editor to Harvard Health Publishing. 

"[Self-care] is so, so important, she says. "If it is important to us to be able to take care of others, then we must pay attention to our own well-being."

Caring for yourself isn't just about going to the spa either. It's something that you can do every day alongside caring for the kids. Start here: 

1. Don't deny yourself that (quick) break
Within the day, practice being better at learning when you need to take a break for yourself. Even five minutes to have a glass of water alone in the kitchen or to make a quick trip to the sari-sari store can do wonders. It's time to just breathe, and, yes, that can mean doing breathing exercises that less than a minute (like this). But it can also be as easy as staring into space, just soaking in the alone time. 

If you feel like you're about to burst, catch yourself before you do. "Ask yourself 'What do I need right now to stay in balance?' Then, give it to yourself," says Dr. Laura Markham, a psychologist and parenting expert, in an article on Aha! Parenting.

Your break can also include scrolling through Pinterest, for example, or a warm shower. "It isn't good for us to feel deprived. It kills our natural joy. And it isn't good for our kids, who end up with a resentful, negative, impatient parent." 

ADVERTISEMENT - CONTINUE READING BELOW

What other parents are reading

2. Skip the junk food
Dr. Tello believes that self-care for parents and caregivers needs to be done every day. One of the primary and easiest ways to do this is to eat better, she says. Make sure you eat enough, and your meals are not just mainly composed of processed food. "Stay away from inflammatory, sugar-spiking, insulin-releasing foods like processed carbohydrates," says Dr. Tello.

Eat more vegetables and fruits! "We don't have to be perfect, but the more plant-based our diets are, the better," she adds. You don't want to feel even more tired and sluggish than you already are, mom. Give your body the right fuel it needs to feel more competent to tackle the day ahead. 

3. Learn when to say no
We can only have so much energy in a day. Learn to set limits and decide where energy is needed the most (and reserve it!). "Say no to things that don't serve you. Say yes to things that are fulfilling and replenishing," Aimee Danielson, director of the Women's Mental Health Program at MedStar Georgetown University Hospital, told The Washington Post. You can say no to relatives asking for too many favors, for example, so you can say yes to a coffee date with a friend you haven't seen in a while. 

What other parents are reading

4. Find out what time in the day you're most stressed and irritable
You may be most stressed during lunch when you have to feed your toddler or at bedtime when it's a struggle to get the kids to bed. Don't let things stay the way they are — do something about it! "It's your life, and you're in charge, whether it feels that way or not. Letting yourself feel victimized doesn't help your kids," says Dr. Markham. 

Talk to your partner about sharing the responsibilities around the house, whether it's help with bedtime or the dishes. And, there are lots of expert advice on how to deal with a picky eater. If mornings are too much, find ways around it like recipes for fast breakfast meals you can prep the night before.  

5. Be specific on plans to spend time for yourself
Sometimes, moms feel bad whenever they leave their kids at home to do something for themselves like spend an afternoon at the spa or just to relax at a café. But this doesn't make you a bad parent, mom. You deserve some time to be alone and reconnect with yourself. It will give you something to look forward to in the week as well. 

Do away with mommy-guilt and be specific on when you plan to have me-time. Is it this Friday night? Mark it on your schedule and tell your family. "Those appointments with yourself will replenish you," says The Washington Post writer Lindsey Roberts.

CONTINUE READING BELOW

Recommended Videos

What other parents are reading

6. Do something new – something other than parenting
"You are the same woman before you got married and had children. And this time, you are more special, more beautiful, more loved." This is a part of a message written by an SP mom, and it's true. You still enjoy the things you enjoy! If you love arts and crafts, learn how to crochet or make DIY toys. If you're into sports, start jogging in the morning or sign up for a Zumba class. 

7. Say what you're grateful for
"Life is a series of problems that have to be solved — and a lot of times those problems cause stress. Gratitude can be that stress buster," Dr. Robert Emmons, a gratitude researcher and psychology professor at the University of California, told The Huffington Post. Those who practice gratefulness are usually happier people, says Dr. Barton Goldsmith, a psychotherapist and author, in an article for Psychology Today. In fact, he actually uses a gratitude journal as a tool to help those with depression, he shares. 

Former publishing-executive-turned-life-coach and mom Aurora M. Suarez is such a believer of how self-care happens in the act of journaling that she self-published a planner-slash-journal. "The Sunday Night Journal" (Php599) is for all of us who are dealing with overwhelming to-do lists and are looking for a way to get aligned, get focused and get things done.




ADVERTISEMENT - CONTINUE READING BELOW

Each page of the 52-week journal has a thoughtful prompt, such as "What would last year's self thank me for today?" "What do I love about myself?" and "If I didn't have to worry about money, what would I be doing right now?" There are no dates so the journal can be started anytime in the year. 

8. Be a mom to yourself
Give yourself the same love and kindness you give your kids. Every day, parent yourself too, says Dr. Markham. "Talk to yourself like someone you love. Nurture yourself through the hard times. Acknowledge all your efforts in the right direction. No, you're not perfect. You don't need to be." 

Celebrate your pregnancy milestones!


Enter your details below and receive weekly email guides on your baby's weight and height in cute illustration of Filipino fruits. PLUS get helpful tips from experts, freebies and more!

You're almost there! Check your inbox.


We sent a verification email. Can't find it? Check your spam, junk, and promotions folder.

Trending in Summit Network