Scary Ha! This Short Story About a New Mom Spooked Us

The title is "Mama's Here," and we recommend reading this excerpt during daytime.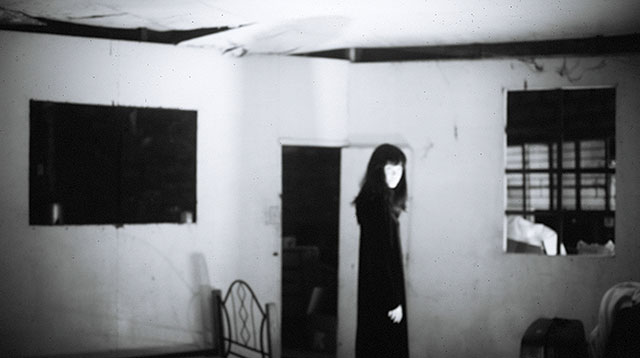 Editor's Note: First, remember that postpartum depression (PPD) is real, it is happening to many women here and abroad, and most importantly, it's a condition where help is available when it is recognized and accepted. 

"Mama's Here," written by Mich Lagdameo Roque, is one of the 13 stories featured in the new book All That Darkness Allows, a great collection for anyone into horror stories. It is fiction, but as we read it, we can't help but think it could be real. It tells a story of a single mom, Mariel, talking to her friend Abby about her horrific experience as she cared for her newborn daughter Stella all on her own in a new apartment. Below is an excerpt. 

What other parents are reading

"I moved in right away, and did my best to settle in with a newborn. I had never been so tired in my life -- hindi ko na maalala what time ako huling kumain, or kung kailan ako huling naligo. It seemed like all I did was take care of Stella, and the rare times na makakatulog siya nang matagal-tagal, I had to fix up the new apartment. It was old, but it was clean naman. I just wanted it to feel more like home. It was Stella's first house."

"Again, you never told me what was going on with you all this time. All those times na nag-Skype tayo and Viber…" Abby chided her gently.

"I'm sorry, but you wouldn't understand. I had just given birth -- Stella was around six weeks old at that time. I was adjusting, grabe yung hormones ko. I felt vulnerable and isolated, pero hindi madali for me to reach out to anyone, even to you. Ewan ko if it was just my pride na I didn't want to show that I was weak, or if I was just so tired that I couldn't think straight. It was just all about Stella—feeding her, changing her, holding her until she fell asleep. Naging mundo ko siya. And it wasn't fair to saddle you with my drama considering you were also getting settled in sa Italy.

ADVERTISEMENT - CONTINUE READING BELOW

"So that was my life for the first week or so… I just got more and more exhausted, and it was so hard for me to sleep. I started noticing that the baby would always wake up at midnight, crying hysterically."

"But don't babies do that? Like, wake up at odd hours because they're hungry?"

"That's what I thought at first. But even if Stella was already awake and I was nursing her, she would get agitated at around midnight. She would only get more and more agitated and cry for no reason. I did everything to calm her down. I would hold her really close and sing to her, 'Mama's here, mama's here.' She loved it when I did that, I think, she would always calm down.

What other parents are reading

"One night I was out in the living room folding laundry when I heard her crying out. I looked at the clock and it was midnight. So I rushed into the room and I found her in the middle of the bed, her swaddle blanket all undone, crying so hard she was almost purple.

"Abs, napatigil ako because I swear I left her in her crib. I never, ever leave her alone in the bed. I had no idea how she got there. But I picked her up and calmed her down. 'Mama's here, mama's here…' until she fell asleep. When I put her down to fix her swaddle, I noticed she had something in her hand. It looked like a piece of thread so I tried to pluck it out of her little fist. It was wound so tightly around her fingers I wondered where she could've gotten it from. But it wasn't thread… It was hair. Thick, black hair."

CONTINUE READING BELOW

Recommended Videos

Abby glanced at Mariel's head. Mariel pulled at lank of reddish-brown hair that had come loose from her messy topknot. "It wasn't mine."

"I wondered where the hair came from, but wala na akong energy to think about it, until I kept finding more. Every night, I would find long, silky strands of black hair in Stella's hand, or tangled up in her blanket, or in her crib. I didn't know where they were coming from or why they were there. All I knew was that the hair definitely wasn't mine.

"After that, things got… stranger, around the house. I'd always find Stella in the bed, when I was sure I left her in her crib. Her cries were always loud and sounded like she was in pain, but the pediatrician told me nothing was wrong with her. Sa pagod ko, I'd find myself waking up somewhere else in the apartment—on the sofa, at the dining table—and I'd be frantic, running to the bedroom to find the door closed when I was sure I left it open, Stella crying again."

"The crying must've been so… scary for you," Abby ventured. "I can't imagine having to hear my own child cry like that."

"It was terrible, Abs," Mariel sighed, but then she leaned towards Abby and whispered, "But it was much, much scarier when she was quiet.

"Whenever she would wake at night, once I'd calmed her down, she'd just stare at me with her big, big eyes. I know babies do that—their vision is developing, and everything is blurry, but Stella would stare at me so intensely na manlalamig talaga ako.

ADVERTISEMENT - CONTINUE READING BELOW

"I never used to believe in these things, Abs—kilala mo ako. But I was alone, I was tired, I was just trying to get through the days with me and Stella in one piece, maybe something got under my skin. But from then on, I knew that there was something and I had to do something about it, but what? Call a priest? Have the house blessed? Call some sort of spirit questor? I didn't know where to start.

What other parents are reading

"One night, I was in the kitchen when I heard the baby cry out. Nag-panic ako and I ran to the bedroom. The door was half closed. But before I could push it all the way open, I heard the eeriest thing, like a quiet whisper, but it also felt like it was coming from inside my head. My blood ran cold and I couldn't move—I had one hand against the door.

"Shhhhhh. It got a bit louder, then: Shhhhhh. The sound was kind of deep and hollow, but it was definitely a voice… Shhhhh, shhhhh. Over and over again. Then—Mama's here.

"I rushed into the room and saw a tall shape leaning over Stella's crib. It had long, straight black hair—hair that cascaded over the shroud and into Stella's crib as it bent and reached for my baby. Stella cried and cried, and I gasped so loud that the, the thing turned around, and looked right at me. Hindi ko alam kung may mata siya, itim lang nakita ko! But I know it was looking at me.

ADVERTISEMENT - CONTINUE READING BELOW

"It was a woman. All I could see was hair, pale skin, long fingers that stretched out like branches. Before I could do anything, it disappeared. Takot na takot ako, but I had to get Stella. My poor baby was so frightened her skin was ice cold. That was the scariest thing I had ever seen. Until now, when I remember…" Mariel shook her head, as if trying to swat away the bad memory.

"Somehow Stella and I managed to sleep that night, but once again, I woke up to the sound of crying—only it wasn't the baby. I opened my eyes and saw the woman again, floating directly above me. This time, she was weeping. I started screaming and screaming, telling her to leave us alone, and not to touch my Stella. Her hand came closer and closer and I felt myself pinned to the bed, Stella already awake and crying because I was holding on to her so tightly."

"Was that why they found scratch marks on the baby, Mariel?" Abby asked quietly.

"No! I didn't do that to her! It was Carmela! She kept touching Stella with her cold fingers and she wouldn't stop!" Mariel started crying and she wrapped her thin arms around herself. "I wouldn't hurt my own baby, why would I? Baliw ba kayo?"

"Carmela?" Abby was confused. "Who's Carmela?"

Mariel's voice took on a frenzied pitch. "I kept trying to move, it seemed like forever until I opened my eyes and saw that ghost woman was gone. Sobrang kawawa ni Stella—she had cried herself to sleep, but her arms and legs were covered in bleeding scratches. I ran with her to the front door, but it wouldn't open—no matter what I did it was sealed shut. It was like she didn't want us to leave.

ADVERTISEMENT - CONTINUE READING BELOW

There's an unexpected twist to the story. To find out what happened to Mariel and Stella, grab a copy of All That Darkness Allows, P250, now available in bookstores. For more information, follow Summit Books on Facebook, Twitter, and Instagram.

What other parents are reading

Celebrate your pregnancy milestones!


Enter your details below and receive weekly email guides on your baby's weight and height in cute illustration of Filipino fruits. PLUS get helpful tips from experts, freebies and more!

You're almost there! Check your inbox.


We sent a verification email. Can't find it? Check your spam, junk, and promotions folder.
Trending in Summit Network