Need a Break? Here Are Easy Self-Care Rituals You Can Do at Home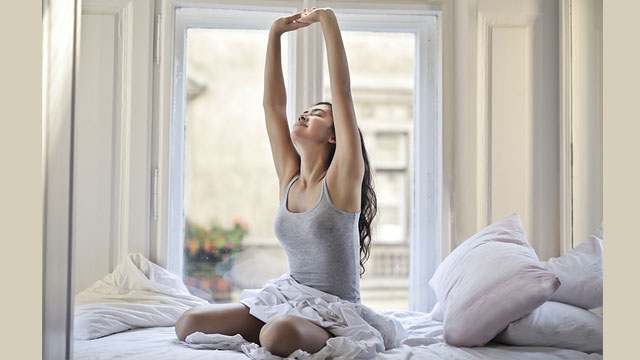 You can't pour from an empty cup. We hear this a lot, yet so many moms I know can't find time to practice self-care. In real life, whether they're working a full-time job or they stay at home, moms just have too much on their plate that their own well-being comes last. Because family comes first, we forego our own needs. However, our bodies need care, and our emotions need pampering, too. And we need quiet time to recharge so we can get back on our feet and nurture our loved ones again. 

Self-care is an intentional and deliberate activity to take care of one's physical, mental, and emotional health. It is a means to reduce stress and anxiety. It generates better mood. Most moms feel guilty whenever they take time for themselves, but it is a fact that we need to pause, or we could break.

Mom Rachel Jamiro says one must practice self love all the time to enhance every aspect of our being: body, soul, emotions, and the mind. This is how she does it:

Self-love for the body: "Move. Work out or practice yoga and get a massage. Float therapy, a 45-minute soak in epsom salt pod, is a favorite!"

Self-love for the soul: "I do Reiki and sound healing to feed my soul. I find time to connect with my favorite people or hang out with my mom-boss tribe."

Self-love for emotions: "I stay in touch with my emotions through the practice of journaling and using essential oils. Writing is such a powerful tool. Affirmations combat negative self talk." 

ADVERTISEMENT - CONTINUE READING BELOW

Self-love for the mind: "I do this by reading books and attending workshops that interest me. Travelling solo or connecting with nature also help."

What other parents are reading

Doing self-care rituals is not selfish — doing these will only make you stronger and healthier so you can give more of yourself to your loved ones. There are simple ways to nourish the mind, heart, and body from the comforts of our own homes. A quick 30-minute break is sometimes all we need for that much-needed reset.

Aromatherapy is one of the easiest DIY self-care activities any mom can enjoy. Diffusing high-quality essential oils, for example, can help purify the air your family breathes, and set the mood in your home. Here, we've put together really simple recipes for your "me-time", using ingredients commonly found in your pantry, so you can escape to relaxation without leaving your home. Try these out!

DIY Body and Foot Soak

¼ cup epsom salt

¼ cup baking soda (optional)

¼ cup Himalayan salt (optional)

A few drops of your favorite essential oils

A detoxing warm bath or foot soak can be deeply relaxing. It also helps cleanse the body by removing all the toxins we've unconsciously taken in through the food we eat and the products we use. Caution: a detox bath or foot soak can make you sleepy, so we suggest that you do this right before bedtime!

Note that the recipe mentions other ingredients as optional. For a detox bath/soak, your only must-haves are the epsom salt and essential oils. Epsom salt, though resembling regular table salt, is actually made of both magnesium and sulfate, while table salt is sodium. Epsom salt helps draw out toxins from the body. After a warm bath or soak, you will feel relaxation and relief from sore muscles. We suggest adding relaxing essential oils such as Lavender, Orange, Chamomile, and Frankincense. Blends such as Young Living's Peace and Calming™ and Stress Away™ smell really good too. If you're like me and you like a little minty kick to your soak, add a few drops of Peppermint, Panaway™, or Wintergreen.

What other parents are reading

DIY Face Mask

2 egg whites

1 tsp lemon juice

Essential oils

Whisk together egg whites, lemon juice and essential oils in a bowl until frothy. Apply mask on your face and let it sit for about 20 minutes. Slowly peel off mask and wash your face with warm water. Moisturize. We suggest using skin-supporting essential oils such as Frankincense, Lavender, Geranium, and Lemon.

Lavender essential oil is known for its calming, relaxing and balancing properties. It is the perfect oil to diffuse when you are taking a quiet moment, a home service massage, and during nighttime, to help kids calm down and get ready for bed. (Note: Don't use Lemon or other citrus oils if you plan to be out in the sun in the next 12 hours, as citrus oils are photosensitive).

Remember, self-care need not be expensive, and neither should it take time away from your daily routine. Mindfulness and consistency are key. It can be easy to take self-care for granted, so make a schedule and find time for yourself.

Tina de Guzman is an attorney and an essential oils enthusiast. She leads The Oil Natural Project (TONP), a fun and helpful community of essential oil users and business leaders. Tina is also ½ of the Fit Moms Project PH, a community of women on a journey to fitness and wellness. Connect to The Oil Natural Project via Instagram (@theoilnaturalproject), Facebook (The Oil Natural Project), or email (oilnaturalproject@gmail.com).

Trending in Summit Network