Puyat Is Life? Here's How You Can Sleep Better Even When The Hours Are Shorter

Here are three ways better sleep can help you become a better parent.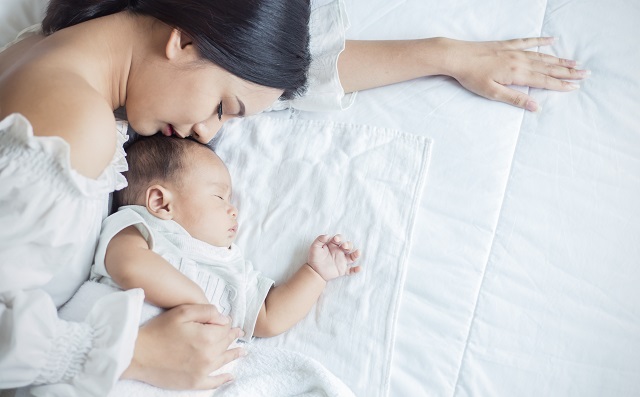 Sleep is one of the most important things we, humans, need to survive, along with food, water, and shelter. However, it's easy to deprioritize sleep once you become a parent when suddenly shutting your eyes off even for a minute becomes a luxury.

Caring for a child, especially a newborn, really demands a lot, if not all, of a parent's time. In between breastfeeding, diaper changing, doing household chores, and, for some, having to think about work, it becomes almost impossible to find the time to squeeze in some sleep.

A study published in the journal Sleep even suggests that parents are expected to have SIX years of disrupted sleep after the birth of a child, and moms are like to have less sleep than dads during this period.

The demands of parenting can really make one think that "sleep is for the weak," but the opposite is actually true. Sleep gives you strength both physically and mentally.

If you think you're being a more efficient parent by doing more at the expense of your sleep, think again. Below we list down how having a good night of sleep can awaken the best in you so you can have a happy and healthy relationship with your family.

3 Ways Better Sleep Can Help You Become A Better Parent

1. You become less angry and prevent quarrels

Many studies have been conducted showing the connection between sleep and mood. For one, an article from Harvard Business Review cited research suggesting that "people are more likely to fight with their partners after a poor night of sleep." And we all know that conflicts between parents cause nothing but a negative impact on children.

ADVERTISEMENT - CONTINUE READING BELOW

Read Also: How Parents' Conflict Can Lead To Child's Emotional Damage

Emma The Sleep Company also mentioned a University of Pennsylvania study where "16 healthy young adults who had their sleep restricted 33% below habitual sleep duration to an average of 4.98 hours per night, reported increased feelings of stress, anger, sadness, and exhaustion."

It was also included in the preliminary findings that once the subjects got back into their usual sleeping habits, their moods improved.

2. You Become More Empathetic

The quality of sleep moms gets actually affects their maternal sensitivity. Five researchers found out that the more disrupted a new mom's sleep is, the lesser their sensitivity is to their 18-week-old infants. Having increased sensitivity helps new moms respond to their baby's cues and needs.

This connection between empathy and sleep extends to other people. Results from a 2018 research focusing on the relationship between sleep quality and activity performance among college-aged participants showed that those who  "reported better sleep were significantly more empathic toward people in distress."

3. Boosts Mental Health And Well-Being

"Dozing in 1- or 2-hour snippets deprives you of REM sleep, which plays an important role in emotional health, learning, and memory," according to Healthline.

Moreover, it adds that "sleep deprivation sends your stress hormones skyrocketing and impairs your ability to think clearly and regulate your emotions."

So, if you want to be happier and, in turn, have a more loving relationship with the people around you, especially your family, getting better sleep is one of the things you should prioritize.

CONTINUE READING BELOW

Recommended Videos

How To Get Better Sleep?

Now that we have established that quality sleep can awaken a better you, here are some tips to help you achieve it despite your busy parenting schedule.

1. Be proactive

Have the conscious effort to prioritize sleep. You can start doing this by creating a sleep routine. This way, you can train your body to give importance to sleep.

Health professionals suggest 7 to 9 hours of sleep for adults. Knowing this, adjust your schedule accordingly and plan your whole day efficiently with the time for sleep included in your to-do list.

While it could be tempting, as much as possible, avoid revenge sleep procrastination or those times when you sacrifice sleep for some me-time. (Know more about revenge sleep procrastination here)

2. Ask for help

Don't hesitate to share the burden of responsibilities with others, especially your partner. Don't let your tasks get in the way of you getting much-needed quality sleep. As we always say here in Smart Parenting, when parents take of themselves, they can take better care of their children too.

3. Invest in a good mattress

Creating a conducive space for sleep starts with a good-quality mattress. Where you sleep largely affects the quality of sleep, you get.

Emma can help you achieve just that with their line of bed items that promote nothing but comfort. We have done a test drive on a few of their products, and we could say that it's a brand worth investing in.

ADVERTISEMENT - CONTINUE READING BELOW

The Emma Original mMattress, for one, nails the perfect balance between soft and firm thanks to its three-layer of foams—a layer of polyfoam, a layer of memory foam, and a final layer of polyfoam. This foam combination helps anyone who sleeps on their mattress to have spine support while still feeling like their sleeping on a cloud nine.

 

The materials are also breathable and can regulate body heat so you can stay cool and cozy throughout the night.

If you're sleeping with a partner or co-sleeping with your kids and could easily awaken by their every move, you would love Emma Original's motion isolation technology feature, which prevents vibrations from movements from spreading across the surface of the mattress.

We also love that it has a removable cover, which makes cleaning a lot easier! This feature is present in almost all of their products, like the bed topper and pillows. It's definitely a plus since we all want our beds to be sparkling clean all the time, don't we?

ADVERTISEMENT - CONTINUE READING BELOW

Although Emma's items may be a little bit pricey and heavy on the budget but you can't really put a price on quality sleep, right? They are also currently offering up to 45% off their items on their website now.

But if you want to get free quality bed items, we have partnered with Emma The Sleep Company for the Mother's Month celebration.

Get a chance to win the following when you join Smart Parenting's Mommyverse giveaway:

1 Emma Sleep Original Mattress
1 Emma Sleep Topper
Emma Sleep Pillows

Know how to join when you click here. Make sure to make your entries before May 30, 2022!

What other parents are reading




Celebrate your pregnancy milestones!


Enter your details below and receive weekly email guides on your baby's weight and height in cute illustration of Filipino fruits. PLUS get helpful tips from experts, freebies and more!

You're almost there! Check your inbox.


We sent a verification email. Can't find it? Check your spam, junk, and promotions folder.

Trending in Summit Network