Sleep-Deprived Moms, Here's Your Drug-Free Prescription for Quality Sleep

Are you guilty of watching too many episodes of your favorite show and skipping bedtime? It's time to stop this habit.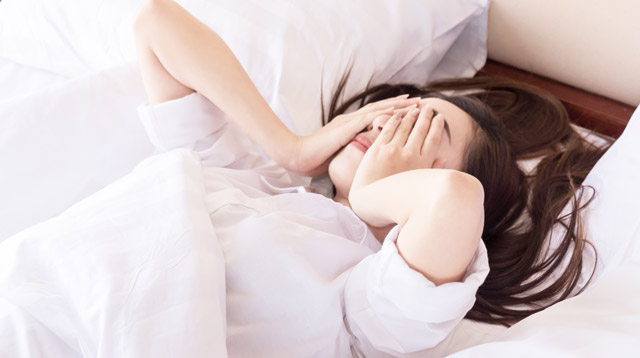 Still feeling sleepy during the day even after you've slept at 10 p.m.? Do you often do series marathons even if it's a work day? While some are lucky to enjoy around seven to nine hours of sleep each day, there are those who can't get enough shut-eye with many clocking in four to six hours of sleep on a daily basis. You've heard or read about it a thousand times before – if you're not getting quality sleep, chances are, you'll get sick, stressed, and restless.

According to the National Sleep Foundation, "without sufficient sleep, your body makes fewer cytokines, a type of protein that targets infection and inflammation, effectively creating an immune response. Cytokines are both produced and released during sleep, causing a double whammy if you skimp on shut-eye."

At the Uratex Premium event in SM Mall of Asia, sleep specialist Dr. Keith Aguilera shared that 45% of the world's population suffer sleep problems with 35% feeling they don't get enough sleep.

What other parents are reading

Get the quality sleep you deserve with these tips

What makes up a good sleep? Dr. Aguilera says there are three elements: duration, continuity, and depth. "We sleep a third of our life. If you don't sleep well, all of those toxins can damage our bodies and shorten life. When choosing between quantity or quality, choose quality. Quality is better than duration of sleep," he explains.

Quality sleep can help your body recover, improve physical and mental health, and keep the connections of the brain healthy and functioning. Here's how to achieve it.

ADVERTISEMENT - CONTINUE READING BELOW

1. Have a fixed bedtime and wakeup time.

It's difficult to sleep early on a Friday night, and it's equally challenging to wake up early on weekends. Sticking to a consistent sleep schedule seven days a week helps maintain your sleep cycle and your circadian rhythm in sync.

2. Your siestas must last only for 45 minutes per day.

Have you ever experienced waking up from a two-hour afternoon nap with a headache? There are even instances when you feel more tired after a long nap. Dr. Aguilar shares that it's a must not to exceed 45 minutes of daytime sleep. "It's what you call power naps. Thirty to 45 minutes is a good rule to follow," he says.

3. Take note of the drinks and food you consume.

Partying on a weekend? To be able to sleep better at night, it's advised to avoid alcoholic drinks four hours before bedtime. Fond of drinking coffee? Caffeine must be avoided six hours before you call it a day while heavy, sugary, and spicy food must not be consumed four hours before your shut-eye. If you're hungry, it's best to go for a light meal.

What other parents are reading

4. Exercise regularly.

Do you go to the gym at night? If you'll notice, you'll feel pumped up and energized after your session. Dr. Aguilar suggests exercising in the morning and not right before bed.

5. Invest in comfortable bedding.

Your mattress and pillows play a big role in the quality of sleep you get. Do you often wake up with a back ache? Perhaps your mattress is not the best fit. You need to consider the size and firmness of the mattress when shopping for one.

CONTINUE READING BELOW

Recommended Videos

"The choice of mattress is like a choice in clothing. You have to select, try, and simulate use to find the right one. Firmness has often been misunderstood to be orthopedically appropriate, but what's important is that you maintain your natural spine position while you sleep. The earlier you address this, the less you will have back problems," Dindo Medina, corporate sales director of Uratex, explains.

How do you test if a mattress is for you (or your back)? Sit and lie down on the mattress, Medina advises. "Simulate your position to find the most comfortable mattress for you," he adds. Before you make a final decision, don't forget to check the quality of the mattress and if it has warranty. There are mattresses that are guaranteed to last for 15 years or more with proper care and maintenance.

6. Sleep in a well-ventilated room with the right temperature.

Dr. Aguilar suggests maintaining a 23° to 24°Celcius to keep the room comfortable. "Basta hindi masyado mainit. Once the body temperature goes up kapag umaga na, that's the signal for the body to wake up," he shares.

What other parents are reading

7. Remove all distractions.

Phones, TVs, and sources of light can keep you from enjoying the sleep you need. "The darker the room, the better, the deeper sleep. Block all distracting noise and light. Bright light tells your brain to wake up so avoid this as much as possible. Don't use the bed as your office or workroom. It must be reserved for sleep and sex," the sleep specialist explains.

ADVERTISEMENT - CONTINUE READING BELOW

8. Ask the whole household to cooperate if you need to get some sleep.

This means no playing of loud music, shouting, or TVs turned on at high volume. Squeezing in power naps at any possible window for moms who are sleep-deprived is a must.

"It's difficult especially for nursing moms. Their sleep is really fragmented. And when children get sick, talagang sleep-deprived ka. The whole house needs to be very understanding. And if your baby takes a nap, sabayan mo na. Everyone should play a role," Dr. Aguilar advises.

What other parents are reading

Celebrate your pregnancy milestones!


Enter your details below and receive weekly email guides on your baby's weight and height in cute illustration of Filipino fruits. PLUS get helpful tips from experts, freebies and more!

You're almost there! Check your inbox.


We sent a verification email. Can't find it? Check your spam, junk, and promotions folder.
Trending in Summit Network