How to Stop Being a Martyr and Start Treating Yourself Like a Queen

You have to take care of yourself to be competent in your role as a mom.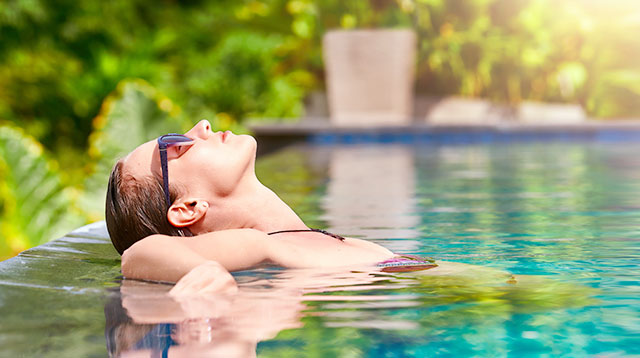 A woman who is relaxed is a very powerful woman. 

What do we mean by power here? Power is getting your needs met and having your deepest desires fulfilled without you having to kill yourself doing everything. What we mean by power is living in peace and joy no matter what is happening around you. 

Okay, well and good, you say. But, relax? How can a mom relax really when her job is 24/7? Here are three things to do just that (and you can start doing any of it now).

#1 Be mindful of the words you speak to yourself and about yourself

I have noticed that we women have a particularly self-minimizing language. When somebody praises us, we respond with something to cancel it out. 

"Hey, your hair looks so beautiful today!" "Ohhh no, no, see the split ends here?"

"Wow, those are really elegant shoes on your beautiful legs!" "These? Nooo. I just bought these shoes at a bargain from an ukay-ukay."

What other parents are reading

Some would say these responses convey humility. I say it's minimizing your value. True humility recognizes one's worth as well as one's need of others. When you believe that you are not worth much — even random praise — it becomes a self-fulfilling prophecy. You begin to think of yourself as not worthy of honorable treatment by others.

The stories we tell ourselves about us define our identity. And identity creates destiny.

Without realizing, you've imbibed the 'I'm a victim' mentality. When something goes wrong, we go into blaming and complaining mode. When we blame and complain, we attribute something going wrong to forces outside of ourselves, which makes us helpless victims.

ADVERTISEMENT - CONTINUE READING BELOW

Victim language is deadly. It starts with us to change our habits of thought, words, and action, even if other people don't do anything. This is how we begin to empower ourselves.

What other parents are reading
#2 Cultivate a habit of investing in acts of joy 
We, women, are conditioned by society and culture, as well as by nature, to be givers. Our roles and sense of fulfillment come from giving to a lot of people, and we thrive in this connection.

We spend our days and lives giving and giving — to parents, siblings, husbands, children, friends, neighbors, community, country. But who gives to us as consistently?

Very early on in my single parenthood, I got used to eating my children's leftovers that I don't often get a proper meal, let alone have my favorite dish. One time, I was surprised to find my three young children staring at me expectantly as we sat down to dinner. 
I asked them, "What? Go on, get your food already."

My eldest daughter, who was then only 9 years old, said, "Mama, didn't you tell us we are two princesses and a prince? So why don't you treat yourself like a queen? Get your food first."

That was a wake-up call for me! Indeed, if I was to bring up my children to have a healthy sense of self-respect, I had to lead by example.
What other parents are reading
Investing in my own joys benefits not only me but my children and other people, so it is never purely selfish.
I started investing in my joys, and they did not require much expense. I started listing down what gives me joy — taking long walks in nature, listening to music, reading fine novels, writing in my diaries, going to the beauty salon, even just for a manicure and pedicure. I would take five-minute "joy breaks' — savoring vanilla ice cream on a cone or sitting quietly and being in the moment.

I have also learned that if I am to become strong, then I must cultivate habits of nurturing inner joy that is not dependent on other people. This way, no matter what other people do or say, I can always choose to create my joy and carry my sunshine.
CONTINUE READING BELOW
Recommended Videos
Joy is a very powerful but untapped and infinitely renewable resource we all still have to take advantage. Life can be hard, yes, but we don't have to be hard on ourselves.
#3 Cultivate stillness 
I have friends who say that they cannot afford to be still because they are too busy and stressed. But that is the point. The busier you are, the more you need to be still, because you cannot keep going on on your resources alone without burning out. 

I found my stillness through meditation out of pure desperation in December 2006. I was faced with many challenges from all fronts, and I felt like my life had come down to just putting out fires. That Christmas all I wished for was rest. I searched for meditation resources online, and I discovered that all I needed to spare was five minutes a day. I liked that because I could only afford five minutes a day!
What other parents are reading
It doesn't also have to be meditation. Sleeping without disturbance, taking long baths, walking in nature, writing in a diary, or praying, or simply being quiet and not thinking — these can bring rest and a deep sense of inner peace and strength.
When I feel right in myself, I can do right by my world.
Stillness has changed the way I see things. I see more creative options and make wiser decisions. My intuition sharpened. Stillness also brings deeper connection, healing, and restoration, and I feel right with my self again. 

What are the things that you can do for yourself to bring you these, regardless of what other people say or do, or don't say or do? Focus on these things. When you find your answers to these questions, live them out daily, give them your energies, give your self all the love and care you give to others, too. 

Honor yourself. Don't sell yourself out by settling for less. 
ADVERTISEMENT - CONTINUE READING BELOW
Jeanette C. Patindol is the PBBY Alfredo Salanga Prize-winning author of Papa's House, Mama's House in 2004 and Tight Times in 2007. Both children's books are published by Adarna. She is also an assistant professor at the University of St. La Salle in Bacolod City, teaching courses in Economics, Interdisciplinary Studies and Communication in Conflict.
What other parents are reading
Celebrate your pregnancy milestones!

Enter your details below and receive weekly email guides on your baby's weight and height in cute illustration of Filipino fruits. PLUS get helpful tips from experts, freebies and more!
You're almost there! Check your inbox.

We sent a verification email. Can't find it? Check your spam, junk, and promotions folder.
Trending in Summit Network