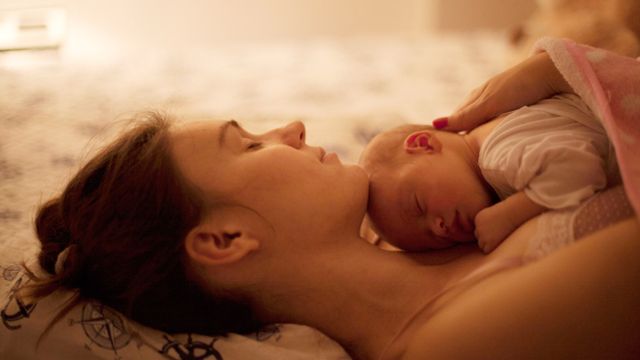 It's been five years since I became a mother, and I'm still in transition — a difficult one. I'm caught between who I used to be and the person that I've become today.

When I gave birth, I lost the layer that contained my old self. The one who danced every morning just for fun. The one who knew every Backstreet Boys and Westlife song. The one who can finish a book in one day.

Now, I feel like I've become an entirely new person. Since I gave birth to our firstborn, Bea, I'm starting not to recognize myself. I am now known as Bea's mom or Norbert's wife. I feel like I'm losing, me, Ana.
I forgot that I was once someone who can dance like a fool and shine like gold. Now my '90s playlist has been collecting cobwebs to give way to songs from My Little Pony and have "Let It Go" on loop.

And don't get me started on the TV — I can't even hold the remote control when the girl with shell-pink ears is awake. But there I was crying at the end of Toy Story 3 when (spoiler alert!) Andy needed to let go of all his beloved toys because he was all grown up. I even cried when I watched Trolls! It was supposed to be a happy movie, but their happiness made me cry, especially when they sang "True Colors."
I could be so much more than being just a mom.
Don't get me wrong. Most of my days as a mother are good — I chose to be a mom. But there are days when I ask the question, "What happens to my personal plans now?"
When I bade farewell to the corporate world, I said goodbye to the thing that defined me. If I were still working, I would be in a meeting now, heading an initiative to improve documentation processes; instead, I am reminding my daughter to put her toys away on the shelf. Each time someone from LinkedIn reaches out to me, I would delete the message with my eyes closed.

I know in my heart that I am where I'm meant to be. But I can't shake the feeling that I feel less of the person I once was now more than ever. The sense of emptiness deepens when the little one would sometimes say not such beautiful things to me when I don't allow her to use the iPad. As much as I try not to cry, deep sobs escape my throat, and my chest stings with pain similar to the feeling of scratching your elbow on a rough surface.
The moment I put my feet up, or at any moment when Bea senses I'm about to do something for myself, she will call me because she wants a snack, or she needs to go to the toilet. The balancing act of being a mother, a wife, and myself is tough to master. There are so many roles to play, but I have very little time.
Most days, I'm exhausted that I can barely open my eyes when I lie down.
On weekdays, my husband and I wake up at 3:30 in the morning. I will cook his baon, and he will prepare for another long day at work. Every Sunday evening, I iron his work clothes. My husband doesn't demand these from me. When he comes home from work, I look like I have overdosed on cold medicine. I'm fighting the exhaustion, but I will always be pulled back to sleep, faster than I could ask "How was your day?"

Our life now as husband and wife are not as sublime and as romantic as a marriage in a Nicholas Sparks' novel.  Our text messages to each other are mostly about Bea: what happened in school, what she ate for lunch, what did she do the whole day. Our message thread looks like a status report in fragments.

Some days, I look at my reflection, and I cannot even recognize myself. I am nothing but an empty shell of my old self. But, maybe feeling empty is not such a bad thing. How can I fill myself with love for my daughter and husband if I'm already full of myself? If I'm not empty, Bea and Norbert wouldn't have a place in my heart.
When I was still single, I thought that selflessness comes automatically like a software update. That once you push a baby out into this world, you automatically surrender 100 percent of your life as my mother effortlessly did. The temptation to live my dreams, to go back to my previous life full of achievement, an experience that would make me feel relevant and useful is nagging at me. But, I have to stop looking back at who I used to be.

What is important is who I am now. I should stop feeling sorry for myself because I'm doing something substantial: I'm raising a child who I hope will grow up beautiful, kind, and happy. My husband and I may have gone beyond the giggling and the flutter of butterflies that come every time we exchange " I love you." But our love has grown so much since the day we first met.
Maybe who I am right now is still me, but it is the me who thinks less of myself. I should not focus on the things that I've given up, but on things that I've gained — more time to love and teach.
This piece was submitted by SmartParenting.com.ph reader Ana Carina K. Morales and first appeared on her blog, "Mommy Rhapsody." Edits have been made by Smart Parenting editors. An AB Literature graduate, Ana is a former software technical writer turned work-at-home mom. A daydreamer, Ana believes that fiction is better than real life. She is a mom to Bea, 5, and wife to Norbert.