Every Mom Needs a JUNK (Just Us, No Kids) Trip Like This

Because sometimes, the best things in life are kid-free!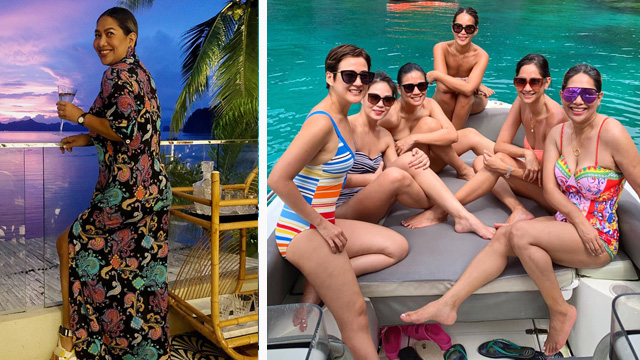 You know how it is when you come from a trip and need a vacation right after it? NOT THIS! I never knew what I was missing until I went on an all-girls getaway!


Last July, I decided to kick off my birthday month with a mamas-only trip to El Nido. This was a first for me in so many ways — first girls' trip, first time to El Nido, and even the first time to wear a bathing suit in public without a cover up too! Yikes. I was totally out of my comfort zone but still went for it. I guess that's what turning a year older does — pushing yourself to go where you never dared to before. 


I was gone from Thursday morning until Sunday afternoon with some of my close friends, literally and figuratively. We all live just houses apart from each other in one village. We've known each other as neighbors for a while now, but because our kids play together and we have the same interests we've grown to be really great friends. We are fondly called Casa Mamas and I don't think I would have had the interest or courage to go if it weren't for them.

ADVERTISEMENT - CONTINUE READING BELOW

PHOTO BY

courtesy of Carmel Rivadelo-Villongco

 

To be honest, I was the last one to book a flight because I was still trying to convince myself it was alright for me to go. I spoke to my husband about my apprehension because I usually go on JUNK trips — Just Us, No Kids — with him. (I've also recently started this tradition of taking trips with only one child for some quality mom time.) This time however, it was just me with friends. The mommy guilt in me was telling me not to go and stay home, but there was also a part of me whispering that I would regret not going. Guess who won? Haha. The idea of staying at Frangipani, a quiet beachfront boutique resort, plus a promise of a private island stay definitely swayed my decision, too.


Here are some takeaway thoughts from my trip I'd like to share with other mamas out there who might want to go on a mama getaway and know what a real vacation feels like away from the fam and kids.

Everyone wins when mom takes a vacation.

While I get a much-needed break and get to recharge my mommy batteries, I realized leaving my husband with the kids is a great time for them to bond together. Although my husband is already a very hands-on dad who spends time with the kids by bringing them to school and their after-school activities, and assists them during homework time, it's still different when I'm out of the picture and they get to do their own stuff without me. I feel the time away also taught my kids to understand the value of "me -time" — that it's good for adults to take time off and that no matter what, they come back home.

ADVERTISEMENT - CONTINUE READING BELOW

 

PHOTO BY

courtesy of Carmel Rivadelo-Villongco

 

You  discover yourself when you take time out.

There was pretty much no strict agenda to follow but being the moms that we are, we couldn't help but be organized with how we were going to spend our great escape. Haha. We made sure we booked our stay in an 8-room boutique beachfront property that was perfect for a JUNK trip since only adults above 18 were allowed in the property (No kids allowed!).

ADVERTISEMENT - CONTINUE READING BELOW

We had an itinerary for island hopping using Skipper Charters that would take us to the magnificent islands and lagoons in El Nido straight from our hotel. My fave was Three Coconuts which was a secluded island where we could just frolic under the sun with our glasses of wine on hand. I loved that we didn't have to prepare any of the meals like what we usually we do at home or on vacation with our family. And it was amazing how we can just be comfortable in our own skin. Stretch marks here, a bulge there — no one cared to make a comment, but rather went the extra mile to support each other. You know you've thrown caution to the wind and are at ease with your friends when you allow them to just take photos of you in your most vulnerable self. 

You find out who your friends are.

ADVERTISEMENT - CONTINUE READING BELOW

I realized on this trip, each one had a specific role to do that made the experience so much more memorable and our friendships even stronger. There's a mama ready to take your photos ever so patiently. Another directs your shots to get your best angle. One brings the wine for that extra boost of courage. Another brings the chips and snacks for comfort and to make chikahan more fun. And there's that mama-friend who doesn't mind being your human cover-up when you need to discreetly hide your puson.

 

PHOTO BY

courtesy of Carmel Rivadelo-Villongco

ADVERTISEMENT - CONTINUE READING BELOW

 

Mommy battery recharged

Spending a few days away from the responsibilities of motherhood and home duties and enjoying time with my friends in a beautiful location allowed me to go home to my family feeling renewed and refreshed.

And yes, it's been more than a month now and I still think of those glorious days of our mama getaway. Funny how I catch myself just looking at our photos and videos reminiscing those moments and already planning the next one. Because like I said, sometimes, the best things in life are KID-FREE!

Carmel, a brand ambassador for an international beauty brand, is a mom to four kids. She loves life, and life loves her back! 

Trending in Summit Network