Not Just For Cough and Colds: Here Are More Health Benefits Ginger Provides

More reasons to cook dishes that include ginger!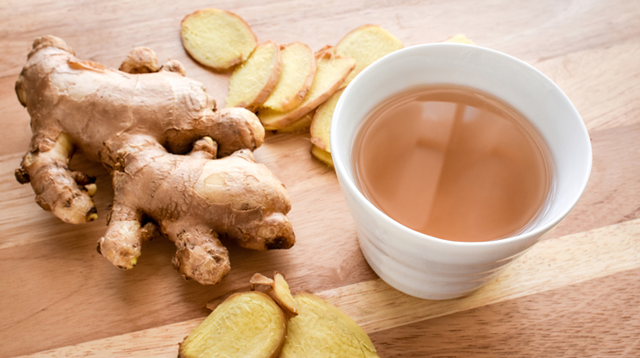 Parents are on a race to health, so they can care for their children better and live long enough to enjoy their grandkids. Prevention is better than a cure, but if they get sick, moms and dads prefer to stick to natural health remedies.

One of the most accessible superfoods (read: not expensive!) is ginger. It's a plant with leafy stems and yellowish-green flowers, but the root is a staple in many Filipino dishes (the most popular and everyone's favorite especially during the rainy season is tinola). Ginger can also be added in baby food recipes, and it is a good way to introduce your baby to a variety of flavors early. 

Ginger can be shredded or grounded and made into tea, which can be comforting during rainy weather. Ginger can also be manufactured into capsules, syrups, and even essential oils. Ginger-flavored water is also a thing now, too!

Why ginger is a superfood

According to the USDA National Nutrient Database, 100 grams of ginger root is mostly water, but it's rich in carbohydrates, fiber, and protein. It's also high in potassion and other minerals such as magnesium, phosphorus, and sodium, plus vitamin C. B5 and folate.

Ginger has been used in traditional medicine for centuries. It contains a broad-spectrum of anti-inflammatory and antioxidants, such as gingerols, shogaols, and zingerones. On its own, gingerol already contains analgesic, sedative, and antibacterial properties.

The many health benefits of ginger

The easiest way to consume ginger is to make it into tea. Just grate or slice raw ginger root and add to boiling water. Let it simmer for at least 10 to 15 minutes before straining the liquid. If you prefer a strong flavor, you can add more of the ginger. If something less stronger in taste, add lemon or honey.

ADVERTISEMENT - CONTINUE READING BELOW

Ginger can be a natural treatment for colds, flu, and sore throat

Ginger has been a natural remedy for sore throat, coughs, and colds, thanks to gingerol. It also helps in maintaining oral health by keeping the teeth and gums intact.

Ginger can help alleviate nausea

Ginger tea is one of the best natural remedies for morning sickness, though it may not work for all preggos. (Click here for more morning sickness remedies.) The American College of Obstetricians and Gynecologists (ACOG) also recommends it in any form — though grounded ginger made into tea or capsules are the two best options — to ease the symptoms of morning sickness. It promotes the secretion of various digestive enzymes that neutralize stomach acid and helps relax stomach muscles, reducing overactivity in the stomach.

Ginger has also been used to relieve other forms of nausea for people who have undergone surgery and who have motion sickness (it works for children, too!).

Ginger aids digestion

Ginger helps in the absorption of nutrients and minerals from the food we eat. It helps empty the stomach fast "so things can go from the stomach into the small bowels more efficiently," explains Lisa Ganjhu, D.O., gastroenterologist and associate professor of medicine at NYU Langone Health.

Ginger is a practical and effective treatment for indigestion, bloating, and stomach pain. It also induces excess gas elimination and helps improve gut health and prevent ulcers.

Ginger may help relieve pain

Studies have found that gingerol can help relieve pain and reduce joint inflammation associated with osteoarthritis, knee inflammation, and rheumatoid arthritis. A 2015 study found that ginger helps reduce menstrual cramp pain and can prevent heavy bleeding. Some studies claim it also relieves migraine and muscle pain.

CONTINUE READING BELOW

Recommended Videos

Ginger helps keep blood sugar levels healthy

A 2015 study on patients with type 2 diabetes showed that consuming ginger daily improved their blood sugar levels. It affects insulin release and action, improving both carbohydrate and fat metabolism. It's an excellent preventive measure, but as treatment, a patient might need to eat ginger regularly for three months (and consult your doctor on the amount) before seeing results.

Ginger helps keep the heart healthy

Some studies suggest that ginger can help maintain cardiovascular health by lowering the bad and increasing good cholesterol levels and help regulate hypertension. But more research is needed to check if it's a viable treatment, but there's no harm in consuming ginger to help improve blood circulation.

Ginger may help lose excess weight

Ginger is also mostly water and contains low calories, so it's an excellent alternative to other types of drinks that has caffeine or too much sugar. Some studies suggest ginger can help improve metabolism and curb feelings of hunger, but the effect largely depends on how regularly you consume it. Drinking ginger tea is also a diaphoretic, which means it promotes sweating working to warm the body from within and another way to eliminate toxins.

What other parents are reading

Ginger may help keep chronic illnesses at bay

If left unchecked, chronic inflammation may damage DNA cells and lead to illnesses such as cancer. Like many other fruits and vegetables that contain high amounts of phytonutrients and antioxidants, ginger can help combat chronic inflammation. Its anti-inflammatory properties gingerol primarily help to prevent the inflammatory process.

ADVERTISEMENT - CONTINUE READING BELOW

Studies have shown its positive effects on breast and ovarian cancers, reducing tumors and limiting the growth of cancer cells, and protect against skin, colorectal, pancreatic cancer. Ginger has been shown to delay the onset of neurodegenerative diseases like dementia, Parkinson's, and Alzheimer's by reducing inflammation of the cells. It has also been used to treat asthma due it its anti-inflammatory properties.

There are many science-back health benefits of ginger and many more health claims that may be proven to be true in future studies. The good news is there are little to no side effects of consuming ginger when you're healthy. Pregnant women shouldn't have too much as it can thin the blood. They are advised to keep ginger consumption to not more than three teaspoons of raw ginger in a day, as it can affect how your blood clots.

As always, it's best to consult a doctor, especially if you already have any underlying health issues and is planning to take ginger as a supplement.

What other parents are reading

Celebrate your pregnancy milestones!


Enter your details below and receive weekly email guides on your baby's weight and height in cute illustration of Filipino fruits. PLUS get helpful tips from experts, freebies and more!

You're almost there! Check your inbox.


We sent a verification email. Can't find it? Check your spam, junk, and promotions folder.
Trending in Summit Network