Breastfeeding Doctor On Getting COVID-19 Vaccine: 'It's Our Chance To Get Back To Normal'

She hopes to convince fellow moms to take the vaccine and protect their kids.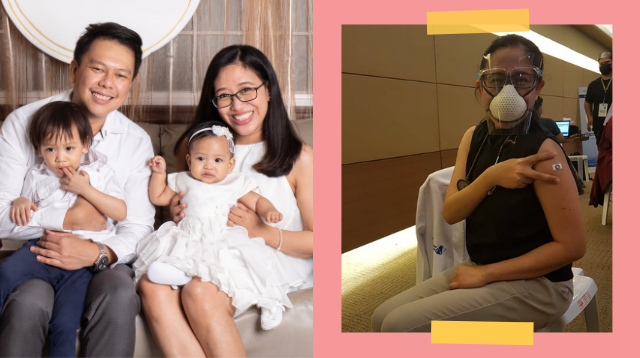 As of today, March 29, 2021, the total number of active COVID-19 cases in the Philippines is at 115,495. While immunization is already underway for our frontliners and senior citizens, it seems many are still fearful of getting the COVID-19 vaccine.

The Department of Health (DOH) stresses that while efficacy rates vary depending on the vaccine, it is safe to get inoculated and get protection from the disease. However, according to a recent survey by Pulse Asia, 6 out of 10 Filipinos will refuse a vaccine because they are unsure of its safety.

Dr. Jeannica Kriselle Lerios-dela Peña, a 37-year-old internist and adult cardiologist and a mom of two used to feel the same way. "As with everybody else, I was wary about getting a vaccine that is still ongoing trials," Doc Jax tells SmartParenting.com.ph in an email interview.

"During the first few months of the pandemic, I also wanted to wait a few years to observe the long-term effects before agreeing to be vaccinated," she adds.

As the pandemic wore on, it soon became apparent to the doctor how dangerous the virus was. "I started handling COVID-19 patients as well a few months after giving birth and I was able to see firsthand how much damage this disease can do," she shares.

"These patients would sometimes need to be referred to a cardiologist due to symptoms mimicking a heart attack coming from inflammation of the heart muscle, or what we call myocarditis. This would even be seen weeks to months after a mild infection.

ADVERTISEMENT - CONTINUE READING BELOW

"Despite the efforts to curb the spread, numbers of those infected continued to rise," she recalls.

What changed her mind

Doc Jax with husband Gerard and kids Eno and Nia.

PHOTO BY

Courtsy of Dr. Jeannica Lerios-dela Peña

In the later months of 2020, when news of COVID-19 vaccines being authorized for emergency use started, Doc Jax's patients started to ask her for professional advice. As a doctor, she made it a point to educate herself on the vaccine, listening to various webinars and attending a DOH Townhall with other experts.

"They were able to explain the mechanism of these vaccines very well, how the trials were done, and that the dangerous side effects are minimal if we compare [it] to the risks associated with COVID-19," she explains.

"By reaching herd immunity, it may be our chance to get back to normal."

It also made her realize the need to be vaccinated no matter the brand. "Supply and demand is an issue. With the worldwide competition for vaccine supply, we're not sure which vaccine can we get and when.

CONTINUE READING BELOW

Recommended Videos

"Quarantine and our PPEs are not enough to stop COVID-19. By reaching herd immunity, it may be our chance to get back to normal," she explains.

As a doctor and a mom, Doc Jax knew she had to get the vaccine for following reasons: One, to minimize the risk of getting infected especially with her line of work; Second, to achieve herd community and extend protection to seniors and kids; and third, to hopefully pass on COVID-19 antibodies to her 11-month-old daughter through breastfeeding, as seen in some studies.

Fortunately, Doc Jax was able to talk to a breastfeeding coworker who was able to take the shot earlier and it fully convinced her to get inoculated. "I [also] asked my Infectious Disease Specialist colleagues and discussed with my children's pedia about the safety of the vaccination," she shares.

Getting the COVID-19 vaccine

"For most of us healthcare workers the vaccine was a ray of hope," she says.

PHOTO BY

Courtesy of Dr. Jeannica Lerios-dela Peña

ADVERTISEMENT - CONTINUE READING BELOW

Doc Jax, who holds clinic at The Medical City (TMC) and Las Piñas Doctors Hospital, got her Sinovac shot at TMC. "I was very excited the day I was scheduled for my vaccine. My grin was literally from ear to ear!" she recalls.

Frontliners who were willing to be vaccinated submitted their data to the hospital, which included comorbidities, allergies, and informed consent, among others. Doc Jax, who had a history of allergies to certain medications, was observed 30 minutes after the shot before she was allowed to leave.

Vaccine side effects vary per person. For the mom, it was minimal eye and throat discomfort, chills on the night she was given the vaccine, and muscle pain, "as if I had exercised," the next day. All these symptoms were gone on the third day.

The doctor assures that these side effects are common. "It comes from your body producing antibodies against SarsCoV2. These symptoms are similar to getting a flu or pneumonia shot," she says.

Severe reactions are rare, but Doc Jax says the things you need to watch out for include "difficulty in breathing, chest heaviness, or severe light headedness which may point to a severe allergic reaction." She also assures that "there are emergency medications on hand at the vaccination site should any of these happen."

As a breastfeeding mom, Doc Jax monitored her breast milk supply closely, but there were no adverse effects. "I was also observing my baby for any changes since I breastfed her once I got home and took a bath. She didn't become fussy, nor had a fever. She was her usual 'milk monster' self," the doctor shares.

ADVERTISEMENT - CONTINUE READING BELOW

One step closer to 'normal'

Doc Jax after getting the vaccine.

PHOTO BY Courtesy of Dr. Jeannica Lerios-dela Peña

Doc Jax says that by sharing her experience, not just as a doctor but as a breastfeeding mom, she hopes to help people see that there is no reason to fear the vaccine. There are more benefits than risks.

"It is unfortunate that we are caught in a pandemic, but so many other dangerous illnesses have been avoided through vaccination. More than a hundred million have already had their shots worldwide with rare side effects, with the most severe at around 1 for every million.

"Vaccination is always a personal choice. Read, listen, ask, and keep an open mind," she advises.

"Hopefully, we may be able to travel, to enjoy celebrations with our family and friends, and our kids may be able to have fun and play outside again."

The doctor adds that the risk of getting infected with COVID-19 is even higher than getting a severe reaction from the vaccine. "If we get vaccinated, we protect ourselves and our family, we may even protect our babies, and each shot is a step towards going back to how we used to be.

ADVERTISEMENT - CONTINUE READING BELOW

"Us moms will literally do everything we can to protect our kids. And hopefully, we may be able to travel, to enjoy celebrations with our family and friends, and our kids may be able to have fun and play outside again. Someday, and hopefully sooner, with less lives lost," she says.

The DOH says the COVID-19 vaccine is safe for pregnant and breastfeeding moms. Click here to read more.

Celebrate your pregnancy milestones!


Enter your details below and receive weekly email guides on your baby's weight and height in cute illustration of Filipino fruits. PLUS get helpful tips from experts, freebies and more!

You're almost there! Check your inbox.


We sent a verification email. Can't find it? Check your spam, junk, and promotions folder.

Trending in Summit Network