Urine Testing May Be as Effective as a Smear Test at Preventing Cervical Cancer

A study's results provide "exciting proof of principle that urine HPV testing can pick up cervical pre-cancer cells."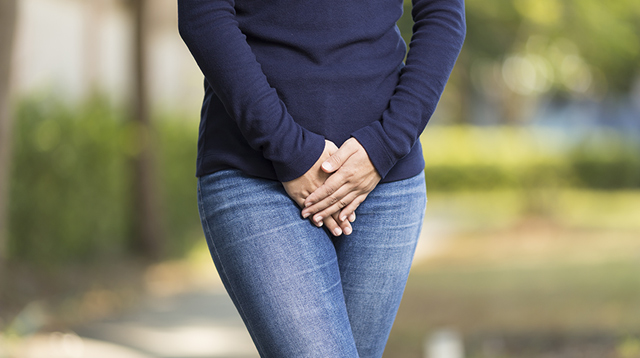 A new study from the University of Manchester has found that urine tests can actually be as effective as cervical cancer screening tests at detecting the presence of high-risk human papillomavirus (HPV), the virus that causes cervical cancer in women.

As BBC News reports, the study led by Dr. Emma Crosbie gathered 104 women at a clinic who were taking a colposcopy, a procedure where the cervix, vagina, and vulva are closely examined by a doctor for signs of disease. Two brands of HPV testing kits were used, and the researchers discovered urine tests could detect HPV as well as a smear test.

According to Science Daily, most cervical cancers are caused by high-risk types HPV-16 and HPV-18. Around two-thirds of the women tested positive for any high-risk HPV type and a third for HPV-16 or HPV-18.

"From the total, 18 women had pre-cancerous changes to the cervix that needed treatment. With the Roche HPV testing kit, urine, vaginal self samples and cervical smears picked up 15 of these. With the Abbott HPV testing kit, urine picked up 15 of these and vaginal self samples and cervical smears picked up 16."

"These results provide exciting proof of principle that urine HPV testing can pick up cervical pre-cancer cells," Dr. Crosbie said in a press release published on the University of Manchester website.

According to Dr. Crosbie, the findings of the study are significant because it can help boost the numbers of women participating in cervical cancer screening procedures. In England, attendance of women having smear tests has decreased based on reports from the National Health Service (NHS).

ADVERTISEMENT - CONTINUE READING BELOW

While results of the study are encouraging, Dr. Crosbie also stated that larger trials of the urine test were still needed before the procedure could be recommended to the NHS for more widespread implementation.

What you need to know about HPV and cervical cancer

HPV is a common type of virus. The Centers for Disease Control and Prevention (CDC) says that at least half of all sexually-active individuals will have HPV at some point in their lives since sexual intercourse is a typical way the virus is transmitted from person to person.

Not all women with HPV will have cervical cancer. The World Health Organization (WHO) states the virus has over 100 types, and around 14 can cause cancer. HPV-16 and HPV-18 have been found to cause at least 70% of cases of cervical cancer and pre-cancerous cervical lesions.

The CDC also points out another potentially scary fact about HPV: It usually does not trigger any symptoms, so it can be difficult to know that you have it. While the virus may eventually disappear on its own in the case of most women, people find out they have HPV when cervical cancer is diagnosed and it could have reached a stage where it is much more difficult to treat.

By the time cervical cancer reaches an advanced stage, a patient may experience symptoms such as unusual bleeding or vaginal discharge.

Though cervical cancer occurs most often in women over 30 years old, women of all ages are at risk for the disease. Other risk factors of cervical cancer include

CONTINUE READING BELOW

Recommended Videos

smoking
HIV, which inhibits the body's ability to fight off diseases and can cause acquired immune deficiency syndrome or AIDS
long-term usage of birth control pills (at least five years)
having given birth to three or more children
having multiple sexual partners

Men can also get infected with HPV though HPV-related cancers in men are not as common. Men who have issues with their immune systems and who receive anal sex are most at risk of developing HPV-related cancers such as penile cancer and anal cancer. In some cases, specifically if they are infected with HPV types that do not cause cancer, men may experience warts in the area around their penis or their anus.

How to prevent cervical cancer

Given the nature of the disease and the fact that it can affect women of any age, taking the necessary measures to prevent it is key. Similarly, if a person turns out to have any HPV, early detection can give way to more effective treatment and survival. After all, according to the CDC, "When cervical cancer is found early, it is highly treatable and associated with long survival and good quality of life."

The best way for women to reduce their risk of HPV is to take regular screening tests beginning at the age of 21. The CDC states there are two primary types of screening tests women are recommended to get: the Pap smear, which detects cell changes in the cervix which may have the potential to develop into cervical cancer, and the HPV test, which detects the presence of HPV.

ADVERTISEMENT - CONTINUE READING BELOW

Limiting the number of sexual partners and practicing safe sex by using condoms are more ways of reducing the risk of getting HPV and, possibly, cervical cancer. Though it is yet unknown how condoms really help prevent HPV infection, using condoms has also been linked to lower rates of cervical cancer, says the CDC.

Finally, receiving the HPV vaccine is another helpful measure people can take to be protected from being infected with HPV. This vaccine has been scientifically proven to shield the body from the types of HPV that are considered to be those which cause most cases of cervical, vaginal, and vulvar cancers.

According to the childhood immunization schedule prepared by the Philippine Pediatric Society (PPS) and the Pediatric Infectious Disease Society of the Philippines (PIDSP) in cooperation with the Philippine Foundation for Vaccination (PFV) for the year of 2019, children (both boys and girls) are recommended to be given two doses of the HPV vaccine, starting age 9. This vaccine is available for free in health centers all over the country.

Some parents may think that HPV vaccine is unnecessary for children to get because of their age and they are not sexually active. But doctors actually recommend moms and dads to consider this vaccine just like they would any other important type of vaccine.

"Most women develop cervical cancer later in life, between 35 and 55 years old, but many acquire the virus in their youth," gynecologic oncologist Dr. Cecilia Ladines-Llave told SmartParenting.com.ph.

"We don't wait until exposure to occur to give the other vaccines. We should do [the] same with HPV vaccine," pediatric infectious disease specialist Dr. May Montellano also shared. "We want to protect our children long before they are even at risk of exposure to HPV."

ADVERTISEMENT - CONTINUE READING BELOW

Adults are also recommended to get the HPV vaccine in three doses. A completed series of the HPV vaccine can protect anyone from HPV and cancers that may be caused by HPV for life and even from genital warts. Women between 9 and 55 years old and men between 10 to 26 years old, who have not previously received the vaccine or who had not completed the series, are recommended to get vaccinated against HPV.

What the research's findings mean

Though HPV infection and cancers that may be caused by HPV can be life-threatening, some women may feel understandably hesitant to participate in screening tests, perhaps because they find it uncomfortable or even embarrassing. The findings of the University of Manchester study provide a potential alternative that may be more convenient or comfortable for women to take.

"Many younger women avoid the NHS cervical cancer screening programme because they find it embarrassing or uncomfortable, particularly if they have gynecological conditions like endometriosis," Dr. Crosbie stated.

"Urine is very simple to collect and most hospitals in the developed and developing world have access to the lab equipment to process and test the samples," she later said, then elaborated, "Let us hope this is a new chapter in our fight against cervical cancer, a devastating and pernicious disease."

But while this prospective new alternate method is not yet recommended for widespread implementation, more traditional measures such as Pap smears, HPV tests, and the HPV vaccine are still the best way to protect oneself from being infected with HPV and HPV-related diseases.

ADVERTISEMENT - CONTINUE READING BELOW

What other parents are reading

Celebrate your pregnancy milestones!


Enter your details below and receive weekly email guides on your baby's weight and height in cute illustration of Filipino fruits. PLUS get helpful tips from experts, freebies and more!

You're almost there! Check your inbox.


We sent a verification email. Can't find it? Check your spam, junk, and promotions folder.
Trending in Summit Network