Food Choices, Eating Habits Matter In Managing GERD: Here's A Diet Plan You Can Follow

It's about eating the right food with the right amount at the right time.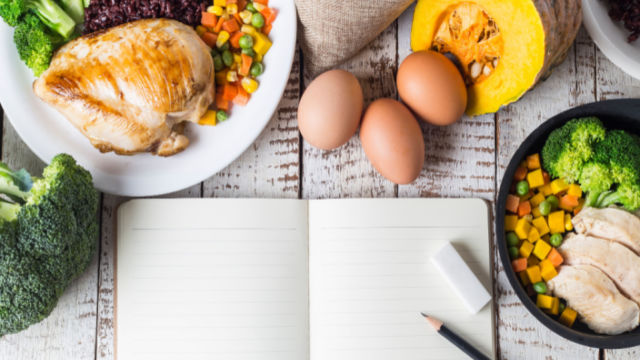 Editor's Note: This article is intended for information purposes only. It does not substitute a doctor. It is vital to always consult a medically trained professional for advice that suits your needs best.

After eating, do you experience having a bitter taste in the mouth? Or maybe you feel something, like a sticky lump, in your throat that makes you choke, cough, and even gasp for breath? Or there could also be a burning sensation in your chest (also called heartburn). Then you're most likely experiencing acid reflux.

If it happens regularly, you could already be suffering from gastroesophageal reflux disease (GERD). Then you should consult your doctor for advice on GERD medication and management. From there, you'll learn how to make your own GERD diet plan.

GERD management and food

The types of food we eat, plus how much and when we eat, are factors that cause acid reflux. It occurs when the food travels down the esophagus into the stomach and gets digested.

But f the sphincter (ring of muscle) at the end of the esophagus relaxes and doesn't close properly, acidic stomach contents flow back into the esophagus, up to the throat and larynx. Thus the bitter taste in the mouth, sticky lump in the throat, and heartburn around the chest area.

To know more about the foods, beverages, and eating habits that cause acid reflux, Smart Parenting talked to a registered nutritionist-dietitian. Renezzi Libay shares here her dietary recommendations to help manage GERD.

Libay works as a clinical research nutritionist at the International Initiative for Pediatrics and Nutrition (IIPAN). She's currently based in Philippine General Hospital (PGH) Pediatric Hema-Onco division that treats children battling cancer. She's in charge of providing patients nutritional care such as nutrition counselling, nutrition education, nutrition management.

ADVERTISEMENT - CONTINUE READING BELOW

Elimination/avoidance of particular food items

Note: This approach should be personalized to the patient's symptoms.

1. Acidic food and beverages

Examples of GERD foods to avoid are citrus fruits and tomatoes. You may included tomatoes when you're sauteeing your food, but do not eat the tomatoes. You may also observe how your body reacts when you consume these products, then note which ones it can and cannot tolerate.

2. Spicy food

3. Carbonated drinks

Coffee with or without caffeine may increase gastric secretion and minimally promote gastroesophageal reflux.

4. Chocolate

5. Mint

6. Alcoholic beverages

7. High fat food

Examples include fried foods, chips, high-fat baked pastries, cream, ice cream, high-fat cheeses and spreads, frozen items such as sausages, bacon, and similar items.

8. Simple sugars, such as in baked goods, candies, sugar sweetened beverages

These food items are linked to an increase of symptoms. But with the intake of fiber, you may have improved reduction in symptoms and reflux episodes, as well as a decrease in the onset of heartburn.

Correction in eating patterns and other behaviors

1. Avoid late night eating.

2. Reduce overall size (for overweight or obese individuals).

3. Reduce both total fat and caloric intake, which will aid in weight loss.

4. Avoid large meals. Instead, follow small frequent feedings (SFF). Large meals increase the likelihood of increased gastric pressure and reflux.

5. Maintain an upright posture during and after meals to avoid backflow of stomach contents.

6. Avoid eating within 2 to 3 hours before bedtime.

ADVERTISEMENT - CONTINUE READING BELOW

Recommended Videos

7. Elevate the head of the bed about 6 inches when sleeping.

8. Ensure adequate low-fat protein intake.

9. Stop smoking. It will help in reducing the effect of tobacco on stomach acid production and relaxation of the esophageal muscles. Tobacco inhibits saliva which is the body's major buffer.

GERD diet plan

The diet plan for individuals with GERD is more of a bland diet. A sample one-day diet plan and menu is shown below for a caloric requirement of 1,800 kcal. Take note that this meal plan is designed for people with GERD only. It is best to consult a registered nutritionist-dietitian for a more individualized meal plan.

Recommended intake

Food group: Amount

Vegetable: 1-2 cups of leafy vegetables

Fruit: 3-4 servings of low acid fruits such as apple, banana, melon, pears

Milk" 1 cup of nonfat milk

Rice: 2-3 cups of cooked rice

Bread: 3-4 pcs of wheat bread

Meat: 6 matchbox size lean meats; 1 piece egg

Fat: 6 tsp coconut oil

Sample menu

Breakfast:

1 pc banana lakatan

4-5 Tbsp oatmeal

Morning snack:

3 pcs pandesal  with 2 pieces medium-sized steamed egg roll

Lunch:

1 cup of rice

3 matchbox size baked chicken breast

1/2 to 1 cup sauteed cabbage and carrots

1 pc apple

Afternoon snack:

1 piece corn on cob

Dinner:

1 cup of rice 3 matchbox size lean pork nilaga

1/2 cup nilaga veggies

1 slice of melon

Midnight snack:

1 cup nonfat milk

You may try the sample GERD diet plan for one day and see how it works, so you can make your own. Just remember to always consult your doctor, especially when your symptoms persists or worsen.

ADVERTISEMENT - CONTINUE READING BELOW

--

References:

Flesher, M. (2003). Diet and Gastroesophageal Reflux Diseases. Retrieved from Canadian Society of Intestinal Research https://badgut.org/information-centre/health-nutrition/diet-and-gerd/

National Institute of Diabetes and Digestive and Kidney Diseases (2020). Acid Reflux (GER and GERD) in Adults. Retrieved from https://www.niddk.nih.gov/health-information/digestive-diseases/acid-reflux-ger-gerd-adults/all-content

Newberry, C. & Lynch, K. (2019). The role of diet in the development and management of gastroesophageal reflux disease: why we feel the burn. Journal of Thoracic Disease, 11(Suppl 12):S1594-S1601. http://dx.doi.org/10.21037/jtd.2019.06.42

The Nutritionist-Dietitians' Association of the Philippines (2010). Diet Manual, 5th Edition. TYC Printing, Tandang Sora Quezon City

Read also: GERD Risk Factors

Celebrate your pregnancy milestones!


Enter your details below and receive weekly email guides on your baby's weight and height in cute illustration of Filipino fruits. PLUS get helpful tips from experts, freebies and more!

You're almost there! Check your inbox.


We sent a verification email. Can't find it? Check your spam, junk, and promotions folder.

Trending in Summit Network