Menstrual Cup and Cloth Pads: Moms Share How to Use and Clean

Many have decided to use menstrual cups and cloth pads as period pals to save on money and help the planet.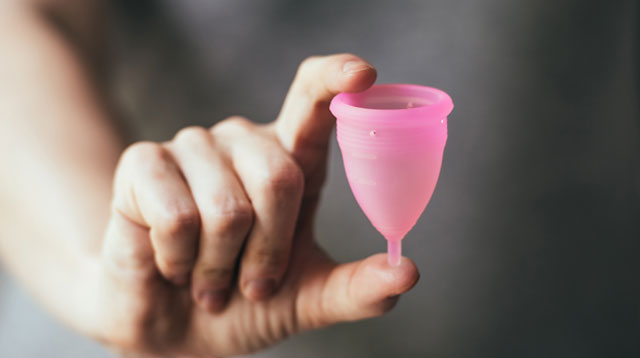 The period talk shouldn't be taboo. It's a natural thing all women should comfortably discuss because it concerns our health, and we deal with it every month for most of our active lives. And it's a good thing now that we have other options other than the typical sanitary pad: the cloth pad and the menstrual cup.

The cloth pads

Remember our lolas who swear by the comfort and reliability of their "pasador"? Just like cloth diapers, it's making a comeback and in style. Menstrual cloth pads are made of layers of soft fabric with 100% cotton or a flannel (pranela) as the usual top layer, an absorbent microfiber or terry cloth (material for towels) for the middle layer and (for some) a water-proof synthetic cloth for the bottom layer. It is sewn in the shape of the modern feminine pad complete with wings and a button instead of an adhesive strip to snap the flaps together. Cotton absorbs sweat, unlike synthetic fabric linings, making cloth pads comfortable and skin-friendly.

What other parents are reading

Not only does it solve your concerns on comfort, but cloth pads also help the budget. Washable means it's reusable so with enough stash, you don't need to buy a pack monthly. Cloth pads can last up to seven years. It also comes in different sizes, shape, and thickness depending on your flow. Cloth panty liners are available too. Though it is not guaranteed not to leak, cloth fibers can hold more fluid by distributing it to the entire area preventing spills. Gel grains may have the same capacity but with the movement, tilts, and folds, fluid can overflow. With cloth pads, there's nothing to throw, so it lessens waste.

ADVERTISEMENT - CONTINUE READING BELOW

"Not itchy, washable so 'di ka bili ng bili. I use cloth pads as a backup for my menstrual cup on my heavy days." — Zhiel, 36

How to clean cloth pads

But there's one thing to keep in mind, says cloth pad user Fanny Espiritu of Xenia and Ximon Cupcakery, 38. "You have to wash it with extra care. Hassle din when going out and you need to change. Over time you'll get to know some hacks and you get to have the hang of it. Super dali lang naman. I will never go back to disposables." 

Used cloth pads can be folded, closed with button snaps and kept in a cute small pouch that comes with the set. It can be stored in your bag until it can be washed at home at the end of the day and let air dry overnight or in a few hours under the sun.

What other parents are reading

Fanny made it a habit to bring a small spray bottle filled with soap and water solution she can spray on the used pad before folding and storing to help prevent stain. Hand washing the pads is a lot of work but for users, it's the only disadvantage, a small sacrifice to help the planet. Napkins and diapers are considered residual waste, which is non-biodegradable.

"When I started using cloth diapers on my panganay, sabi ko, why not try mama pads for myself para naman makatulong sa environment," says Mayette Capacion, 40 mom of two.

Read here to find out the cost and savings comparison of cloth pads vs. disposable sanitary napkins.

"[Cloth pads] less irritation and discomfort. Nangangati kasi ako sa disposables eh." — Roselda Macalalad 31, mom of two

The menstrual cup

Happy menstrual cup users swear they'll never go back to pads or tampons. "What I like about it is you don't feel anything while wearing the menstrual cup. No gush feeling, you don't feel blood coming out since the cup is catching it inside. Best of all it's cheaper. It's a one-time investment but you'll be able to use it for at least 10 years. By using MC we help lessen trash," says Zhiel, 36. 

CONTINUE READING BELOW

Recommended Videos

A menstrual cup is a bell-shaped device made of medical grade silicone (same material used for medical devices in hospitals) a size of a shot glass. It is flexible, shape-retaining and can be rolled or pinched to a size and inserted into the vagina to catch the flow. The cup can be used up to 12 hours. Menstrual cups are not locally made. It can be bought from online stores and there are local distributors as well. Price ranges from under P200 (unbranded) to over Php3,000 (US FDA approved).

"Menstrual cup is advisable for women who had normal vaginal delivery, whose muscles have stretched already. They may find it easier to use than women with smaller openings who did not undergo vaginal delivery (CS operated). It is also easy for us doctors to determine the patient's amount of menstrual flow by the cc or ml when she uses a menstrual cup," says ob-gyn Dr. Tawny Ann Cortes-Gaspar whose specialty is Reproductive Endocrinology and Infertility.

What other parents are reading

How to insert the menstrual cup

It takes practice — and some discomfort — to put a cup in your vagina. You have to push it deeply inside (it must be placed just below the uterus), and turn it with the use of the stem to allow a little air (the air holes are below the rim of the cup) and for the cup to slowly take shape inside you like a bell held up. Then just let it do its job.

Using a menstrual cup involves more than just touching yourself. The reality is you really need to "dig in" especially when taking it out by reaching for the pointy tip of the cone with the end of your thumb and forefinger and pulling it out. A downward push of your tummy while placing it and taking it out helps. Collected flow can be flushed away in the toilet.

The cup needs to be rinsed before putting it back in. Sherrie B., 33, a registered nurse explains, "Definitely there is a learning curve in using the cup. It took me about three menstrual cycles to get the hang of it. For a woman to use this, she must be comfortable with her own anatomy and what it does during a period. It can be messy at the beginning with lots of hand washing involved. I have to find the right way to place it in, how to manage to empty it when I'm not at home."

A common problem in using menstrual cup is the long stem that can poke the labium when placed too low. This then can be cut, filed for the rounded tip and sterilized before use. Some menstrual cup brands however already have shorter stems. Having the need to empty in a public restroom can also be a problem.

ADVERTISEMENT - CONTINUE READING BELOW

What other parents are reading

As Dada E., 30, points out, "It takes a little bit of practice and less 'arte' kasi if mapuno siya, tatapon yung blood sa hands mo. kailangan may water ka. I bring a portable/collapsible cup to wash it after use. It's worth it [the trouble] since wearing it will actually make you forget that you have your period. You don't have the 'basa' feeling especially when you sneeze."  

Menstrual cup leaks are experienced only by users with a heavy flow. It is also with self-observation that they learn how much their flow is with the amount of given time. This will determine when to empty and replace the cup. Locally packaged cups have a capacity of 15-18 ml (small size) to 20-23 ml (large size). According to the Philippine Commission on Women, normal blood loss during bleeding days is around 80 ml.

Here are suggested precautions for menstrual cup use:

Practice proper hygiene especially when using a device you insert in your body.
Get to know product information, composition, manufacturer, expiration, and country of FDA approval or Philippine DTI registration for local brands.
Women with long nails should take extra care in inserting to avoid abrasion in the vaginal wall.
Have two sanitized menstrual cups and use alternately for your period.
Have a healthy and balanced diet to boost your immunity to infection.
Remove the menstrual cup and seek medical help if you feel you are in pain. 

Has this article been informative? What are your thoughts? Share it with us on Parent Chat! Click any topic title below to join these related discussions.

ADVERTISEMENT - CONTINUE READING BELOW

Any tampon or menstrual cup users here?

Sanitary Napkins Used by Smart Mommies

What other parents are reading

Celebrate your pregnancy milestones!


Enter your details below and receive weekly email guides on your baby's weight and height in cute illustration of Filipino fruits. PLUS get helpful tips from experts, freebies and more!

You're almost there! Check your inbox.


We sent a verification email. Can't find it? Check your spam, junk, and promotions folder.
Trending in Summit Network