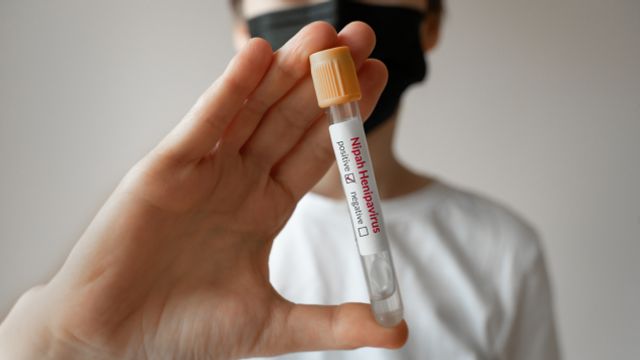 Kerala, a state in southern India is currently dealing with an outbreak of the Nipah virus. Local reports say that two people have died and hundreds of residents are being tested. No new positive cases have been recorded since September 23. Schools in Kerala's Kozhikode reopened last September 25, however, areas inside the containment zones will still have online classes. Health officials closed schools, offices, and public transport last September 13 as a precaution against the spread of the virus.
What is the Nipah virus?
The World Health Organization (WHO) classifies the Nipah virus (NiV) as a zoonotic virus – it can be transmitted from animals to humans. Case fatality rate is estimated at 40% to 75%, with the rate varying on the local capabilities of the outbreak area.
The Nipah virus was first recorded in Malaysia in 1999. Past outbreaks have been recorded in other countries such as Singapore, Bangladesh, India, and the Philippines, with Bangladesh experiencing almost annual outbreaks from 2001 to 2013. The current outbreak is the fourth to hit Kerala in five years, with the last one recorded in 2021.
Fruit bats (genus Pteropus), also known as the flying fox, are considered the animal host reservoir for the Nipah virus. Infected bats can then spread the disease to other animals such as pigs and humans via close contact with its body fluids.
How is the Nipah virus transmitted?
The virus can be transmitted from the fruit bats to humans via:
Direct contact with infected animals, such as bats or pigs, or their body fluids, such as blood, urine, or saliva.
Fruit bats typically live in trees such as date palms and other fruit trees, which can often be found near human settlements. This makes such trees at high risk of getting contaminated by bat urine, saliva, or droppings.
Bat guano is sometimes used as fertilizer, which can potentially put farmers and other agricultural workers into close contact with the virus.
Consuming food products that have been contaminated by body fluids of infected animals. The Bangladesh outbreaks can be linked to people drinking raw palm sap contaminated with bat urine or saliva.
Bat secretions can contaminate farm animals' food and water. Infected farm animals can then transmit the infection to humans.
Human to human transmission can occur via:
Close contact with an infected person' secretions and excretions, which is commonly seen in families and caregivers of Nipah virus-infected patients and in healthcare settings.
In a news report last September 22, Filipino infectious disease expert Rontgene Solante explained, "When the body fluids of those who are infected are exposed to the person handling that infected individual without the gloves, without washing their hands, and then touching their face and touching their mouth."
Experts say that the Nipah virus is not an airborne infection. However, the Bangladesh strain, which is associated with additional symptoms such as muscle weakness, cough and breathing difficulties can be possibly transmitted via respiratory droplets when infected people cough or sneeze.
What are the symptoms of the Nipah virus?
Human infections are said to range from asymptomatic infection, to acute respiratory infection (ranging from mild to severe), to fatal encephalitis.
Infected people can develop the following initial symptoms:
Fever
Headaches
Myalgia or muscle pain
Vomiting
Sore throat
These can then develop to:
Dizziness
Drowsiness
Altered consciousness
Neurological signs that can indicate acute encephalitis
In some cases, patients can also experience atypical pneumonia and severe respiratory problems, including respiratory distress.
Severe cases can experience encephalitis and seizures, progressing to coma within 24 to 48 hours.
The incubation period (interval from infection to onset of symptoms) range from 4 to 14 days. However, there are reported cases of an incubation period of 45 days.
How is the Nipah virus diagnosed?
Since the Nipah virus' initial signs and symptoms are nonspecific, it's usually not suspected at the initial time of presentation. This can prevent experts from making an accurate diagnosis, thereby also resulting in challenges in outbreak detection, effective and timely infection control measures, and outbreak response activities.
Diagnosis typically relies on clinical history during the acute and convalescent phases of the disease. The primary tests used include real-time polymerase chain reaction (RT-PCR) from bodily fluids and antibody detection via enzyme-linked immunosorbent assay (ELISA).
Other tests used for detection include polymerase chain reaction (PCR) assay and virus isolation by cell culture.
What is the treatment for the Nipah virus?
Currently, there are no drugs or vaccines available that are specific for the Nipah virus. Intensive support care is recommended to treat severe respiratory and neurologic symptoms.
What is the mortality rate of the Nipah virus?
WHO pegs the Nipah virus' case fatality rate at around 40% to 75%. However, experts are worried that outbreaks are becoming more common and dangerous. The first outbreak in Malaysia in 1999 had a 39.6% fatality rate. In Bangladesh, the fatality rate in the 2001 outbreak was 69%, this increased to 83% during the 2013 outbreak. The 2018 outbreak in Kerala, India, recorded a fatality rate of 94.4%.
What is the Nipah virus' effect on kids?
Experts in India say that the Nipah virus can be severe for children.
"Children can be susceptible to the Nipah virus, can have symptoms similar to adults. However, they may experience a higher risk of severe complications owing to their developing immune systems. Due to weakened immune systems, Niv [Nipah virus] may affect elderly population severely, requiring hospitalization. Therefore timely medical attention should be given to children and elderly people infected with Nipah. Immediate medical attention and adherence to preventive measures are key to control its spread and minimize its impact," Dr. Santosh Kumar Aggrawal, Sr. says.
How can you prevent infection?
Observing proper hand hygiene: Use soap and water to regularly wash hands or alcohol-based sanitizers if soap and water are unavailable.
Avoid close contact with infected individuals or animals who might be carriers of the virus.
As of this time, Dr. Solante is not worried about the Nipah virus entering Philippine soil. He said, "It's not something to worry about at this time. Alam naman natin at their level, it is already controlled. I don't think it's a problem like in terms of border like what we experienced with COVID-19. It is easy to track down those symptomatic infections more or less."
References: