The Best Sex Positions for Moms and Dads With Back Pain

Back pain should encourage you and your partner to, well, get more creative when it comes to sex.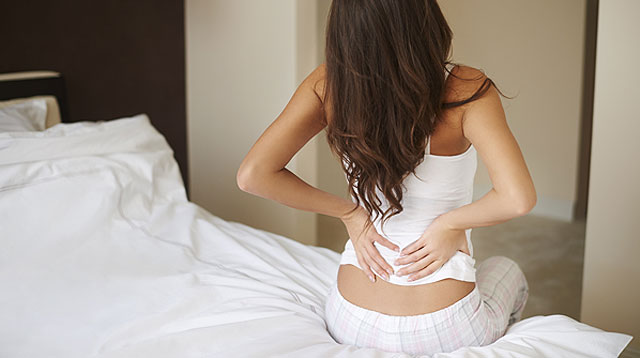 Just about everyone has experienced back pain at one time or in one form or another. And it shouldn't stop you from getting intimate with your partner. You need to find what works for you and not abandon sexy time entirely. Some sex positions may even be therapeutic. You can hit two birds with one stone!

The first step to getting busy under the sheets again after experiencing back pain is to get help. Consult a therapist to determine what causes the pain and how it can be relieved. You also need to ask if it's safe. 

What other parents are reading

Natalie Sidorkewicz, Ph.D., from Canada's University of Waterloo who has co-authored two studies on the spine motions of both male and female back-pain patients during sex have simplified it into three:

Flexion-intolerant persons are those experience back pain when bending forward, like touching her toes or picking up something that has fallen on the floor. Sitting for long periods of time can also cause this pain. 
Extention-intolerant persons are those who feel back pain when bending backward, like stretching and some yoga positions that arch the back. Lying on the tummy and then pushing oneself up can also cause this pain. 
Motion-intolerant patients, as the name suggests feel back pain when doing "any movement of the spine away from a neutral, upright-standing, or laying-down position."

Once you've determined what causes your back pain and how to relieve the pain or avoid it altogether, you can start experimenting on what works for you and your partner. It's really a trial and error here. Similar to telling your partner what pleasures you in bed, you have to be able to communicate openly about what works for your back. 

Dr. Sidorkewicz and study co-author Stuart McGill, Ph.D., professor emeritus at Waterloo's Faculty of Applied Health Sciences, did a study to see how having sex factors into a person's back pain. They observed 10 couples performing five sex positions using infrared and electromagnetic motion capture systems that assessed spinal movement in both participants.

The results of the study proved that spinal movement was the key to having comfortable and fun sex without having to worry about any type of back pain. According to the results of their study, spooning or side-lying position does always work both for men and women. These two the most back-friendly sexual positions for women. 

Missionary position with back support

Missionary with a pillow under your hips, right where your hips meet your bottom, works well to alleviate back pain as the cushion prevents you from lying down on the bed flat. The pillow helps support that natural arch on the lower back. This is recommended for women who feel back pain when bending backward.  

Doggy style without arching the back

Doggy style works as long as you remember to keep your spine straight to avoid straining your back. Supporting your upper body weight with your arms or elbows or arms helps keep the pressure off the spine. This is recommended for women who feel pain when bending forward.

Back-friendly sex positions for men also depend on what type of back pain they have. For men who have extension-intolerant back pain, the researchers suggested the missionary or spooning sex position. Men who are flexion-intolerant should go for doggy style sex instead of spooning. 

What other parents are reading

It seems limited, yes, because the study only asked the couples to perform two variations of the missionary position, another two ways to do doggy style, and spooning or side-lying position. It wasn't even able to cover woman-on-top sex position variations, so that's where the fun can begin for you and your partner. 

Board-certified clinical specialist in orthopedic physical therapy Peggy Brill suggests couples tweak things a bit every time. Don't underestimate the power of a pillow under your belly or your lower back to take the pressure off your lower back. Keep your upper body or spine straight and supporting your upper body with your hands or elbows can already make a huge difference. 

"If your back is bothering you, don't aim for long, vigorous, gymnastic lovemaking," advises reproductive endocrinologist Jan L. Shifren, M.D., an associate professor of obstetrics, gynecology, and reproductive biology at Harvard Medical School. "Don't try to resume sex too soon after having a backache," she added. She also suggests making love in the water, like a pool or a tub, can take some of the stress off your back, because water is buoyant and offers support. 

See? Your sex life doesn't have to suffer just because of recurring back pain. If anything, it can pave the way for it to be more exciting. Enjoy and have fun!

What other parents are reading

Celebrate your pregnancy milestones!


Enter your details below and receive weekly email guides on your baby's weight and height in cute illustration of Filipino fruits. PLUS get helpful tips from experts, freebies and more!

You're almost there! Check your inbox.


We sent a verification email. Can't find it? Check your spam, junk, and promotions folder.
Trending in Summit Network