Hindi Makatulog Dahil Sa Lakas Ng Hilik? 6 Remedies To Help Your Spouse Stop Snoring

What causes loud snoring and how it can be treated.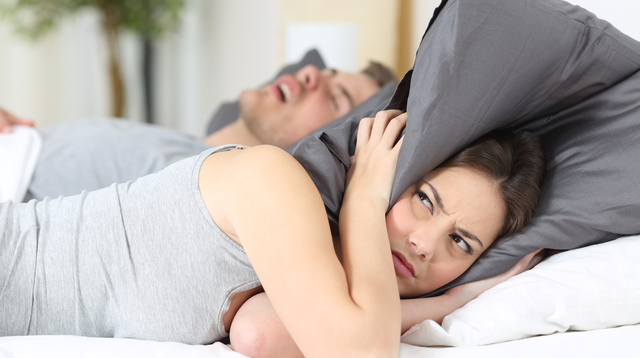 Editor's Note: This article is intended for information purposes only. It does not substitute a doctor. It is vital to always consult a medically trained professional for advice that suits your needs best.

A popular discussion on snoring was recently started by a member of the Smart Parenting Village Facebook group who posted anonymously. She said in her post, "Mahimbing pa rin naman ang tulog ko kahit malakas humilik ang asawa ko pero may times na nababahala ako. Minsan tina-tap ko sya para huminto siya sa paghilik."

Snoring is very common in the family. We get to live (and sleep) with our parents, siblings and spouse who could all have a history of snoring, including children (read here). The loudness can get to a point when it's already very disturbing leading us to ask when is snoring normal or considered a health risk?

What causes snoring?

Snoring happens when a person is in deep sleep. The tongue falls back and the throat relaxes. The palate and the uvula elongates and blocks the airway. As the air tries to pass when we breathe, the uvula vibrates and cause snoring. People snore mostly when they are tired, and at different intensities. Some snores are light and wheezing, while others are heavy and loud.

Normal breathing vs Obstructed breathing

 

PHOTO BY

Michael Brenner from Wikimedia Commons

ADVERTISEMENT - CONTINUE READING BELOW

Another member of Smart Parenting's online parenting community commented, "Si husband parang barko humilik, hindi talaga ako makatulog. Nag worry ako kasi biglang huminto sya sa paghihilik, tinitingnan ko kung humihinga pa siya. Yun pala mahimbing na ang tulog niya." 

When to worry?

Loud and habitual snoring could mean that the he is not getting enough air and oxygen, more so if there are pauses in breathing. Snoring can be very stressful for other people too, who may need to use earplugs for sleeping. 

Snoring is associated with Obstructive Sleep Apnea (OSA), which is one of the most common sleep disorders aside from insomnia and restless leg syndrome. It's when the breathing stops or gets very shallow during sleep, and it lasts for 10 to 20 seconds or more, occurring 20 to 30 times an hour.

Sleep deprivation affects our health. When one thinks he had completed hours of sleep but is a heavy snorer all throughout, he may not have gotten complete oxygen intake and therefore, not enough rest and recovery.

Sleep apnea symptoms include:

Mood swings
Excessive daytime sleepiness
Lose of focus in activities
Change in attention span
Memory lapses
Complications in health problems, such as high blood pressure and axiety

Snoring is more common in men but women experience it too as told by another anonymous group member: "Since nasa usapang hilik tayo, ako lang ba na nagiisang babae ang humihilik? Sabi ng husband ko palagi ako nahilik."

Factors that affect snoring

These factors matter regardless of gender:

CONTINUE READING BELOW

Recommended Videos

Being overweight or obese

This could be due to the fat build up inside the neck area and growth of the structures that can obstruct the airway.

Age

There are changes in body elasticity and hormones as we get older.

Anatomical abnormalities

Some people are born with big tonsils and adenoids that can potentially block air passage.

Nasal congestion or throat problem

Mucus or inflammation of the inside of the throat can cause obstruction in breathing.

Alcohol consumption or intake of melatonin and other relaxants

As these subtances fully relax the body and brings a person to a deeper state of sleep.

Family history

It may be hereditary, so if your spouse snores, your child or any of your children may snore, too.

Sleep apnea treatment

Snoring remedies can be as easy as these examples:

Turning the sleeping person to his side
Elevating the head 4 by inches for the tongue not to block the throat by gravity
Maintain your ideal weight
Avoiding alcohol and sleeping tablets before bedtime
Treating nasal congestion
Getting complete rest

Be cautious, though, to not get lured into buying anti-snoring devices such as chin straps, nose plugs, and nose strips as they don't stop snoring and has completely nothing to do with the cause as mentioned.

When to see a doctor?

If OSA is suspected, a dentist can check for oral structures to see if there are any natural formations in the throat that can cause airway obstruction. The dentist may also recommend a mouthpiece which can bring the jaw forward to keep the tongue from falling backward as the patient sleeps. This mouthpiece must be customized to match the patient's bite structure to make sure it will stay in place.

ADVERTISEMENT - CONTINUE READING BELOW

Patients can be referred to an ear-nose-throat (ENT) doctor who subspecializes in sleep medicine and surgery. He can subject the patient to a sleep study in a hospital room where the patient sleeps overnight with attached cords and devices to monitor breathing, brainwaves rapid eye movement (REM), oxygen level.

The doctor then will study the data collected and will give diagnosis and recommended treatment depending on the severity of the case.

If needed, the doctor may recommend the use of a continuous airway breathing apparatus called Continuous Positive Airway Pressure (CPAP) machine. This is a portable sleeping therapy machine to help people with OSA to breathe more easily when they sleep.

The last line of treatment would be an upper airway surgery and there are hospitals and clinics equipped with modern methods using new technologies for the procedure.

Sources: 

Lung Center of the Philippines 

The Philippine Society of Sleep Medicine (PSSMI)

Healthline.com

What other parents are reading

 

Celebrate your pregnancy milestones!


Enter your details below and receive weekly email guides on your baby's weight and height in cute illustration of Filipino fruits. PLUS get helpful tips from experts, freebies and more!

You're almost there! Check your inbox.


We sent a verification email. Can't find it? Check your spam, junk, and promotions folder.
Trending in Summit Network