Chronic Stomach Ache Can Be A Sign Of IBS, Says A Gastro Doctor

Irritable Bowel Syndrome (IBS) is characterized by chronic abdominal pain.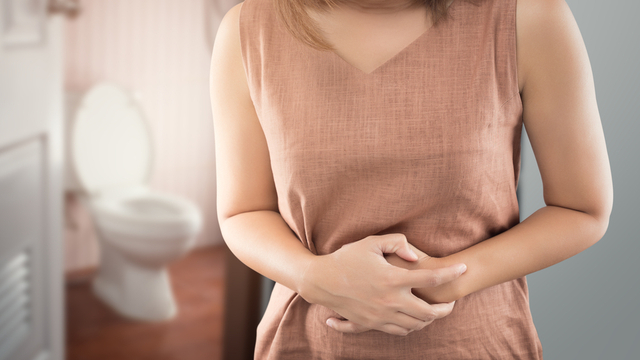 Editor's Note: This article is intended for information purposes only. It does not substitute a doctor. It is vital to always consult a medically trained professional for advice that suits your needs best.

Having abdominal pain once in a while is quite normal, but not when it becomes recurrent and it's connected with your bowel movement. This could be a case of irritable bowel syndrome (IBS). That's why it's best to see a doctor, so you'll be given the proper stomach ache medicine.

What is IBS?

"IBS is a functional bowel disorder characterized by chronic or recurrent abdominal pain with relief or exacerbation by defecation, or a change in bowel habit," says Dr. Aubrey Q. Taguba, a gastroenterologit. "It is a common complaint in our clinics."

Dr. Taguba's lecture on IBS, as part of the Primary Care Lecture Series, is posted on the Facebook page of the Philippine Society of Digestive Endoscopy. She mentions medical sources showing that more women than men suffer from the disease, and that 50 percent of the patients experience symptoms before reaching 35 years old.

IBS has different causes, including:

Genetic and epigenetic influence
Gastrointestinal-related influence
Dietary influence
Central nervous system/psychological association

Symptoms of IBS

Diagnosis of IBS heavily relies on patient's symptoms, Dr. Taguba points out, adding that symptoms are often difficult to to quantify objectively. But according to the Rome VI Criteria for IBS, she says the the primary symptom is recurrent abdominal pain, usually but not at all times, around the lower abdomen.

ADVERTISEMENT - CONTINUE READING BELOW

Most importantly, the pain occurs at least once a day or week in the last three months and is associated with two or more of the following conditions:

Related to defacation (either the bowel movement makes it better or worse)
Change of frequency in stool
Change in the form/appearance of the stool

The doctor notes that symptoms start a least six months prior to diagnosis, depending on these IBS sub-types:

IBS-C for constipation
IBS-D for diarrhea
IBS-M for mixed constipation and diarrhea
IBS unsubtyped /unclassified

How is IBS diagnosed?

When you consult a doctor regarding the symptoms you experience, your doctor will check you up for IBS using this approach to diagnosis:

Symptom assessment
Physical examination
Limited screening for organic disease
Identification of symptom subgroup (constipation-predominant, diarrhea-predominant, pain/gas/bloating)
Review of medical history (including diet, medications), plus medical, surgical, and psychological background

Dr. Taguba adds that your doctor will also take note of the presence of alarm features, such as:

Age over 50
Overt gastrointestinal (GI) bleeding
Unintentional weight loss
Nocturnal passage of stools
Family history of colorectal cancer or inflammatory bowel disease
Recent changes in bowel disease

Afterwards your doctor will take in consideration the differential diagnosis. For the diarrhea sub-type, for instance, it could be secondary to infection, inflammation, and maldigestion. If it's under the constipation sub-type, considerations will involve bowel obstruction and metabolic factors, such as hypothyroidism and hypoglycemia.

If there's pain, your doctor will check for infection, obstruction, and inflammation. For non-GI associations, they could be:

Gynecologic—dysmenorrhea, dyspareunia
Urologic—dysuria, frequency
Muscoloskeletal—fibromyalgia (painful muscles)
Psychologic—depression, anxiety, abuse

CONTINUE READING BELOW

Recommended Videos

You will have to take some diagnostic tests. For IBS-C, there's the reactive protein/fecal calprotectin, and for IBS-D, celiac testing (IgA TTG) done ideally in the setting of adequate gluten consumption.

Dr. Taguba makes it clear that "further testing should be discouraged if patients meet the diagnostic criteria for IBS," noting that "colonoscopy did not change the diagnosis of IBS in 98.1 percent of patients."

Management of IBS

You will need to take a few important steps in line with stomach ache medicine.

Change in diet

Dr. Taguba says she encourages her patienta to keep a food diary in an attempt to identify their possible food triggers. These triggers include gluten, lactose, and fructose. Avoidance of food triggers is very helpful, she points out.

The doctor also discussed FODMAP, which stands for foods that are fermentable, oligosaccharide, disaccharide, monosaccharide, and polyols. She explains that these comprise a group of sugars not completely digested or absorbed in our intestines.

When consumed, this group of sugars produces symptoms of bloatedness and abdominal pain. That's why the advice is for to patients to go for a low FODMAP diet. It should be consisted of certain vegetables, fruits, dairy products, proteins, grains, sweeteners, and nuts.

She highly recommends the consumption of fiber, which increases fecal mass with mechanical stimulation or irritation of the colonic mucosa with increasing secretion peristalsis, as well as fermentation byproducts. The most preferred type of fiber is psyllium because it contains 70 percent soluble fiber.

The doctor suggests about 12 g of fiber every day. She says it's low cost and lacks significant side effects. By the same token, consumption of probiotics, but not prebiotics, has been found to improve symptoms like bloating and flatulence after four weeks.

ADVERTISEMENT - CONTINUE READING BELOW

Exercise regularly

Dr. Taguba says 20 to 60 minutes of moderate to vigorous intensive physical activity three to four times a week improves the IBS severity scoring system. It also improves IBS-quality of life (QOL) scores significantly in the dimensions of emotion, sleep, energy, and physical functioning.

Take your medicines

Dr. Taguba says medications will help treat your IBS. You will have to take antibiotics, particularly rifaximin, to reduces IBS symptoms, as well as bloating. Antispasmodics also reduce IBS symptoms. Same goes for peppermint oil, which contains L-menthol that blocks calcium channels in smooth muscle, thus producing anti-spasmodic effects. But it may cause heartburn, she cautions.

For IBS-C, the prosecretory agents linaclotide, plecanatide, and lubiprostone are recommended. For IBS-D, it's loperamide, which improves stool consistency and frequency but doesn't cause pain; as well as alosetron for females. Antidepressants may also be prescribed because there's a connection between mood or state of mind and bowel movement.

If all else fails as stomach ache medicine, the doctor says you may undergo more tests until your IBS concerns are addressed.

Read here for stomach ache causes in children and here for stomach ache during pregnancy.

What other parents are reading

Celebrate your pregnancy milestones!


Enter your details below and receive weekly email guides on your baby's weight and height in cute illustration of Filipino fruits. PLUS get helpful tips from experts, freebies and more!

You're almost there! Check your inbox.


We sent a verification email. Can't find it? Check your spam, junk, and promotions folder.
Trending in Summit Network