5 Key Factors to Set Up Your Newborn for Lifelong Health

Providing him these essentials in his first 1,000 days can set him up for lifelong health.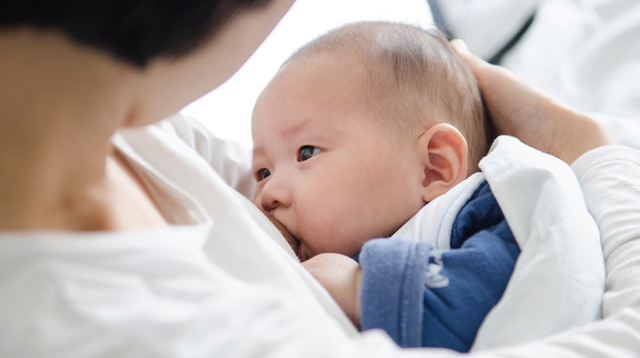 Health experts always underline the importance of the first 1,000 days, or the first three years, of a newborn's life--and the lifelong implications it can have in his development. Lacking the proper nutrition during this time can cause cognitive delays, slow physical growth, and a weakened immune system. 

Roger Thurow, a senior fellow at The Chicago Council on Global Affairs and the author of the new book, The First 1,000 Days: A Crucial Time For Mothers And Children--And The World, talked about this crucial period on NPR's The Diane Rehm Show together with Asma Lateed, director of Bread for the World Institute. The hour-long conversation with guest host Allison Aubrey also focused on prenatal nutrition, breastfeeding, and early essential newborn care. Here are some of the takeaways in the discussion: 

1. Lack of nutrition in the first 1,000 days can lead to stunted growth and malnutrition.
During the conversation, Aubrey asks Thurow about a photo taken from his book. It's of two siblings, side-by-side, a little girl who is 4 years old, and her brother who is 2 years old. In the picture, however, the little boy is just as big as his sister. The ate was obviously too small for her age. 

The difference, says Thurow, was the mother took a nutritional rehabilitation course when she found out she was pregnant with her second ababy. The course taught mothers about minerals and vitamins, diversified diets, and how to cook and prepare nutritious food. "This comparison of these two children shows this is what's possible when one really concentrates of 1,000 days of particular nutrition," says Thurow. 

Lateed also talked about the damage done by malnutrition as reported in a study published in the medical journal Lancet. According to the research, malnutrition in kids could lead to lost educational capacity and health productivity as they grow older, said Lateed. 

ADVERTISEMENT - CONTINUE READING BELOW

What other parents are reading

2. The first 1,000 days has lifelong effects.
Adults may be able to survive a whole week of fastfood or only one-meal days. For young kids, however, not getting proper nutrition can lead to consequences he can experience for life. "One of the things I hope readers take away from the book is this realization that stunting is this life sentence of underachievement and underperformance, and the costs roll throughout society," said Thurow.

3. Newborn breastfeeding and skin-to-skin contact are essential to a baby's first years.
Thurow mentioned an area in Uttar Pradesh, India where 85 children die in every 1,000 live births. The reason, he elaborated, was the lack of essential newborn care. It was common practice in the community that the first breast milk, called colostrum, was discarded as it was thought to be dirty. Colostrum, however, is rich in antibodies, and it "basically sets the child up for this strengthened immune system," he said. 

Aside from throwing away colostrum, skin-to-skin contact wasn't practiced in the community either. "A lot of times the baby was just set aside after birth while they tended to the mother. And so they had huge problems with hypothermia, with infection rates," said Thurow. 

Early essential newborn care or EENC begins with sustained skin-to-skin contact between the mother and child shortly after birth, which transfers warmth, placental blood, and protective bacteria, and promotes exclusive breastfeeding.

The community has received intervention, and things have started looking brighter. "After 16 months, 18 months of these behavioral changes--immediate breast feeding, the skin-to-skin contact with the baby on the mother's chest, right away after birth--they basically cut those mortality rates in half," Thurow said. 

CONTINUE READING BELOW

Recommended Videos

What other parents are reading

Lateed backed that up with a reference to the Lancet study, "One of the things that the Lancet Series really pointed out was how critical breastfeeding--exclusive breast feeding is in the first six months." She added that this should then be followed by complementary feeding--introducing solids at the right age while still continuing to breastfeed. 

President of the European Society of Paediatric Gastroenterology, Hepatology and Nutrition, Dr. Berthold V. Koletzko, who was not part of the radio interview but spoke at a press conference last year about a baby's first 1,000 days, also supports breastfeeding during this critical developmental period. 

Taking from the European Union's Early Nutrition project, he cautioned parents to check formula milk for high protein content. According to Dr. Koletzko, high protein content in formula milk could cause rapid weight gain in these first days leading to an increased risk of the child being overweight and obese later in life.

4. Prenatal care has a direct effect on your child's brain development. 
Mothers all around the world, whether rich or poor, want their children to have a good education, says Thurow. Proper brain development plays a huge role in this, and it starts even before the child is born. "To have that good education, it's really important what happens already in pregnancy because that's where the cognitive development happens," says Thurow. Nutritional education, he explains, should start even before the first 1,000 days. 

5. It pays to be financially prepared for baby.
Thurow explained that poverty and the lack of resources can be a big hindrance to the first 1,000 days of a baby. Moms are eager to learn, but they lack the money and support to follow through. He put this in the context of not just poverty-stricken communities, but also of moms in the U.S.

"I found that the most common craving of moms during their pregnancy and then for new moms is for knowledge. And you can see their eyes light up when they're getting this nutritional information and the hygiene information… and all that goes into the 1,000 days. But then, if you're not able to put that knowledge in to play, that knowledge becomes a burden," says Thurow.

ADVERTISEMENT - CONTINUE READING BELOW

Celebrate your pregnancy milestones!


Enter your details below and receive weekly email guides on your baby's weight and height in cute illustration of Filipino fruits. PLUS get helpful tips from experts, freebies and more!

You're almost there! Check your inbox.


We sent a verification email. Can't find it? Check your spam, junk, and promotions folder.
Trending in Summit Network