Pag-aalaga sa Nilalagnat: What Pinoy Parents Are Doing Wrong

A children's book has an ambitious task of tackling health and hygiene issues.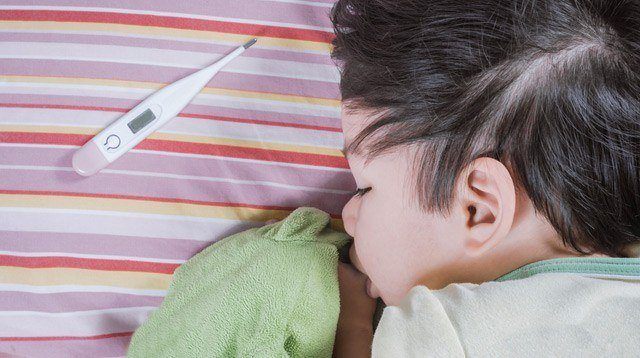 There's a children's book series called Oki Dok! and we highly recommend it for kids and parents–yup, including you, mom! 

Oki Dok! has an ambitious task of tackling health and hygiene issues for an audience whose age starts at 3. You need an author who not only knows medicine but also has the imagination of a kid-at-heart. Enter Dr. Luis P. Gatmaitan, a medical doctor who also happens to be a prolific children's author You may know him from the Mga Kuwento ni Tito Dok series (which just released its 21st title with Dyaran! Ang Kambal na Hebigat!).

Nilalagnat Si Enat!, the first book in the Oki Dok! series, tackles fever, "a very common condition that affects us now and then. It is not a disease. It is a symptom of an illness," Dr. Gatmaitan said in an interview with Smart Parenting. 


"My children's book tries to discuss the correct way to manage fever at home because when we talk about our childhood, tiyak na may kanya-kanya tayong kuwento ng lagnat o kung paano ginamot ang ating lagnat," he said. 

The book also touches on a few well-meaning Pinoy practices that do little to alleviate a fever or may even make the child feel worse!

"I thought it would be nice to present the old school techniques of managing fever compared to the modern ways to address this condition," said Dr. Gatmaitan. "Some older people who have read the book were amused by the story. One senior citizen even told me, 'Ako yata ang pinatatamaan mo sa kuwento, Tito Dok!'"

ADVERTISEMENT - CONTINUE READING BELOW

What other parents are reading

Dr. Gatmaitan himself debunked common Pinoy fever myths and shared a few helpful tips on how to take care of a child with a fever: 

In your experience, what do many Pinoy parents get wrong about fevers? You mentioned wrapping up in thick clothing and closing the windows in Nilalagnat si Enat!

Of course, our parents want to bring down the temperature to a normal level in the soonest possible time. They often resort to household remedies such as wrapping up the child in thick blankets (kinukulob, sabi nga) with windows closed and electric fans turned off. Sweating, they believe, will bring the body's temperature down. They fail to realize that just by taking the regular anti-fever medication like paracetamol, we can experience sweating out without being "mummified." 

On the other hand, what do many parents get right?

Somehow, there's a wisdom in their traditional practice of putting a "bolsa de yelo" (or a wet towelette) on the forehead of a feverish child. The higher the fever, the more we do it. 

The hypothalamus, the body's thermostat or temperature regulator, is part of the brain and is located at the back of the head. Now, by putting a "cold/wet towelette or bolsa de yelo" somewhere in the head, the area of the hypothalamus is somehow reached. The temperature starts to go down. Ask any older citizen, and they were at a loss why they kept on putting a bolsa de yeso on the forehead of a child with a fever. They just know it would help bring the temperature down.    

What other parents are reading

Should a child with a fever skip school? When would it be all right to go back?

Yes, I believe that any child who develops fever, whether mild or high-grade, should take a vacation from school. Remember, fever is just a symptom of an underlying disease. We don't know the severity of the disease or if the cause of fever is contagious or not. Besides, a bout of fever serves as a warning that there's something wrong with the body. To have a bed rest to help the body recuperate from infection or fatigue is not a bad idea.

When is a fever in a child a cause for concern?

Slight elevation of temperature that does not cause distress in the child may not require medical attention. However, if the fever persists despite a round-the-clock paracetamol treatment (if the fever gets higher or recurrent or if the fever has accompanying seizures or rashes), the child should be brought to the doctor for check-up and evaluation. As a general rule, infants younger than 3 months who have temperatures of 38 degrees centigrade or higher should be examined by physicians. 

ADVERTISEMENT - CONTINUE READING BELOW

What other parents are reading

Tito Dok's top tips on how to care for a child with a fever

Don't panic! Remember that every person in the world has experienced having a fever.
Check the temperature with a thermometer.
Open the windows to allow air entry (the room should be well-ventilated).
Ask the child to change into light clothing. Shorts/pajamas with sando are best. Use a light blanket as needed. 
Do sponge baths frequently (just use tap water and refrain from putting alcohol or vinegar in it. Alcohol will make the child chilly and vinegar will make him smelly!). 
Paracetamol can be given every four hours if still with fever. 
Consult with a doctor to investigate the cause of the fever. 

Stay healthy!

Get Nilalagnat si Enat! and other books in the Oki Dok! series and Mga Kuwento ni Tito Dok series in bookstores or online at Pumple Books & Happiness. 

Trending in Summit Network