Can My Child Be Given More Than One Vaccine at a Time?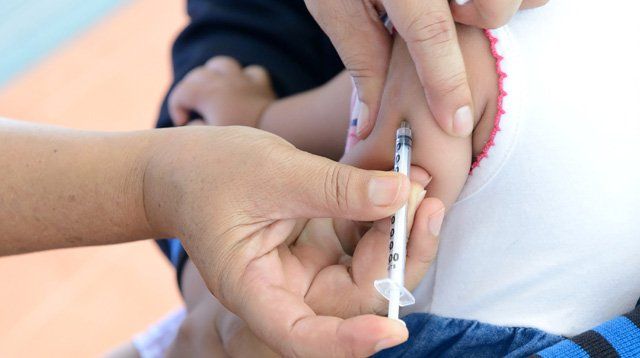 Vaccinations prevent serious, life-threatening diseases, its spread and the complications they can cause. Yet, we still hear rumblings abouti its safety. The World Health Organization (WHO) has addressed these common concerns on vaccination through their online Q&A recently. Here are a few that we found informative and helpful for Pinoy parents:

1. "Can my child be given more than one vaccine at a time?"
During a well-baby visit, your child's pedia may recommend giving your baby different immunization shots in one day. Is this okay? According to WHO, evidence has shown that there are no adverse effects to giving a child several shots at the same time. After all, your child is already exposed to many foreign substances and antigens each day, from the food he eats to those in his mouth and nose. "In the face of these normal events, it seems unlikely that the number of separate antigens contained in childhood vaccines . . . would represent an appreciable added burden on the immune system that would be immuno-suppressive," states a 1994 report from the Institute of Medicine in the United States

Having several shots in a day comes with the obvious benefit that you'll save time and money with fewer clinic visits. "Also, when a combined vaccination is possible (e.g. for measles, mumps, and rubella), that will result in fewer injections and reduces discomfort for the child."

What other parents are reading
2. "Does my child need a flu shot every year?"
Yes, and it's not just your little one. Flu shots are a must for small children, pregnant women, seniors and those with chronic conditions like asthma. They are at a higher risk for severe infection and death, says WHO. Flu shots are given every year because flu viruses evolve and adapt very quickly, according to Mayo Clinic. Last year's vaccine may not provide protection anymore for this year's viruses.  

Getting the shot during pregnancy also protects the infant from the flu during his first 6 months of life, as guidelines from the American Academy of Pediatrics (APA) explains. Afterward, children 6 months old and older should receive the flu vaccine every year. "Because the flu virus is common and unpredictable, it can cause serious complications even in healthy children," said Dr. Wendy Sue Swanson, co-author of AAP's policy statement. 

3. "Why does my family need to be vaccinated against diseases that are not in my community?"
Because diseases spread so easily now, from person to person, crossing countries. Getting vaccinated doesn't only provide protection but also lessens the chances of a disease spreading.  

One less known vaccination we talked about recently is the immunization shot against Japanese Encephalitis. Those with the greatest risk for this serious condition are residents in rural areas, but doctors still recommend it for all Filipino children. The vaccine is also found in the recommended childhood immunization schedule provided by the Philippine Pediatric Society. 
ADVERTISEMENT - CONTINUE READING BELOW
What other parents are reading
4. "My child can get protected against chickenpox or measles by getting it once. Shouldn't I just let that happen?" 
Vaccinations protect against serious diseases without the risks, said WHO. Leaving illnesses like measles to chance because your child can only get it once is very dangerous. Complications due to measles, like encephalitis, can cause death. Haemophilus influenza type b (Hib) can cause cognitive impairments, and the hepatitis B virus can cause liver cancer. Vaccines can prevent the disease as well as the complications that can arise from them.

5. "Are vaccines safe?"
Parents know that a child can get a mild fever after a vaccination shot, but are there more serious effects? WHO reassures that vaccines are safe. "Any licensed vaccine is rigorously tested across multiple phases of trials before it is approved for use, and regularly reassessed once it is on the market." 

"While any serious injury or death caused by vaccines is one too many, the benefits of vaccination greatly outweigh the risks, and many more illness and deaths would occur without vaccines," international organization added. 
What other parents are reading
6. "Is it true that vaccines can cause autism?"
"There is no evidence of a link between MMR vaccine and autism or autistic disorders," stressed WHO. "The 1998 study which raised concerns about a possible link between measles-mumps-rubella (MMR) vaccine and autism was later found to be seriously flawed and fraudulent. The paper was subsequently retracted by the journal that published it," said WHO. Unfortunately, the publication of the study has already set unnecessary fear and panic in many.

Talk to your child's pediatrician about any concerns regarding vaccinations. For the latest Childhood Immunization Schedule (2017) prepared by Philippine Pediatric Society (along with the Pediatric Infectious Disease Society of the Philippines and the Philippine Foundation for Vaccination), click here. 
ADVERTISEMENT - CONTINUE READING BELOW
Recommended Videos
What other parents are reading
Celebrate your pregnancy milestones!

Enter your details below and receive weekly email guides on your baby's weight and height in cute illustration of Filipino fruits. PLUS get helpful tips from experts, freebies and more!
You're almost there! Check your inbox.

We sent a verification email. Can't find it? Check your spam, junk, and promotions folder.

Trending in Summit Network