Experts Say It's OK to Get The Flu Vaccine When You're Pregnant

And eight other things you need to know about the flu.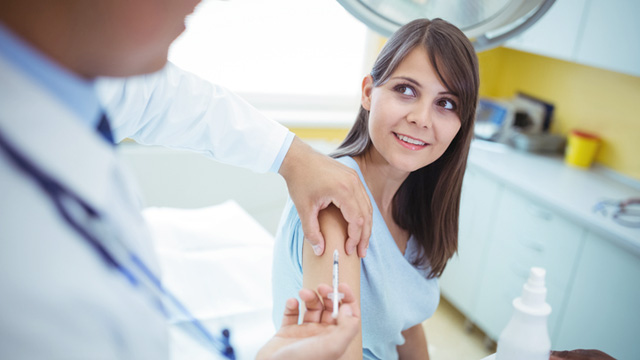 In the Philippines, 10 confirmed cases of influenza were reported nationwide from January 1 to March 3 this year, according to data from the Department of Health. This is 11.11% higher, compared to the same period last year. Most of these confirmed cases involve kids ages one to four.

The Philippine Council for Health Research and Development (PCHRD), through data from the World Health Organization (WHO), says seasonal influenza is strongly linked to an estimated three to five million cases of severe illnesses worldwide and is considered the most global of infectious disease events.

To help keep your kids protected, we asked pediatric infectious disease specialist Dr. Fatima Gimenez, Chair for Immunization of the Philippine Pediatric Society and Secretary of the Pediatric Infectious Disease Society of the Philippines, some of the most common flu questions: 

How do my kids get the flu?

It's caused by a virus that attacks the nose, throat, and sometimes the lungs. It spreads through droplets from an infected person through coughing, sneezing, and talking. It can also be acquired through contact with the surfaces, material, and clothing contaminated with the discharge of an infected person. Dr. Gimenez said, "Yung mga kids, they don't have hygienic practices. If they hold onto something that has virus and they start scratching their noses, that's how it gets transmitted."

What are the signs and symptoms of flu? 

The infection usually lasts a week and is characterized by high fever, headache, a general feeling of uneasiness, cough, and sore throat.

ADVERTISEMENT - CONTINUE READING BELOW

What other parents are reading

How is the flu different from the common cold?

When your child has the flu, you will notice that he would have high-grade fever and bodyaches. If it's just the common cold, he could still be playful despite a runny nose. "Ang flu, usually your kid is much more sick than usual. Everything is painful," Dr. Gimenez said.

When should I bring my child to the doctor?

Head to your physician's clinic when your child has a really high fever (at least 39.4 C / 103 F), when he refuses to eat or drink, and when he starts vomiting. You also need to look for signs of dehydration—dry mouth and lethargy for kids and more crying or fussiness with inconsolability for babies. 

Can the flu be prevented? 

Yes. Avoid crowded places, but if you must go anywhere crowded, you and your kids should wear disposable masks and remember to throw them away after—never put them in your bag after using. Encourage your kids to wash their hands regularly with soap and water. Let your kids bring antibacterial wipes in case water is not available.

Teach your kids to cover their mouth and nose, too, every time they cough or sneeze, or if anyone near them coughs or sneezes. Make sure you and your kids eat a balanced diet—minimize fastfood, drink plenty of water, and up your child's intake of natural vitamin C. Citrus fruits and fresh vegetables are a great source of necessary vitamins. Get your kids—and yourself—vaccinated, too. 

CONTINUE READING BELOW

Recommended Videos

How does the flu vaccine work? 

Dr. Gimenez said the concept of vaccination is that you give your body and your child's the chance to respond to the virus or the bacteria without coming down with the disease. "It's a weakened form of the virus that will stimulate the body to make the necessary antibodies to prevent infection," she shared.

The vaccine isn't a one-time thing. Since the influenza virus or strain changes every year, you also need to get it every year. Experts study what strain might come the next year and they develop a vaccine for it.

What other parents are reading

Is it okay to get a flu vaccine while I'm pregnant?

Yes. Kids, pregnant women, and old people are highly at risk of getting the flu, especially kids who are less than five years old. Pregnant women can be vaccinated as early as six months into the pregnancy. Dr. Gimenez explains, "You need two shots of vaccine, which are given a month apart." Recent studies also show that babies six months old and below whose moms were vaccinated with the flu shot during pregnancy were 70% less likely to have the flu. 

When my child has the flu, is it true that I cannot give him a bath?

"That's a fallacy. Don't give them ice-cold bath, [because] they'll feel chilly. Give them a quick, lukewarm bath instead. There is no contraindication to bathing children quickly, and it will also help with the temperature. A quick bath can make the child feel more comfortable and help bring the temperature down," Dr. Gimenez said.

ADVERTISEMENT - CONTINUE READING BELOW

What should I do when my child comes down with the flu? 

Give you child paracetamol and lots of water. Monitor your child's temperature, too, and take note of the last food intake and last urine output. "Give lots of fluids. Pag may lagnat that's the only time that you give the medicine, usually paracetamol and natural vitamin C," Dr. Gimenez recommends. "Never use aspirin and spray some saline solution. Bring your child immediately to the doctor when he starts vomiting and his temperature continues to go up," she adds.

Can my children die from the flu?

Your child can die from complications of the flu. People with the flu often recover one to two weeks without requiring medical attention, but for kids, older people, and those with other medical conditions, the flu can cause severe complications that may eventually lead to death.

Interview by Jill Castillo

Sources: 
who.int, cdc.gov, doh.gov.ph, dost.gov.ph, doh.gov.ph

What other parents are reading

Celebrate your pregnancy milestones!


Enter your details below and receive weekly email guides on your baby's weight and height in cute illustration of Filipino fruits. PLUS get helpful tips from experts, freebies and more!

You're almost there! Check your inbox.


We sent a verification email. Can't find it? Check your spam, junk, and promotions folder.
Trending in Summit Network