Almost 2,000 Patients at a Local Hospital Received Fake Anti-Rabies Vaccine

Plus, the technique you need to teach your child when he is faced with an aggressive dog.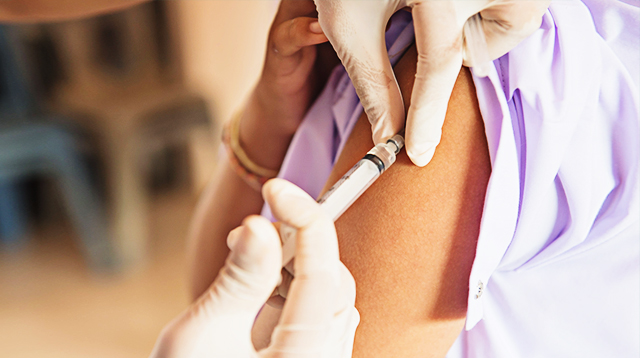 Almost 2,000 patients from a local hospital were administered fake anti-rabies vaccines manufactured in the Philippines, according to reports by various news outlets.

In fact, fake vaccines were sold to The Medical City in Pasig and administered to patients last year. The hospital, which has reached out to the patients to re-examine and vaccinate them again, has reported the incident to the Department of Health (DOH) and Food and Drug Administration (FDA). It has also filed criminal charges against Geramil Trading, which allegedly supplied the fake vaccines. Geramil Trading is a wholesale distributor licensed by the FDA.

The FDA confirmed the counterfeit versions of the Verorab vaccine (the real deal is manufactured by Sanofi Pasteur and distributed by Zuellig Pharma). In December 2018, the agency issued a warning, stating the fake vaccines bore the wrong registration number. Its investigation found that the source of the counterfeit medicine came from the Philippines.

What other parents are reading

According to news reports, the fake vaccines were distributed to 42 other hospitals apart from The Medical City and were pulled out from three hospitals. Patients in two hospitals, which were not identified, were administered the fake vaccine, said Atty. Michelle Lapuz, officer-in-charge of FDA's Legal Support Services Center.

Dr. Eugenio Jose Ramos, chief executive officer of The Medical City reassured the public that "the worst thing that can happen kung ang pasyente ay nakagat ng hayop is walang effect 'yung vaccine. Walang bisa."

DOH Undersecretary Enrique Domingo urged those who were administered the defective vaccine to have themselves vaccinated again.

ADVERTISEMENT - CONTINUE READING BELOW

What other parents are reading

In 2018, a shortage of anti-rabies vaccines for humans was reported around the world. In response, the DOH modified its protocol in vaccinating patients against animal bites. Instead of the standard five shots, patients would get three shots.

"If one is bitten by a dog, after the first and second doses and the dog did not die after 14 days, that means you don't have rabies. Therefore, we will not give the succeeding shots anymore," Dr. Domingo shared in an interview with The Philippine Star.

He assured that the reduced number of shots is still safe. "We are sure about this because if a dog has rabies, it will die within 14 days. So, if it remains alive within 14 days, it means it was not able to transmit rabies to the victim," he said.

What other parents are reading

How to prevent dog bites

Rabies is terrifying because it has no cure. It is fatal once the infection makes its way to a person's brain. Immediate treatment is crucial — "mas malapit sa utak [ang kagat], mas maiksi ang incubation period," says former DOH assistant secretary Dr. Eric Tayag.

But though rabies is fatal, it is also preventable. Apart from the anti-rabies vaccine for humans, pet owners should also be responsible for their animals' regular vaccination.

Apart from the single dose administered when the puppy is at least three months of age, annual boosters are also required, according to WebMD. Rabies shots for pets are given for free by the government. Ask your local barangay office or health center for a vaccination schedule.

CONTINUE READING BELOW

Recommended Videos

What other parents are reading

Parents need to teach their young kids what to do in the face of an aggressive dog. The American Society for the Prevention of Cruelty to Animals (ASPCA) and Doggone Safe, an organization that advocates dog bite prevention, recommends parents to teach their kids the "Be a Tree" technique.

"If a loose dog comes near a child, he should not run or scream. Instead, he should avoid eye contact with the dog and stand very still, like a tree, until the animal moves away. Once the dog loses interest, the child can slowly back away," said ASPCA.

Tell your child repeatedly that he should never try to outrun a dog.

What to tell your child if he is faced with an aggressive dog

Stop when an unfamiliar dog comes near you.
Fold your "branches" (hands) in front of you.
Watch your "roots" grow (or look at your feet).
Count your breaths in your head until help arrives or the dog walks away.

If the dog knocks your child down on the ground, your child should curl up into a ball with his knees tucked into his stomach and his fingers interlocked behind his neck to protect his neck and ear, said the ASPCA. If the dog attacks, your child should give whatever he has with him to the dog — a bag or jacket, for example, or anything else that the dog can grab.

Any dog can bite when provoked, so it's also important to assess the dog's behavior for any warning signs that it will bite. "Ears are typically pinned back, the fur along their back may stand up, and you may be able to see the whites of their eyes," according to dog behaviorist Cesar Millan's website Cesar's Way.

"Yawning is not an attempt by the dog to appear casual but to show off their teeth and should be considered a warning sign as well. Freezing in response to a touch or look followed by direct intense eye contact back from the dog is another clear sign that it may bite."

ADVERTISEMENT - CONTINUE READING BELOW

What other parents are reading

Celebrate your pregnancy milestones!


Enter your details below and receive weekly email guides on your baby's weight and height in cute illustration of Filipino fruits. PLUS get helpful tips from experts, freebies and more!

You're almost there! Check your inbox.


We sent a verification email. Can't find it? Check your spam, junk, and promotions folder.
Trending in Summit Network