Here's How Medicine Poisoning Can Easily Happen to Your Child

No matter how careful we are, harm can come to our kids if we keep putting medicine in these places.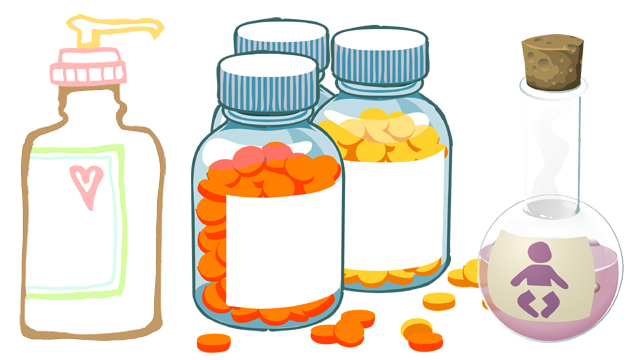 Kids in their exploration phase can be hilarious for a second, and then it gets terrifying really fast. You're folding clean clothes, she's playing with her toys on the rug, and by the time you place the folded shirt on the pambahay pile, your daughter has already climbed onto to the dining table chair. What is she doing? Trying to reach for the salt shaker that just happened to be beside your bottle of multivitamins (you placed it there to remind yourself to take it). 

A toddler at home means extra-vigilance about where we put the medicine at home. We think we are being careful about it, but think for a moment what we often find our kids doing: rummaging in our purses and diaper bags, climbing chairs to reach tables and kitchen counters, opening refrigerator doors. These places can contain medicine, from your pain relievers to the hubby's hypertension drugs to lolo or lola's pills (contained in those weekly organizers that kids find attractive). Toddlers with candy in their mind can accidentally ingest any of this medicine.   

What other parents are reading
And it's not just tablets and capsules. One study warns parents about where the following are stored because they can be poisonous: eye drops, diaper rash products, and vapor rub with camphor.  

Pediatrician Sylvia Bernardino points out that everyday substances also have the potential to become dangerous if left in the hands of a child. These include cosmetic products like perfume, liquid foundation and creams, which babies and toddlers may find irresistible because of their color or shape. 

Here's what you can do to protect your kids at home: 

ADVERTISEMENT - CONTINUE READING BELOW
Vigilance can begin by going around the house and keeping any medication (including your own) and chemical substance out of sight. Store them in cabinets that the kids cannot open by themselves or high enough that they can't reach it. 
Dr. Bernardino recommends avoiding putting harmful substances in containers where the original content was harmless. For instance, don't put laundry bleach in soda bottles. 
If you're going to let your kids "play" with your bag, make sure it doesn't have any medicine. 
It may be convenient to place your vitamin or supplement bottles on your night stand. It isn't a good idea if you have toddlers around. Let the other grown-ups in the house, from yaya to the grandparents, keep their own bedside tables clear of medicine as well. 
What other parents are reading
Toddlers tend to copy grown-ups. So if you take a vitamin or medicine, have your hubby or any grown-up in the house "give" it to you. This teaches your child that medicine should only be administered by a grown-up. 
Don't keep any expired medicine around. If you don't need it, throw it away. 
Medicine poisoning can happen in dosing errors that we parents or our caregivers can easily commit. We are either giving the wrong amount (as in too much) or we're administering the medicine too close together. So it's important we use the dosing device that comes with the medicine (not the kitchen teaspoon), always follow the recommend dose, and stick to the schedule as prescribed. When in doubt, consult your pediatrician. 
Put the number of the National Poison Control and Management Center near your landline phone, on your refrigerator, or your family bulletin board if you have one. Save it on your mobile phone as well. The numbers are (+632) 524-1078 / (+63) 922-8961541. Their office is based at the Philippine General Hospital. 
CONTINUE READING BELOW
Recommended Videos
For first aid, Dr. Bernardino recommends the following: 

Take the poisonous substance away from your child immediately so she doesn't swallow more of it.
Get the child to spit out any of the substance that may still be in her mouth. Don't induce vomiting; this might force the substance up through your child's lungs or throat, which can prove more harmful.
If the poison is not acidic, such as an excessive amount of vitamins, Dr. Bernardino suggests giving water or milk to wash away or dilute the swallowed substance. 
If your child ingested a more potent substance like detergent or prescription medicine, bring her to the doctor immediately. Bring the container of the substance so that doctors can determine the harmful ingredients and administer proper treatment.
What other parents are reading

Trending in Summit Network