DOH Confirms Death of 4-Year-Old Child in Davao Due to Meningococcemia

Meningococcemia is a life-threatening bacterial infection of the bloodstream.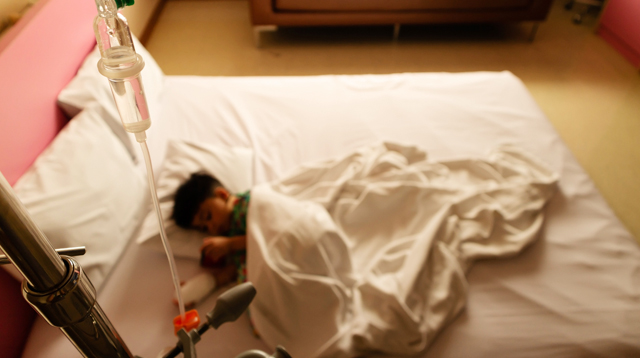 The Department of Health (DOH) in the Davao region confirmed Tuesday, September 3, 2019, that a 4-year-old died of meningococcemia in Davao city last Friday, August 30. Meningococcemia is a bacterial infection of the bloodstream that is potentially life-threatening.

In an official statement posted on its Facebook page last August 31, the hospital where the child was confined said the patient was "a suspected case who exhibited signs and symptoms similar with the definition of the disease." They also sent a collected specimen to confirm the diagnosis. 

"The ER (emergency room) and [the] hospital has been cleared by the Infection Control Committee and is now safe and operating normally as usual," the statement read.

Sun Star Davao reports that DOH-Davao gave post-exposure prophylaxis (PEP) to those who came in close contact with the patient, including the family members, pupils from the preschool where the child was studying, and emergency room staff who attended to the patient. In a separate report, ABS-CBN News said antibiotics were given to family and neighbors to "combat the spread of the illness."

DOH said they are closely monitoring those who came in close contact with the patient for signs and symptoms that include fever, vomiting, body rashes, and loose bowel movement.

"A team from the Department will visit and monitor the school to assist the teachers in proper information dissemination to the parents and ensure that everyone closely exposed to the deceased child will be given PEP," said the DOH.

Why meningococcemia is a cause for concern

ADVERTISEMENT - CONTINUE READING BELOW

 Meningococcal infections are illnesses caused by bacteria, specifically Neisseria meningitidis. When the bacteria infect the membranes that cover the brain and spinal cord, it's called meningitis. When it remains in the bloodstream, it's called meningococcemia.

The bacteria is common in the upper respiratory tract and does not necessarily cause illness. However, once infection occurs, it is considered a medical emergency. Both meningococcemia and meningitis are serious and potentially life-threatening, and immediate medical treatment and vaccination are highly crucial.

Meningococcemia and meningitis can be transmitted from person-to-person through close and lengthy contact, particularly by sharing respiratory and throat secretions. For example, a person with an infection can spread the bacteria through coughing and sneezing. It may also be transmitted through kissing and sharing of food, drinks, and utensils.

The Centers for Disease Control and Prevention (CDC) recommends that people who are in close contact with people with meningococcemia also receive antibiotics to reduce their risk of infection.

Symptoms of meningococcemia

Meningococcemia symptoms may occur suddenly and get worse quickly, according to Stanford Children's Health. The most common symptoms of meningococcemia include:

Fever and chills
Sore throat
Headache
Sensitivity to light
Fatigue
Lethargy
Vomiting
Cold hands and feet
Severe aches or pain in the muscles, joints, chest, or abdomen
Rapid breathing
Diarrhea
A dark purple rash (in later stages)

The illness gets worse quickly, and additional symptoms may include:

Low blood pressure
Very small amount of urine
Bleeding

If your child begins to exhibit the symptoms stated above, it is important to seek medical help as soon as possible.

CONTINUE READING BELOW

Recommended Videos

How to treat meningococcemia

Treatment for meningococcemia is needed right away, according to Stanford Children's Health. In the hospital, antibiotics may be given through an IV and is done for five to seven days. The child also needs to be isolated for 24 hours after the antibiotics have started.

Some patients may also require other kinds of medical treatment, depending on the severity of their condition. These treatments may include wound care for damaged skin, breathing support, and medication to treat low blood pressure.

Age groups most vulnerable to meningococcemia and other meningococcal disease are infants less than a year old and teens and young adults between the ages of 16 and 23.

Meningococcemia is a vaccine-preventable disease. The protection provided by the meningococcal vaccine is crucial to shield people from the potentially-fatal disease.

The CDC recommends meningococcal vaccination for all preteens and teens. There are three types:

meningococcal conjugate vaccine (MCV4) for children ages 11 to 12, followed by a booster dose at 16 years old
serogroup B meningococcal vaccine (MenB) given to individuals ideally between 16 to 18 years old
meningococcal polysaccharide vaccine (MPSV4), which may be given to individuals 2 years old and above

According to the World Health Organization, these vaccines are "remarkably safe," and the vaccines have been available in the Philippines for more than a decade already. Talk to your doctor whether you should have yourself immunized with the vaccine.

Prevention and control of meningococcemia

The best protection against meningococcemia is the meningococcal vaccine. You can also take note of preventive measures from the DOH and Healthy Children:

ADVERTISEMENT - CONTINUE READING BELOW

Reduce children and young adults' exposure to smoking, alcohol, excessive stress and upper respiratory tract infections
Increase resistance by having a healthy diet, getting enough exercise and adequate sleep
Wash hands regularly with soap and water
Avoid sharing utensils or anything that has been in the mouth of an infected person
Cover mouth when sneezing or coughing
Maintain a clean environment and surroundings

Protect your children from most infections and illnesses by following the 2019 Childhood Immunization Schedule. Click here for the complete list of vaccines they might need.

What other parents are reading




Celebrate your pregnancy milestones!


Enter your details below and receive weekly email guides on your baby's weight and height in cute illustration of Filipino fruits. PLUS get helpful tips from experts, freebies and more!

You're almost there! Check your inbox.


We sent a verification email. Can't find it? Check your spam, junk, and promotions folder.
Trending in Summit Network