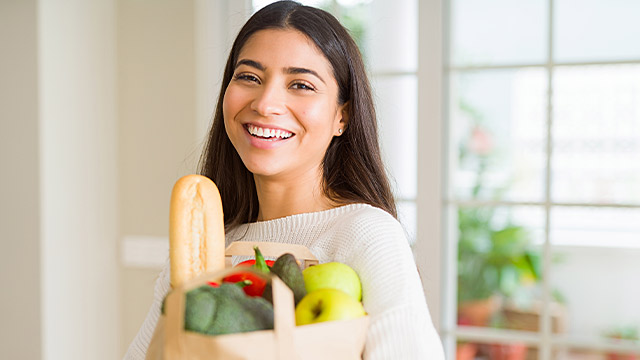 Moms, it's natural to be worried about your children's health during these challenging times. We want our kids to remain strong, healthy, and energetic, and a crucial part is making sure we're giving them nutritious meals every day.
But how do we do that when we have to lessen our visits to the grocery? Is it even possible for our kids to stick to a balanced diet when we have limited food options and a budget to boot?
To help us better understand how we, as parents, can better plan our children's meals, we interviewed Aleli Magtibay, a mom of one and the scientific and nutrition adviser for Nestlé Infant Nutrition of Nestlé Philippines, regarding this matter.
Here are her key insights:
1. When preparing meals, follow these 3 principles: variety, balance, and moderation
Variety is all about making "sure all food groups are amply represented: cereals and grains, dairy, protein, fruits, and vegetables," Aleli said.
[ads:5]
Balance, on the other hand, means knowing how much of a particular food is served. All food groups "cannot be eaten in the same proportion," Aleli explains. For a kid's plate, the nutritionist says the proportions should go like this: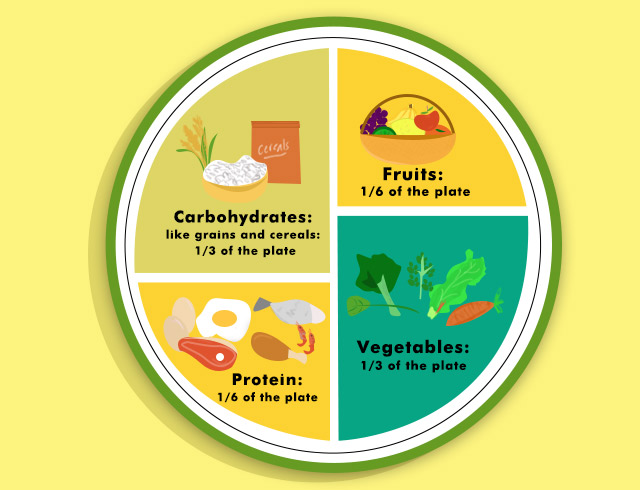 Moderation is about serving kid-sized portions.
As to the frequency of meals, "Serve them three meals and two snacks," she says.
[ads:9]
2. Speaking of snacks …
Aleli concedes that even in her own home, choosing snacks can be a challenge. "The snacks are the most difficult to plan," she says.
"We allow treats, but we buy or serve them in small-sized packages or single bowls," she explains. As much as possible, she looks for healthier options (lesser salt and sugar content). Otherwise, it's all about portion control.
3. Feeding choosy kids doesn't have to be a battle all the time.
Aleli also shares these practical tips for feeding picky eaters.
First is involving them. This means including the child in the decision-making process when food shopping. It may also mean allowing them to watch you cook.
Second, which is very important, is by being a model. "[It's] hard to preach when you don't do it," Aleli points out. It is easier to teach kids to eat healthy food if they see you eat the same thing.
[ads:16]
"Training is needed to build taste preferences," she says, adding, "For all kids, it is innate to love sweets. Training is then needed to taste and try a wide variety of sour, bitter, bland foods. Most vegetables are bland, if not bitter-tasting — that requires training."
Last is reasoning. Explain to them why they need to eat healthy. Tell a story or show a video of the benefits of healthy eating, the nutritionist says. Also, learn to compromise. Be sensitive to your child's likes and dislikes, and know when and how to compromise.
4. If you have a limited food budget, always make a list.
Moms should still try to practice the same guiding principles for meal-planning, even when on quarantine. "If you're on a tight budget, you need to live within your means," Aleli says. This means sticking to your food budget when shopping.
[ads:20]
"No impulse buying," the nutritionist stresses. "In advance, you need to have a list of what you really need to buy. If they are not available, [know] what are the best alternatives."
5. For kids to eat well, they need your love and support.
Kids are intuitive. They understand that we're living in not-so-normal circumstances. As we encourage them to practice good hygiene habits, get enough rest and physical activity, and eat properly, we also need to make sure they are loved and cared for.
"I think nutrition flies out of the window when kids are not showered with encouragement and peppered with love," Aleli says.
Your kids need you all the more during these times. As Aleli says, if kids are troubled, they won't be able to sleep, eat, or exercise properly.
6. Make your child's growing-up milk a priority, too!
During the interview, Aleli also highlights the importance of growing-up milk in a child's diet, saying that milk should be "the beverage of choice, next to water."
[ads:27]
"Growing-up milk plays a role in meeting the nutrition needs of children," she explains.
According to the collaborative study of Nestlé Research Center and the Food and Nutrition Research Institute called "Feeding Infant and Toddler Study,"* or FITS, Pinoy toddlers and preschoolers (ages 3-5) have inadequate intakes of nutrients like protein, calcium (84 percent), vitamin C (60 percent), and iron (90 percent), among many other vitamins and minerals.
Aleli says a balanced diet can be partnered with age-appropriate milk, which is fortified with these nutrients lacking in kids' diets. Thus, it can help fill the gaps in kids' nutritional intake.
Another key finding in FITS is the high amount of carbohydrate intake in Filipino preschoolers. The total sugar intake of children was even found to be the same as that of adults. Half of the food kids consume is rice, or grains, followed by sweets. This is why Aleli also advises moms to check labels for sugar content when choosing their child's growing-up milk.
[ads:31]
"Why am I concerned with sugar? Because I know it will increase the risk of gaining weight unnecessarily," she explains.
Look for milk products with lactose. According to her, lactose has galactose, which is needed for brain development. It is also important in the immune system as it serves as a prebiotic for the growth of good bacteria in the gut.


Moms, make sure your children's health remains a top priority. Good health translates to a strong immune system. To achieve that, always remember that proper nutrition is essential.

As you make sure your toddlers and preschoolers are getting the proper nutrition they need, support their growth and development by partnering their balanced diet with growing-up milk such as NIDO 3+ and NIDO 5+.
In response to the findings of "Feeding Infants and Toddlers Study," NIDO 3+ and NIDO 5+ are now powered by the Nutritods program, which helped develop a formulation expertly designed to address the growing-up needs and nutrient gaps of Filipino toddlers and preschoolers ages 3 to 5.
[ads:37]
These products now have no added sucrose and are 100-percent lactose. This means these products still have the goodness of milk while having no added table sugar.
Know more about children's sugar intake through this video:
NIDO 3+ and NIDO 5+ are packed with other essential nutrients such as DHA, LA, and ALA for the brain; PREBIO3® fiber to support healthy digestion, and other essential vitamins and minerals that support children's overall growth and development (vitamins A, B, C, D, E, iron, selenium, and zinc).
They are also the only growing-up milk drinks that contain Lactobacillus ProtectusTM (L. Rhamnosus), which is scientifically proven to help support children's respiratory defenses when partnered with a balanced diet and an active lifestyle. It helps protect them against pathogens in the upper respiratory tract that can cause common coughs and colds.
Learn more about how you can make sure your toddler or preschooler is eating right by watching this:
[ads:43]
NIDO 3+ and Nido 5+ are available via Lazada, Shopee, and GoodFood. For more information, follow NIDO 3+ on Facebook.
*Based on analysis of the 2013 National Nutrition Survey conducted by the Department of Science and Technology - Food and Nutrition Research Institute (DOST-FNRI) in collaboration with Nestlé Research Center. These studies analyze the food and nutrition intakes of 6- to 60-month-old Filipino children.
ASC REFERENCE CODE: N029P052920NS