Folic Acid May Help Reduce the Risk of Cleft Lip and Palate

Known to Filipinos as bingot, here's what you need to know about the cleft lip and cleft palate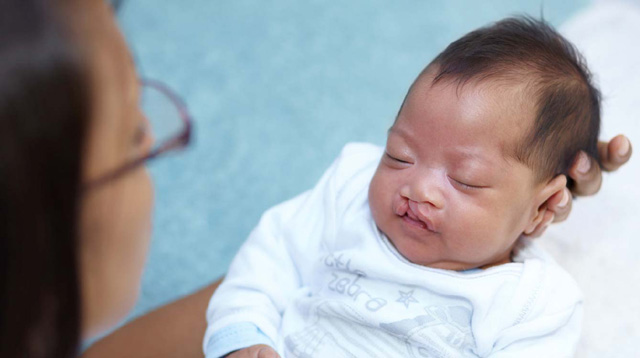 Globally, cleft and lip palates occur in about one per 500 to 700 births, according to the World Health Organization (WHO). It's most common in Asian, Latino and Native American populations, says WebMD. 

What is a cleft lip and a cleft palate
An orofacial cleft is when a baby is born with an opening in the lip and/or on the roof of the mouth, says the Centers for Disease Control and Prevention (CDC). This happens when the tissues in the mouth or lip area do not join together properly while the baby is still developing in the womb, making it a congenital or birth defect. 

A cleft lip is when the gap is found on the lips often including the bones of the upper jaw and extending to the base of the nose. A cleft palate is when the opening is found at the roof of the mouth. This can occur in the front, at the back or extends to the whole of the palate. Because the lip and palate develop separately, a baby can have a cleft lip, a cleft palate or both.  

The lip and palate are formed between the fourth to ninth weeks of pregnancy, so it's possible that your doctor will be able to identify the orofacial cleft with an ultrasound. 

What other parents are reading

Causes and risks
According to Mayo Clinic, the exact causes of cleft lips and cleft palates in infants remain unclear, but they're thought to be caused by a combination of genetic -- if you or your hubby had a cleft, it is possible that your baby may have the same problem -- and environmental factors. Women who smoke or drink alcohol during pregnancy may be more at risk. It is also linked to obesity and diabetes during pregnancy.  

In 2007, a population-based study found that "women who take folic acid supplements early in their pregnancy can substantially reduce their baby's chances of being born with a facial cleft." It was a study conducted in Norway, which did not allow foods to be fortified with folic acid and, at the time, had one of the highest rates of facial clefts in Europe. 

Problems associated with cleft lips and cleft palates
A cleft lip and cleft palate can cause a number of problems for babies. They can cause issues with feeding, hearing, speech and problems with their teeth. 

Eating problems
Issues with feeding aren't usual for babies with cleft lips, but it is one of the main concerns for babies with cleft palates. Because of the gap in the roof of their mouths, fluid can pass from the mouth to the nose, says WebMD. It can also make it harder for babies to latch or suck on to a nipple or bottle. Help is available through specially designed baby bottles and nipples that keep fluid flowing downward. 

If this is your concern, talk to a health expert who can offer guidance and support. Babies with feeding issues should also be regularly monitored for weight loss by a doctor. 

Ear infections and hearing loss
"Children with cleft palate are at increased risk of ear infections since they are more prone to fluid build-up in the middle ear," says WebMD. When left untreated, ear infections can lead to hearing loss, which is why children with cleft palates often have tubes placed in their eardrums to aid with fluid drainage. KidsHealth advises kids with cleft palates get ear checkups once or twice a year. 

ADVERTISEMENT - CONTINUE READING BELOW

What other parents are reading

Dental problems
Children with cleft lip and palate are prone to dental problems like small teeth, missing teeth, extra teeth, or teeth that are out of position, says KidsHealth. Apart from that, defects in the gums and with the bone that support the teeth (called the alveolar ridge) can cause problems with permanent teeth. Regular checkups with dentists specializing in orofacial clefts are strongly advised. 

Speech problems
Because the palate is used to form sounds, children with cleft palates are more prone to speech problems than those with cleft lips. After surgery, one in five kids encounter speech problems like a child's speech will sound nasal or he talks through his nose. Consulting with a speech pathologist will help identify problems and provide solutions like treatment if need be. 

More importantly, children with cleft lip and cleft palate can also experience social, emotional and behavioral problems. 

Treatment
Surgery is often done early on to repair a child's orofacial cleft. For children with a cleft lip, this can be between 3 to 6 months of age and may require one or two surgeries depending on the case. Surgery usually leaves a small scar. Repair for a cleft palate, however, may require multiple surgeries over the span of 18 years. The initial surgery is usually conducted when the child is between 6 to 12 months old, according to the National Health Service (NHS) of the U.K. 

Bonnie Strouse Sobrino, a communications manager for :DentalPlans, a leading dental and health savings marketplace in the U.S., informed us of the importance of taking extra precaution when caring for children who have underwent cleft lip or palate surgery. 

"For infants, this includes avoiding any use of a pacifier or bottle, unless it is doctor approved, and gentle feedings of soft food, while avoiding pushing any spoon deeply into the child's mouth. For children, make sure to use cups without a top – so no sippy cups – and avoid any hard objects, such as toys or thumb sucking, as it can disrupt the incision and intended healing process," she said. 

As previously mentioned, care should still continue even years after surgery as the child grows older. 

In the Philippines, PhilHealth provides assistance for cleft lip and palate procedures. Check with the nearest PhilHealth Service Desk near you for more info. For disadvantaged children, Smile Train Philippines provides surgery for children with orofacial clefts completely free of charge. Donate to the cause and learn more about them through their website and Facebook page.

Talk to your doctor for any concerns regarding your child. 

Sources: WHO, CDC, Mayo Clinic, WebMD, KidsHealth, NHS

CONTINUE READING BELOW

Recommended Videos

What other parents are reading

Celebrate your pregnancy milestones!


Enter your details below and receive weekly email guides on your baby's weight and height in cute illustration of Filipino fruits. PLUS get helpful tips from experts, freebies and more!

You're almost there! Check your inbox.


We sent a verification email. Can't find it? Check your spam, junk, and promotions folder.
Trending in Summit Network