PH Doctors Release Vaccination Guidelines to Protect Children From Polio Outbreak

The virus re-emerges almost two decades after the Philippines was declared polio-free.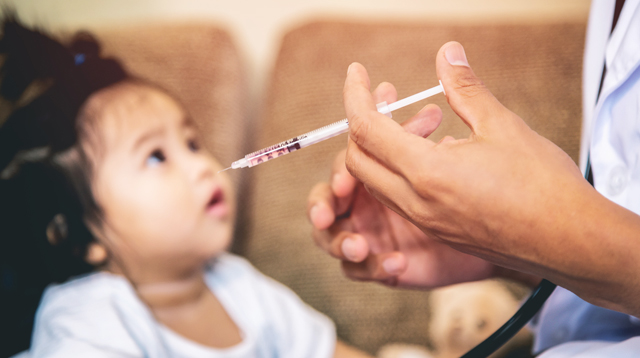 The Department of Health (DOH) declared a polio epidemic on Thursday, September 19, 2019, after confirming that a 3-year-old child from Lanao del Sur was diagnosed with the disease. The next day, a second case was confirmed from a 5-year-old child in Laguna Province.

"A single confirmed polio case of vaccine-derived poliovirus type 2 or two positive environmental samples that are genetically linked isolated in two different locations is considered an epidemic in a polio-free country," the agency said.

The Philippines has been declared polio-free since October 2000, with the last case of poliovirus reported in 1993. Before this outbreak, the virus was detected in water sewage samples in Manila and Davao.

According to a report by The Philippine Star, what the country is seeing now is a mutated form of vaccine-deprived polio (VDP) Type 2, which was eradicated globally since 2015. This VDP virus is a strain of the weakened poliovirus that is included in the oral polio vaccine (OPV) or opv vaccine given to children. However, the strain has changed over time.

The DOH has already requested the World Health Organization to provide the Philippines with the "monovalent vaccine" for Type 2 poliovirus, according to The Philippine Star. It is expected to arrive in early October 2019 and will be included in the ongoing mass vaccination campaign.

Why polio has returned to the Philippines

Former Philippine Society of Microbiology and Infectious Diseases (PSMID) president Rontgene Solante told The Philippine Star that a virus that was once eradicated can re-emerge "especially in countries with poor immunization or poor sanitation."

ADVERTISEMENT - CONTINUE READING BELOW

He adds, "Once it is excreted into the environment from a patient previously vaccinated, it rarely causes infection. But in situations where it causes infection, it has mutated."

Solante said that due to a low immunization rate in the country, "the virus has re-emerged among those that are not vaccinated." DOH had previously reported that polio vaccination for children below five years old had dropped to less than 95% in 2018, which is the percentage needed to ensure herd immunity, according to a report by Rappler.

How to protect your child against polio

There is no cure for polio or poliomyelitis, "a crippling and potentially deadly infectious disease," as described by the Centers for Disease Control and Prevention (CDC). "It is caused by any one of the three related viruses called poliovirus types 1, 2, and 3. The virus spreads from person to person and can invade an infected person's brain and spinal cord, causing paralysis."

The best and only way to protect children from this infectious disease is to have them vaccinated. In light of the polio outbreak, the Philippine Pediatric Society (PPS) and Pediatric Infectious Disease Society of the Philippines (PIDSP) have released guidelines regarding the administration of the vaccine, both the opv vaccine (administered as drops) and the inactivated polio vaccine (IPV, given by injection).

1. The primary series for polio vaccination consists of three doses of OPV or IPV.

A dose of OPV may be given at birth (considered as the zero dose), but the primary series of OPV or IPV is usually administered beginning six weeks of age. The minimum interval between each dose is four weeks. As per local recommendations, a dose of IPV is also given together with the third dose of OPV.

CONTINUE READING BELOW

Recommended Videos

2. Two booster doses are recommended.

The first dose should be given at 12 to 15 months and the second dose at four to six years of age. If the first booster dose was missed, a final dose of polio vaccine (either OPV or IPV) is recommended at age four years or older.

3. For children who are under four years of age and have yet to receive their second booster, an additional dose of either vaccine may be given now.

This is as long as the minimum interval of four weeks between doses is observed. The dose due at age 4 years should still be given.

4. Guidelines for individuals 4 years of age or older:

Unvaccinated: Three doses of either OPV or IPV should be given at 0, [after] one, and [after] six months.
Incompletely vaccinated: There is no need to re-administer the previous doses; the remaining doses may be given as if a lapse did not occur. The minimum interval between dose 1 and dose 2 is four weeks.

The guidelines note that those who have completed the recommended number of doses at appropriate intervals (whether as OPV vaccine, IPV, or any combination of these formats) do not need further doses. However, it is acceptable, and even desirable for long-term immunity, to receive additional doses of polio vaccine should the individual want it.

According to Dr. Jamie Isip-Cumpas, a pediatrician and International Board Certified Lactation Consultant (IBCLC), a child should receive five doses of the polio vaccine in total. "For those [who receive] less than five, there are some children na bibigyan ng one extra oral dose," she tells SmartParenting.com.ph in an interview during the "Smart Parenting Baby Shower" last September 21.

ADVERTISEMENT - CONTINUE READING BELOW

As a specific response to this outbreak, both the PPS and PIDSP reiterate that children 0-59 months who are residing in the NCR, Region 3, and Region 4A should continue to receive polio vaccine through the Supplemental Immunization Activity that the DOH launched in August 2019, regardless of the number of polio vaccine doses the child previously received. This vaccination is given for free.

Can adults get polio?

According to the CDC, most adults do not need polio vaccine because they were already vaccinated as children. However, three groups of adults are at higher risk for the disease and should consider getting polio vaccination if:

You are traveling to a country where the risk of getting polio is greater. Consult with a doctor on whether you need to be vaccinated.
You are working in a laboratory and handling specimens that might contain polioviruses.
You are a healthcare worker treating patients who could have polio, or have close contact with a person who could be infected with poliovirus.

If you belong in these three groups and have never been vaccinated against polio, you should get three doses of IPV – the first dose at any time, the second dose one to two months later, and the third dose six to 12 months after the second.

If you belong in these three groups and have had one or two doses of polio vaccine in the past, the CDC recommends getting the remaining one or two doses, and it doesn't matter how long it has been since the last dose. Adults who are at increased risk of exposure to poliovirus and who have previously completed a routine series of polio vaccine (IPV or OPV vaccine) can receive one, lifetime booster dose of IPV.

ADVERTISEMENT - CONTINUE READING BELOW

As further prevention for polio, the PPS and PIDSP guidelines also reiterate that compliance with hygiene practices should be strongly reinforced since the poliovirus enters the human body through the mouth and can be transmitted via direct contact with feces or inhalation of droplets from the cough or sneeze of an infected individual. Keeping your surroundings clean and practicing proper hygiene can help protect children from polio.

There is no cure for polio but vaccination is the best protection. Click here to learn more about the disease, its symptoms, and the vaccines needed to fight it.

What other parents are reading




Celebrate your pregnancy milestones!


Enter your details below and receive weekly email guides on your baby's weight and height in cute illustration of Filipino fruits. PLUS get helpful tips from experts, freebies and more!

You're almost there! Check your inbox.


We sent a verification email. Can't find it? Check your spam, junk, and promotions folder.
Trending in Summit Network