6 Things You Can Do to Promote Healthy Eating Habits in Your Kids

Plus, what you need to know about food portioning to give your children a healthy and well-balanced meal.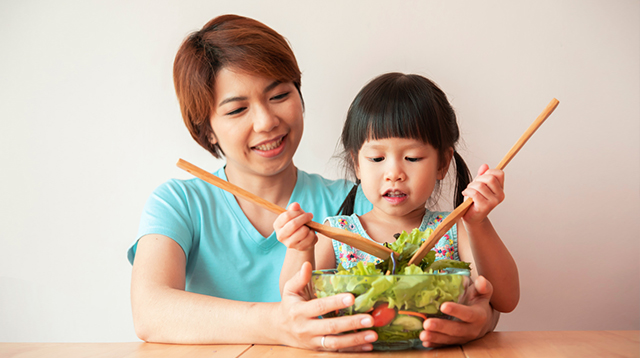 Perhaps one of the biggest dilemmas of parents everywhere is how to teach their kids to eat more healthily, instead of constantly snacking over junk foods. But even if your little one is a picky eater, it's not too late to start fostering healthy eating habits that will not only benefit your child but also the rest of the family. Here is everything you need to know about how to encourage a more healthful lifestyle at home.

1. Be familiar with the basic food groups.

Before you could give your kids a healthy, well-balanced meal, you first need to be familiar with the three basic food groups and the kinds of food that fall under each.

Go foods

The first food group is commonly known as "Go" foods, which are items that supply energy that allows us to be active every day. Go foods include grains and root crops, which are rich in carbohydrates and healthy fats. SFGate states that, ideally, grains make up over a quarter of a child's plate, to give them the adequate amount of energy they will need for the day.

Glow foods

Glow foods include foods that have plenty of vitamins and minerals that help the body fight against different kinds of sickness. Glow foods include different kinds of fruits and vegetables, such as banana, papaya, pumpkin, and leafy greens.

Grow foods

Lastly, grow foods involve items that are full of proteins to help our bodies grow healthy and strong. Aside from young children who need these foods to grow taller and gain weight, pregnant and breastfeeding moms also need to consume plenty of Grow foods to obtain the necessary nutrients for them and their babies. Some foods that fall under this group include meat, fish, eggs, milk products, and beans.

ADVERTISEMENT - CONTINUE READING BELOW

What other parents are reading

2. Know the difference between servings and portions.

Another important thing you need to familiarize yourself with is the difference between food servings and food portions. Sometimes these two terms are used interchangeably, but there are very big differences between them. The Academy of Nutrition and Dietetics provides a good contrast of the two.

First, a serving refers to the specific amount of a certain food or drink that one needs to consume. This is defined through the usage of specific units of measurement such as cups or tablespoons. To find out the appropriate serving amount of any food product, all you need to do is to look at the nutrition facts label at the back of the packaging.

On the other hand, portion refers to the actual amount of food that a person eats. The portion of food one eats can either be bigger or smaller than the recommended serving size, and this can have direct physical effects on that person. For example, if they consume a portion larger than the appropriate serving, they are more likely to gain weight.

CONTINUE READING BELOW

Recommended Videos

3. Learn the correct food measurements.

Too much of anything can be counterproductive or even dangerous, especially when it comes to food. Therefore, to build a perfectly-balanced meal for your child, correct measurements are key.

The recommended portion sizes of foods under the three basic food groups vary according to a child's age. Children's Health proposes suggested portion sizes for the different kinds of food kids of all ages need to eat every day.

Grains (such as pasta, cereal, and bread)

1 to 3 years old: ½ slice or ¼ cup
4 to 5 years old: ½ slice or ¼ cup
6 to 12 years old: 1 slice or ½ cup
Above 12 years old: 1 slice or ½ cup

Proteins

1 to 3 years old: 1 ounce or ¼ cup
4 to 5 years old: 1 ½ ounces or 1/3 cup
6 to 12 years old: 2 ounces of ½ cup
Above 12 years old: 2 to 3 ounces or ½ cup

Vegetables

1 to 3 years old: ¼ cup
4 to 5 years old: 1/3 cup
6 to 12 years old: ½ cup
Above 12 years old: ½ cup

Fruits

1 to 3 years old: ¼ cup
4 to 5 years old: 1/3 cup
6 to 12 years old: ½ cup
Above 12 years old: ½ cup

Dairy products (such as milk and cheese)

1 to 3 years old: ½ cup
4 to 5 years old: ¾ cup
6 to 12 years old: 1 cup
Above 12 years old: 1 cup

What other parents are reading

4. Prepare a balanced diet.

Most parents will agree that children generally don't enjoy eating fruits and vegetables, and often prefer sweets and junk foods. Don't let this discourage you—with a little bit of creativity, you can slowly but surely teach your picky eater to enjoy eating more healthily. Here are some simple tips you can do.

ADVERTISEMENT - CONTINUE READING BELOW

Find out what your child enjoys. Kids usually don't hesitate to say what they like and don't like, so pay attention to their preferences and use that as a jumping off point to come up with a dish that they will like.
Be creative in how you cook and arrange dishes that include fruits and vegetables, so that your child will actually want to try them. You can try cutting them in interesting shapes, turning them into smoothies, or making kid-friendly desserts out of them, like homemade fruit Popsicles.
Don't completely restrict your kids from having their favorite treats—however, make sure to still feed them healthy food more often. Chips and ice cream in controlled portions, given occasionally, can be allowed.

What other parents are reading

5. Teach your kids to listen to their bodies.

As much as we want to teach our kids not to waste their food, there's also nothing wrong in letting kids learn that if they feel full in the middle of a meal, it is fine to stop eating. However, this goes against what we were taught as kids about food wastage, so the better compromise is to teach them to get only what they think they could finish.

Similarly, children should be taught that they should only eat whenever they feel hungry. Allowing kids to be more aware of their bodily cues will make them less likely to develop unhealthy eating habits, such as overeating.

6. Store leftovers properly.

If you cook in large portions and end up still having a lot left behind after your meal, be wise about storing this remaining food, especially if you want to promote healthy eating in your family. One helpful thing to do is to divide the food among smaller containers that will be sufficient for one meal at a time. At the same time, if you buy food products that come in large bags or containers, these should also be served in smaller portions.

ADVERTISEMENT - CONTINUE READING BELOW

Source: A Healthier Michigan, SFGate, Children for Health, Academy of Nutrition and Dietetics, Children's Health, Vitamix, KidsHealth

What other parents are reading




4 to 5 years old: ½ slice or ¼ cup

Celebrate your pregnancy milestones!


Enter your details below and receive weekly email guides on your baby's weight and height in cute illustration of Filipino fruits. PLUS get helpful tips from experts, freebies and more!

You're almost there! Check your inbox.


We sent a verification email. Can't find it? Check your spam, junk, and promotions folder.
Trending in Summit Network