Thirsty And Tired All The Time? Check These Other Symptoms Of Diabetes In Children

Type 1 diabetes is more common among the age brackets 4 to 7 and 10 to 14 years old.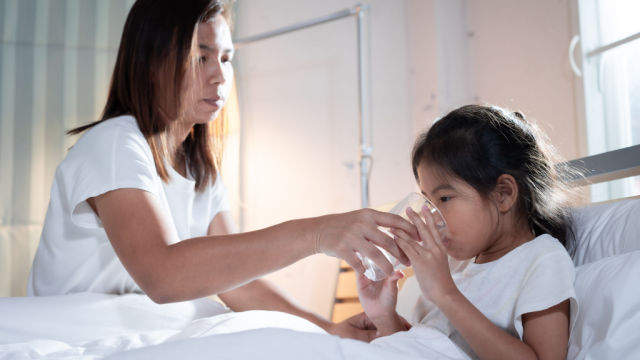 Editor's Note: This article is intended for information purposes only. It does not substitute a doctor. It is vital to always consult a medically trained professional for advice that suits your needs best.

We always associate people who are overweight and fond of eating sweets with diabetes, a disorder in the endocrine system that causes the body to not produce enough or no longer respond to a hormone produced by the pancreas called insulin. But in children, the symptoms of diabetes go against the stereotype.

That's because there are different types of diabetes:

1. Prediabetes

This is the stage where the blood sugar or glucose is high but still within the limit or borderline. 

2. Type 1

The exact cause of type 1 diabetes is still unknown, according to Mayo Clinic. What researchers know is more children are affected, thus the term juvenile diabetes. Children with these risk factors are especially vulnerable:

Having a diabetic parent or sibling
Exposure to a viral illness or other environmental factors
Issues with the immune system or diabetes autoantibodies

3. Type 2

The exact reason why people, commonly adults, get type 2 diabetes likewise baffles researchers. But they already know these factors matter:

Being overweight
Inactivity
Family history
Age
Other medical conditions (polycystic ovary syndrome, high blood pressure or hypertension, abnormal cholesterol and triglyceride levels)

4. Gestational

Gestational diabetes happens in pregnancy and may stop after giving birth.

Symptoms of diabetes

Many people don't realize they are already diabetic because the symptoms can be similar to other conditions. One female patient told Smart Parenting that she had a terrible dizzy spell during a yoga class. But she attributed it to her smoking habit, so she quit.

ADVERTISEMENT - CONTINUE READING BELOW

Later on, she realized her terrible dizzy spell was actually a sign she's diabetic. That realized occured to her after she joined a medical mission and found out her blood sugar was too high that the nurse labelled her a "walking time bomb."

Here's a list of symptoms from the United States Centers for Disease Control and Prevention (CDC):

Frequent urination, especially at night
Gets easily thirsty and hungry
Loses weight unintentionally
Blurred vision
Numbness of hands and feet
Dry skin
Wounds that take time to heal
Becomes susceptible to infection

Experts recommend consulting your doctor and taking a blood test to determine your blood sugar or glucose levels. If you took the test with fasting (not eating for 12 hours) and the result is somewhere between 100 and 125 mg/dL (5.6 to 6.9 mmol/L), you are considered prediabetes. If it's 126 mg/dL (7 mmol/L) or higher on two separate tests, you have diabetes.

Symptoms of diabetes in children

Type 1 diabetes, according to experts, has a high incidence among children in the age brackets of 4 to 7 years old and 10 to 14 years old. Parents should take note of these signs in their kids:

Going to the bathroom oftentimes to pee (because the kidneys need to flush out the extra glucose in the body)
Getting thirsty easily, so the tendency is to drink a lot of water and other liquids (also because of frequent urination)
Getting tired easily (because the body lacks energy)
Losing weight drastically (because the body gets energy from fats)

ADVERTISEMENT - CONTINUE READING BELOW

Recommended Videos

Problem is, the symptoms don't show up all at the same time. But if they do, they show up too suddenly that children get overwhelmed and need to taken to the hospital. That's the only time they are found to be diabetic.

One case involves a 3-year-old girl who has asthma (read here). When she had a fever, her mother brought her to the hospital thinking it was flu. But after getting medicines for her asthma and fever, the girl didn't get well and even got worse. After a series of tests, she was found to have very high blood sugar that weakened her immune system.

If you suspect your child to be diabetic, Dr. Ann Marie Tan-Ting, a pediatric endocrinologist, suggests to have him or her checked by a doctor. She says early detection and diagnosis can avoid developing complications with immediate treatment.

Treatment includes monitoring the blood glucose, undergoing insulin therapy, and complying to a strict diabetes diet. "Management of a child's diabetes utilizes a team approach involving their endocrinologist, pediatrician, nurses, and nutritionist," says Dr. Tan-Ting.

The diabetic child's parents should learn how to use the glucometer in checking and recording blood sugar, as well as the insulin injections and food management. They also need to know how to spot symptoms of diabetes that may tell them if the patient's condition is worsening.

Read also: Eating Too Many Sweets Causes Diabetes in Kids: True or False?

Celebrate your pregnancy milestones!


Enter your details below and receive weekly email guides on your baby's weight and height in cute illustration of Filipino fruits. PLUS get helpful tips from experts, freebies and more!

You're almost there! Check your inbox.


We sent a verification email. Can't find it? Check your spam, junk, and promotions folder.

Trending in Summit Network