Unvaccinated 6-Year-Old Stayed in ICU for More Than a Month Because of Tetanus

Doctors were shocked to see such a severe case of tetanus in the United States.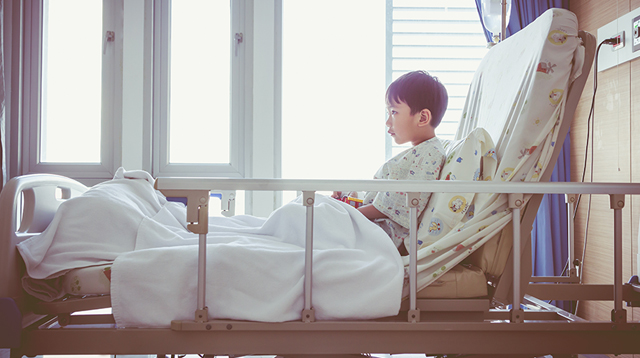 In 2017, a 6-year-old boy from Oregon in the United States cut his forehead while playing in his family's farm. It did not appear to be serious after the wound was cleaned and sutured accordingly. But six days later, he was in the hospital fighting for his life after contracting tetanus, an infection that could have been prevented had he been immunized. Except this boy had never received any vaccine in his life.

It was the first case of tetanus to happen in the state of Oregon in over 30 years, says STAT News. Though he survived tetanus and was administered a dose of the vaccine, the boy's treatment process was long and painful. He stayed in the hospital for more than 50 days, 47 of which were spent in intensive care.

The boy's parents took him to the hospital after he was struggling to breathe. He also had "clenched jaw, muscle spasms and involuntary arching of his neck and back." He received a tracheostomy, a procedure where an opening in the neck is created to insert a tube into a person's windpipe to allow air to enter the lungs and was subsequently put on a ventilator for over five weeks. He was also given muscle relaxants to ease the pain caused by the muscle spasms, drugs to stabilize his blood pressure, and other drugs to offset the effects of the tetanus toxins.

What other parents are reading

Tetanus is rare, but as the above shows, when it happens, it is a frightening ordeal. This patient had to be sedated and kept in a darkened room. He could barely take any noise; when anyone spoke in an average volume, his entire body would tense up despite having been given paralytic drugs to stop the spasms.

ADVERTISEMENT - CONTINUE READING BELOW

Recovery was painfully slow. After 50 days in the hospital, the boy could only walk up to 20 feet with assistance. He needed 17 days in a rehabilitation facility after he was discharged.

What other parents are reading

The boy's story, which was detailed in a new issue of the Morbidity and Mortality Weekly Report, a journal published by the Centers for Disease Control and Prevention (CDC), was reported by many media outlets after the doctors who treated him revealed the boy's parents refused to have him vaccinated for the second dose of tetanus. 

Dr. Judith Guzman-Cottrill, a pediatric infectious disease specialist at the OHSU Doernbecher Children's Hospital in Portland, Oregon, who co-authored the CDC report and was part of the team that attended the boy. "He was really sick, and it was really difficult to watch. He was suffering," she told STAT News.

Dr. Guzman-Cottrill also talked about how shocking it was for her and the rest of the team to deal with tetanus, an illness that has become mostly rare since the introduction of the tetanus vaccine in the 1940s.

"I never thought I would see a case of severe tetanus in the United States," she shared. "That was an astounding point for me."

Dr. Guzman-Cottrill told NPR, "This illness could have been prevented with five doses of the tetanus vaccine for US$150." The boy's reported medical bill reached US$811,929 (or Php42,430,313.73).

What other parents are reading

Vaccines can save your child's life 

According to HealthyChildren.org, tetanus is a potentially life-threatening illness caused by a bacterium called Clostridium tetani, which is present in soil contaminated by human and animal waste. The infection takes place when an open wound or cut is contaminated by soil, dirt, or feces. Its symptoms, which manifest gradually within the first two weeks after a wound is contaminated, include spasms of the jaw muscles, headaches, and tightening of and pain in the muscles.

CONTINUE READING BELOW

Recommended Videos

The American Academy of Pediatrics (AAP) writes that since the mid-20th century, the incidence of tetanus decreased dramatically worldwide, in large part due to the introduction of the tetanus toxoid vaccine. However, there are many parents today who decide not to have their children immunized, making vaccine hesitancy one of the leading global health threats, according to the World Health Organization (WHO).

What other parents are reading

Parents need to immunize their kids

The CDC recommends parents to provide their children with the DTP vaccine, which gives children protection from diphtheria, tetanus, and pertussis. The said vaccine is included in the childhood immunization schedule prepared by the Philippine Pediatric Society (PPS) and the Pediatric Infectious Disease Society of the Philippines (PIDSP) with the Philippine Foundation for Vaccination (PFV) for 2019.

According to the 2019 immunization schedule, three doses of the DTP vaccine are recommended at 6 weeks of age with three booster shots. The first dose should be around 2 months old, the second at 4 months old, the third at 6 months of age, and the fourth from 15 to 18 months old. There is a recommended fifth dose to be administered to 4- to 6-year-olds. The sixth dose is recommended during adolescence. This vaccine is available for free in health centers.

The immunization schedule provided by PPS, PIDSP, and PFV is the ideal vaccination routine for children, but parents are still advised to consult with their pediatricians regarding their children's vaccines, says PPS president Dr. Salvacion Gatchalian.

"We acknowledge that some patients will require schedules that are different from our recommendations," Dr. Gatchalian explains. "That is why it is important for parents to consult with their pediatricians so they can make the best possible decisions for the health and well-being of their children."

ADVERTISEMENT - CONTINUE READING BELOW

What other parents are reading

Celebrate your pregnancy milestones!


Enter your details below and receive weekly email guides on your baby's weight and height in cute illustration of Filipino fruits. PLUS get helpful tips from experts, freebies and more!

You're almost there! Check your inbox.


We sent a verification email. Can't find it? Check your spam, junk, and promotions folder.
Trending in Summit Network