How to Treat Diaper Rash and Prevent It From Coming Back

Baby still gets a rash even after frequent diaper change? We list down other causes and how you can treat it at home.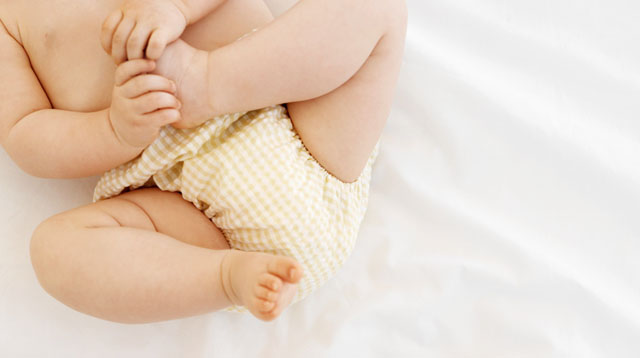 Diaper rash can look alarming especially to first time parents but it's a common condition that usually clears up with simple at-home treatments. Diaper rash can look anywhere from bright red patches of skin in your baby's diaper area to extensive tender red bumps that spread to the thighs. They're also often uncomfortable for the baby.

Almost every baby will get diaper rash during the first three years of his life, being most common around 9 to 12 months old. So, don't worry too much, moms and dads. 

What causes diaper rash

Irritation. A baby's skin can get irritated when a soiled diaper is left on for too long. It's also why babies with frequent bowel movements or diarrhea are more prone to diaper rash. 

A too tight diaper. When a diaper is too tight, it can rub against the skin and irritate it, causing rashes. 

Infection. What stops diapers from leaking can also leave very little room for air circulation. This creates a warm, moist environment where bacteria and fungi can grow and thrive. Rashes caused by an infection can be found within the creases of the skin. 

Sensitive skin. Sometimes, even when you're careful, your baby will still develop diaper rash because of sensitive skin. 

Allergic reaction. Anything from diaper wipes, diapers, laundry detergent, soap or lotion can cause an allergic reaction on your baby's skin and cause rashes. 

New food. It's common for rashes to appear once a child is introduced to solids or after feeding a new type of food. The food changes the composition of the baby's stool which can then cause rashes. 

Antibiotics. With antibiotics, the bacteria that keep yeast growth in check lessens, making diaper rash more likely. Antibiotics can also increase the risk of diarrhea, which as mentioned, can irritate the skin and cause diaper rash as well. 

ADVERTISEMENT - CONTINUE READING BELOW

What other parents are reading

How to treat it

Diaper rash usually clears up within a few days of proper home treatments. First, make sure your child doesn't stay in a wet diaper for too long. Check often and change often. Your child's skin should also be washed with mild soap and air dried or lightly patted dry. Avoid rough scrubbing. Avoid wet wipes as much as possible, too, as the alcohol and fragrance in the wipes can irritate your child's skin more. 

There are many ointments you can buy that are especially for diaper rash. These create a barrier between your baby's skin and the stool and urine that's irritating it. Smear this on after every diaper change. Petroleum jelly will also do the trick. Just make sure your baby's bottom is completely dry before application. 

Loosen your child's diaper a bit or buy diapers that are a little big to allow for more air circulation and less rubbing. And, if you notice that certain foods are making the rash worse, avoid these until the rash has gone. Plus, if it's a product like soap or detergent that's causing it, stop using these too.


When to see the doctor

Diaper rashes do not usually call for a trip to the doctor's office as they usually clear up with home treatment in a few days. You may need to see a pedia if any of these symptoms appear: 

If the rashes are severe or getting worse instead of better
If they don't get better within 7 days despite treatment
If the rash has spread to other parts of the body
If the area has signs of a bacterial infection like pus or bleeding
If the rash is accompanied by other symptoms like diarrhea or a fever. 

CONTINUE READING BELOW

Recommended Videos

What other parents are reading

How to prevent it

Many of the practices that treat rashes also prevent it. Frequent changing – ideally every two hours – can keep rashes away, for example. You also have to make sure your baby's diaper area is clean and completely dry – by patting the area and not rubbing it – before putting on a fresh one. A clean and dry bottom is the key to a rash-free bottom.  

Don't secure your child's diaper on too tightly and let him wear loose, airy clothing whenever you can. If you notice that a certain brand or type of diaper is causing the rashes, change to a new one. 

Use soaps and detergents that are mild and fragrance-free as harsh chemicals can cause diaper rash. Choose cotton clothing for your child too and avoid using fabric softener. Some babies are also sensitive to baby wipes. 

If your baby just started eating solids or is being introduced to new foods, be attentive of what you feed her. You can also introduce foods one at a time to see which cause your baby diaper rash. 

For a list of baby products we recommend for diaper rash, click here. 

Sources: BabyCenter, WebMD, Mayo Clinic, KidsHealth 

What other parents are reading

Celebrate your pregnancy milestones!


Enter your details below and receive weekly email guides on your baby's weight and height in cute illustration of Filipino fruits. PLUS get helpful tips from experts, freebies and more!

You're almost there! Check your inbox.


We sent a verification email. Can't find it? Check your spam, junk, and promotions folder.
Trending in Summit Network