IPV or OPV: Which Polio Vaccine Does My Baby Need?

Six out of 10 Filipino children are at risk for Polio.Find out which vaccines your child needs.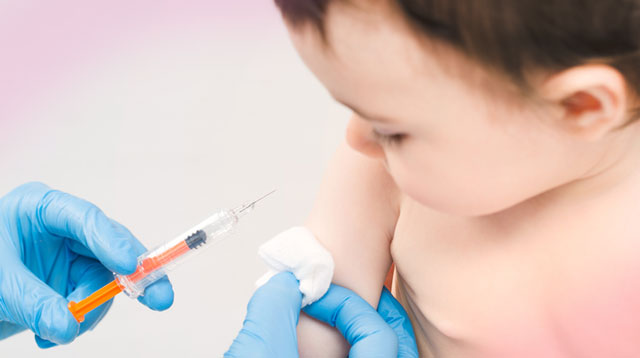 Two reported polio cases that prompted the Department of Health (DOH) to announce a polio outbreak last September 19, 2019, were found to have been caused by "vaccine-derived" poliovirus type 2 (VDPV2). According to the World Health Organization (WHO), environmental samples taken from sewage in the cities of Manila and Davao have also tested positive for VDPV2.

Because the term "vaccine-derived" sounds like the virus came from vaccination, concerned parents are now wondering whether the polio vaccines available in the Philippines — oral polio vaccine (OPV) and inactive polio vaccine (IPV) — are still effective in preventing this highly contagious and deadly disease.

The short answer is yes, they are very effective, but it is also important to note how these two vaccines work. (There have also been questions about why we have a polio outbreak when there are just two cases. As pediatrician Dr. Jaime Isip-Cumpas told us, the Philippines had been polio-free for two decades. A resurgence of a highly contagious disease is already considered an outbreak.)

What is the difference between OPV and IPV?

There are three types of polioviruses: type 1, type 2, and type 3. In a Facebook post, Dr. Edsel Maurice Salvaña, an infectious diseases physician and the director of the Institute of Molecular Biology and Biotechnology of the University of the Philippines National Institutes of Health (UP-NIH), explains that OPV, which contains a weakened version of the poliovirus, was previously effective against all three serotypes but was replaced in 2016 by a "bivalent vaccine" against type 1 and 3.

ADVERTISEMENT - CONTINUE READING BELOW

IPV, on the other hand, is made of "killed" vaccine-virus. It is effective against type 1, 2, and 3 polioviruses but is less antigenic than OPV.

"Since the OPV is a live vaccine, it is much more effective than IPV because it mimics natural infection and induces a much more robust immune response," writes Dr. Salvaña. "In addition, the vaccine virus is shed in the stool (excreted) and can induce immunity in the community. The OPV can stop transmission of [the] virus in the community because of its long-lasting protection, and its tendency to be shed among communities."

He adds, "IPV is safer and is not transmitted, but produces a relatively muted immune response and is not transmission blocking."

In an explainer provided by the DOH, the IPV must be given with the third dose of OPV when your child is around 3 and a half months old. IPV plus OPV provides your child with the best protection from polio. 

What is vaccine-derived polio? 

As mentioned by Dr. Salvaña, the OPV contains an attenuated (weakened) vaccine-virus, which activates an immune response in the body, according to the WHO. When a child is given the OPV vaccine, the weakened vaccine-virus "replicates in the intestine for a limited period, thereby developing immunity by building up antibodies." During this time, the vaccine-virus is excreted.

In areas of inadequate sanitation, this excreted vaccine-virus can spread in the immediate community. It can offer protection to other children through 'passive' immunization before dying out.

CONTINUE READING BELOW

Recommended Videos

But if a population is severely under-immunized, the excreted vaccine-virus can continue to circulate for an extended period. The longer it survives, the more genetic changes it undergoes. In very rare cases, this becomes a circulating vaccine-derived poliovirus (cVDPV).

According to the WHO, it takes a long time for a cVDPV to occur, but it happens when immunization activities are poorly conducted and a population is left susceptible to poliovirus, whether from vaccine-derived or wild poliovirus.

"The problem is not with the vaccine itself but low vaccination coverage," says WHO.

"Not vaccinating for polio allows polio, including vaccine-derived strains, to continue circulating in the community," writes Dr. Salvaña. "The fact that someone is shedding the vaccine-derived type 2 strain means they were susceptible to polio and did not get properly vaccinated in the first place. They may have gotten infected from someone who was previously vaccinated with trivalent OPV or from type 2 vaccine-derived virus that continued to circulate in the community."

Previously, the DOH reported that the average national polio vaccination is at around 66 to 68%, way less than the 95% needed to ensure herd immunity. And according to the WHO, only 40% of children were vaccinated with IPV, which fights type 2 poliovirus. That means six out of 10 children ages 5 years old and below are at risk of type 2 poliovirus.

"If this virus that is causing vaccine-derived type 2 continues to circulate, even the children who have completed the three doses of OPV and not taken the IPV are at risk of getting polio," said Dr. Rabindra Abeyasinghe, WHO country representative, in a media briefing held Wednesday, September 25.

ADVERTISEMENT - CONTINUE READING BELOW

To ensure that your child is safe from polio, follow the child immunization schedule provided by the DOH and make sure your child completes at least four doses of the polio vaccine.

Unsure whether your child needs OPV or IPV? Click here for guidelines released by the Philippine Pediatric Society and Pediatric Infectious Disease Society of the Philippines.

What other parents are reading




Celebrate your pregnancy milestones!


Enter your details below and receive weekly email guides on your baby's weight and height in cute illustration of Filipino fruits. PLUS get helpful tips from experts, freebies and more!

You're almost there! Check your inbox.


We sent a verification email. Can't find it? Check your spam, junk, and promotions folder.
Trending in Summit Network