What Happens When a Child Gets the Highly Contagious and Life-Threatening Diptheria?

Diptheria is mainly spread through inhaling droplets released by an infected person.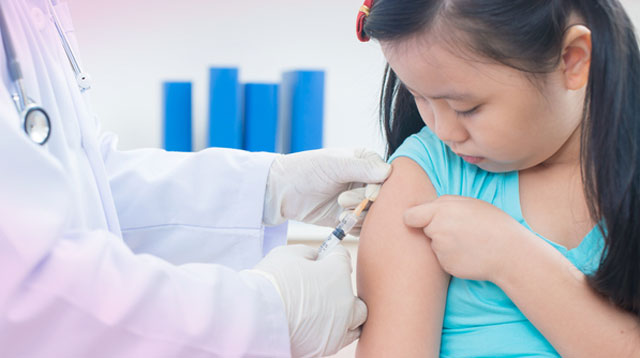 The year 2019 will now be remembered when the country saw the return of infectious, vaccine-preventable diseases like measles and polio. (Dengue was declared a national epidemic in August). Then in September 24, 2019, the Department of Health (DOH) added to the list chicken pox, pertussis and diptheria. We may see a resurgence of these diseases in different parts of the Philippines due to low vaccination coverage in the country.

Below, learn more about diphtheria, its symptoms and possible complications, and how you can protect yourself and your child from getting it.

What is diphtheria?

According to the Centers for Disease Control and Prevention (CDC), diphtheria is an infectious disease that is caused by a bacterium called Corynebacterium diphtheriae. This illness mainly affects a person's upper airways and throat and can produce a toxin (poison) which can then affect other body organs.

Mayo Clinic writes that there is a second type of diphtheria called skin (cutaneous) diphtheria, which causes pain, redness and swelling in the skin, as well as ulcers covered by a gray membrane. This type of diphtheria is more common in tropical climates like ours.

The disease can be spread in three ways. The first is through airborne droplets — a person infected with diphtheria coughs or sneezes and releases a mist of contaminated droplets that can be inhaled by people around her. The second is through contact with personal items that have been contaminated, such as an infected person's unwashed glass or used tissues.

Lastly, diphtheria may also be spread through contaminated household items, like toys or towels that had been touched or handled by an infected person.

ADVERTISEMENT - CONTINUE READING BELOW

Diphtheria symptoms and possible complications

Symptoms of diphtheria include weakness, sore throat, fever, and swollen glands in the neck. However, the hallmark sign of diphtheria is a thick gray membrane of dead tissue over the throat and tonsils, which is caused by the diphtheria toxin. This membrane, also known as a 'pseudomembrane,' can make breathing and swallowing difficult for the patient.

The CDC says the diphtheria toxin may also get into a patient's bloodstream and damage her heart, nerves, and kidneys. It can cause complications like blockage of the airway, damage of the heart muscle (myocarditis), nerve damage (polyneuropathy), lung infection (respiratory failure or pneumonia).

For some people, diphtheria can be a life-threatening disease. The CDC writes that about 1 of 10 patients can die from diphtheria even after receiving treatment, while as many as half of patients can die if they do not receive any treatment.

How to treat diphtheria

According to the CDC, doctors typically start by checking a patient's symptoms to diagnose whether they have diphtheria or not. First, they use a swab on the back of the patient's throat or take a sample from a skin lesion and test it for diphtheria-causing bacteria. If the C. diphtheriae bacteria grows, it means that the patient has diphtheria.

Treatment might involve giving the patient a diphtheria antitoxin to stop the toxin from damaging the body further and using antibiotics to kill the bacteria. Patients typically can no longer infect other people around 48 hours after they begin taking the antibiotics. Note that it is important to follow the time prescribed by your doctor for taking the antibiotics to make sure the bacteria are completely removed from your body.

CONTINUE READING BELOW

Recommended Videos

How to prevent diphtheria

The best way to protect kids from diphtheria is by getting the DTaP vaccine. According to the American Academy of Pediatrics (AAP), children need five doses of this vaccine. Each dose is to be administered at the following ages:

2 months
4 months
6 months
Between 15 and 18 months
Between 4 and 6 years

The vaccine is typically administered in a child's arm or thigh and can be given along with other vaccines. It is also included in the childhood immunization schedule for 2019 which was prepared by the Philippine Pediatric Society (PPS) and the Pediatric Infectious Diseases Society of the Philippines (PIDSP) together with the Philippine Foundation for Vaccination (PFV).

Booster shots of the DTaP vaccine are needed to keep a person protected from diphtheria. Those between 11 and 64 years old need a single dose of a similar vaccine called Tdap. A similar vaccine called Td, which protects against tetanus and diphtheria is also available and recommended to be administered every 10 years.

Like other vaccines, DTaP can cause mild reactions, including fever, redness, swelling, soreness, or tenderness at the injection site, fussiness, tiredness or poor appetite, and vomiting. However, the vaccine has been proven effective at protecting children from not only diphtheria but also tetanus and pertussis, which is why parents are highly encouraged to have their children vaccinated.

Celebrate your pregnancy milestones!


Enter your details below and receive weekly email guides on your baby's weight and height in cute illustration of Filipino fruits. PLUS get helpful tips from experts, freebies and more!

You're almost there! Check your inbox.


We sent a verification email. Can't find it? Check your spam, junk, and promotions folder.
Trending in Summit Network