Here Is Everything You Need to Know About the Yellow Fever Vaccine

Yellow fever is an illness that can be transmitted by the same species of mosquitoes that carry dengue.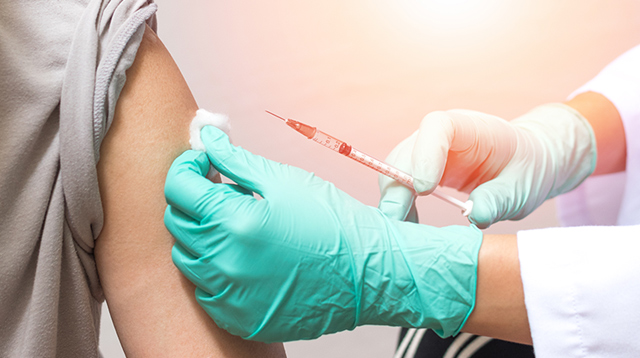 Dengue is not the only potentially fatal viral infection that humans can get from mosquito bites — another one is yellow fever. The World Health Organization (WHO) defines it as as an acute viral hemorrhagic disease that is transmitted by mosquitoes belonging to the Haemogogus and Aedes species (the latter is the same mosquitoes that transmit dengue).

Yellow fever is a zoonosis or a disease that can be spread from animals to humans, says the International Association for Medical Assistance to Travellers (IAMAT). According to the Centers for Disease Control and Prevention (CDC), the people at highest risk of getting infected with yellow fever are those who travel to regions of Africa and South America.

In Africa, the countries with risk of yellow fever transmission are:

Angola
Benin
Burkina Faso
Burundi
Cameroon
Central African Republic
Chad
Republic of Congo
Democratic Republic of the Congo
Côte d'Ivoire
Equatorial Guinea
Ethiopia
Gabon
Gambia
Ghana
Guinea
Guinea-Bissau
Kenya
Liberia
Mali
Mauritania
Niger
Nigeria
Senegal
Sierra Leone
South Sudan
Sudan
Togo
Uganda

In South America, the countries with risk of yellow fever transmission are:

Argentina
Bolivia
Brazil
Colombia
Ecuador
French Guinea
Guyana
Panama
Paraguay
Peru
Suriname
Trinidad and Tobago
Venezuela

Yellow fever symptoms and possible complications

The WHO writes that once an individual gets infected with yellow fever, it will take three to six days before the symptoms begin to show. These initial symptoms include a sudden onset of fever, chills, a severe headache, back pain, general body aches, nausea and vomiting, fatigue, and weakness. Usually, these symptoms begin to disappear after three to four days, but the CDC writes that around 15% of infected individuals experience a brief portion of the day without symptoms then develop a more severe form of the disease.

ADVERTISEMENT - CONTINUE READING BELOW

During this second and more toxic phase, according to WHO, a patient's high fever returns and many of her body systems may get affected, usually the liver and the kidneys. She might also develop jaundice, a yellowing of the skin and eyes (hence, the name 'yellow fever'), dark urine, and abdominal pain with vomiting. Finally, the patient might experience bleeding from her mouth, nose, eyes, or stomach. Around 20 to 50% of those who develop severe yellow fever may die.

Yellow fever vaccine is the best protection

The WHO cites vaccination as "the most important means of preventing yellow fever." The yellow fever vaccine is safe and affordable. A single dose of the vaccine can give lifelong protection from yellow fever. However, individuals with problems in their immune system, who live in high-risk areas, or who are traveling to high-risk areas might benefit from a booster dose.

According to the CDC, the yellow fever vaccine is recommended for babies ages 9 months or older only if they are traveling to areas where yellow fever is present. Certain groups of individuals are at higher risk of developing reactions to the yellow fever vaccine such as adults over 60 years old and pregnant and breastfeeding women. People in these groups need to talk to their healthcare provider first before receiving the vaccination.

While the yellow fever vaccine may also be a requirement to enter certain countries, it is not recommended for those who are:

Allergic to a vaccine or something in the vaccine (e.g., eggs)
6 months old or younger
Organ transplant recipients
Diagnosed with a malignant tumor, thymus disorder associated with abnormal immune function, and/or a primary immunodeficiency
Exhibiting symptoms of HIV infection or a low number of lymphocytes

CONTINUE READING BELOW

Recommended Videos

In the Philippines, the IAMAT says that a yellow fever vaccination certificate is required for travelers ages 1 year and older who are coming from countries with risk of yellow fever transmission and those who had lengthy (12 hours or more) layover in airports said countries. The WHO announced in July 2016 that these certificates are now valid for life, but take note that this regulation may not be honored by border authorities in certain countries.

If you are planning on traveling to any of the countries where the yellow fever virus is present, make sure to get vaccinated and obtain your yellow card, which will serve as the International Certificate of Vaccination you need to bring during your trip.

The yellow fever vaccine is available at the Bureau of Quarantine in Manila. Basic requirements are the Data Form and Yellow Fever Questionnaire and Waiver Form (to be accomplished at the bureau) and a vaccination fee of Php2,000 (for a single-dose vial). For groups of five to six people, the vaccination fee is Php1,500 each. Note that multi-dose appointments are accepted from 8 a.m. to 3 p.m., while single-dose appointments are accepted from 3 p.m. to 5 p.m., from Mondays to Fridays.

Yellow fever treatment and prevention

There is no cure for the viral infection itself, and medical treatment focuses on the symptoms. The CDC also advises, "Rest, fluids, and use of pain medications and fever-reducing medications may relieve symptoms of fever and aching. Certain medications should be avoided such as aspirin or other non-steroidal anti-inflammatory drugs (such as ibuprofen and naproxen), because these may increase the risk for bleeding."

ADVERTISEMENT - CONTINUE READING BELOW

If you are traveling to countries where yellow fever is endemic, protect yourself and your children from mosquito bites by dressing in long-sleeved shirts and pants when you go outdoors, stay in screened or air-conditioned rooms, and place netting on your child's stroller, baby carrier, and sleeping area.

Using insect repellent is another effective preventive measure. Make sure to select insect repellents which contain the active ingredients DEET, picaridin, IR3535, or oil of lemon eucalyptus. Note that insect repellent may only be used on infants 2 months old and above. Repellents with oil of lemon eucalyptus may not be used on children under 3 years old, and insect repellents with picaridin may only be used on babies 6 months old and above.

When applying insect repellent on your child, don't forget to follow the directions on the product packaging. Apply it first on your hands, then on your child's exposed skin. Avoid applying it on your child's hands, eyes, or mouth.

To learn about the symptoms of dengue in babies, click here.

What other parents are reading

Celebrate your pregnancy milestones!


Enter your details below and receive weekly email guides on your baby's weight and height in cute illustration of Filipino fruits. PLUS get helpful tips from experts, freebies and more!

You're almost there! Check your inbox.


We sent a verification email. Can't find it? Check your spam, junk, and promotions folder.
Trending in Summit Network