You May Want to Cut Down on Packaged Snacks for Your Baby

One study suggests that babies may be getting an unhealthy amount of sugar--and salt!--in their diet.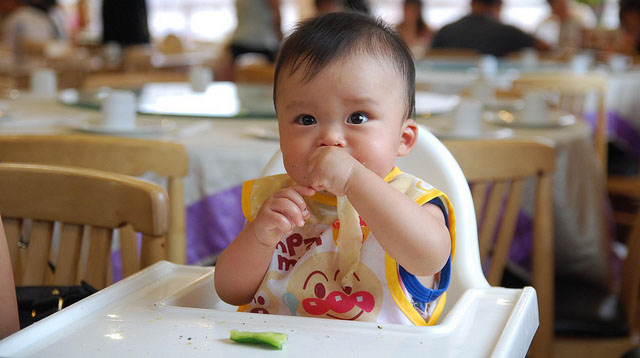 Just how much junk food is your baby eating? A new study sheds some light on startling data on what children ages 2 and below are really eating.

Recent research commissioned by Beech-Nut, a baby food company in the United States, shows that babies are consuming way too much junk food than they should be, which includes sugary drinks, cookies, and salt-ridden packaged snacks.

By 1 year old, more than 40 percent of babies are eating brownies, soft drinks, and salty snacks, the study found.

As a result of this, babies are getting an unhealthy amount of sugar in their diet. By 15 months old, the study found that babies consumed 6 ½ teaspoons of sugar per day, that's the same amount of sugar found in an 8-ounce cup of soda! The sugar mainly comes from fruit drinks, soda, cookies, sweetened yogurt and ready-to-eat snacks.

Babies don't actually need sugar in their diet at all, according to the National Health Service (NHS) of the UK. And if they do get sugar, it should come from the sugar naturally found in fruit and breast milk or formula milk.

ADVERTISEMENT - CONTINUE READING BELOW

What other parents are reading

Babies also getting way more sodium than they should be, adds the study. By 1 year of age, babies are eating more than 1,500 mg of sodium per day from foods like crackers, cured meats and cheese. That exceeds the limit of the amount of salt 1-year-olds should get by more than half. 

To put it into perspective, 1,500 mg is the recommended amount of sodium intake for a full-grown adult as advised by the American Heart Association. 

When it comes to fruit, fruit juice is, sadly, the number-one source of fruit for 1-year-olds. "Drinking juice instead of eating whole fruit adds more sugar and less fiber to children's diets," says Nicole Silber, a dietician and Beech-Nut's Pediatric nutrition expert. 

What's more, the study found that one out of three children ages 12 to 23 months old do not consume any fruit at all. That's a third of babies getting no fruits into their diet. 

The stats are even grimmer for vegetables. When it comes to veggies, less than half of babies are consuming any vegetables at all by the time they near their second birthday. And, the number one vegetables babies eat? Potatoes from potato chips and french fries. Only 1% of babies are eating leafy vegetables. 

ADVERTISEMENT - CONTINUE READING BELOW

CONTINUE READING BELOW

Recommended Videos

What other parents are reading

So, obviously, babies need to eat more fruits and veggies. But aside from replacing fruit juice with whole fruit and serving your baby more leafy greens, dietician Sally Kuzemchak also suggests being extra vigilant about the ingredients in the food you give your baby. 

"Think of all the places your baby is getting added sugar—not just desserts, but also foods like cereal, snack bars, and yogurt," she says. If you wish to make baby food more delectable, sweeten food naturally by mixing in fruit, advises Kuzenack on Parents.com. 

When it comes to salt, it not a good idea to put any salt into baby food. Babies' kidneys aren't ready for salt in their diets just yet, says the NHS. They advise against using stock cubes and gravy when preparing baby meals too as these are often high in sodium. 

Trending in Summit Network