7 Dessert Places in Marikina Where Prices Are Family Friendly!

Cool off and get your sweet fix at these dessert spots in Marikina!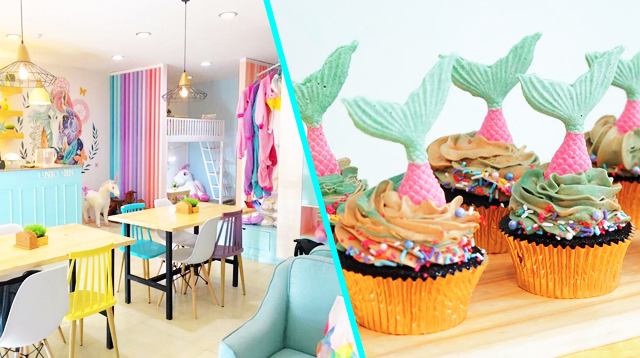 From being the "Shoe Capital of the Philippines," Marikina City has evolved into a certified foodie destination with its home-grown restaurants, food parks, and cafés. There's a LOT of options to choose from, but if you're making a trip to the east with the whole family, here are seven restaurants and shops that serve some of the best desserts in the city to keep you and your kids (plus your tummies) happy. Just watch out for the sugar rush!

1. Café Mermania 
Desserts start at Php55 and rice meals start at Php145

The café had its soft opening in January 2018, but it's already getting some buzz for its pretty interior and affordable meals.

ADVERTISEMENT - CONTINUE READING BELOW

Kids will love the crepes, handcrafted rolled ice cream (that comes in six different flavors) they prepare on the spot, mermaid cupcakes, and frappes that can be served with a mermaid tail topper. Feeling hungry? The kid-friendly fare includes truffle mac & cheese, cheesy bacon bbq fries, and cheesy beef nachos. For the adults, the bestsellers include buffalo wings, baked lasagna, and carbonara. It also has an all-day breakfast menu.

Complete the mermaid experience by taking a photo by the giant clam shell chair wearing mermaid tail blankets (minimum purchase of Php200) or at any of the "Instagram-worthy" corners!

#5 General Ordonez St., Marikina City. Call (02) 903-6910 for reservations

What other parents are reading

2. Forget Me Not Café 
Cakes start at Php75, Meals start at Php155

From a tiny space in Lilac, the café has now expanded into a two-floor building along the same street, which proves just how popular it is especially among Marikina residents. 

The Choco Lava is a must-try along with Toasted Mallows, Nutella Cheesecake, and Lime Cakes, and Bonbons (chocolate covered cake balls). It also offers ice blended drinks and milkshakes.

ADVERTISEMENT - CONTINUE READING BELOW

Admittedly, many of the customers dine here for the comfort food, so definitely check out the list of entrees and all-day breakfast fare. Kid-friendly options include Spaghetti & Meatballs, Lasagna, Chicken & Fries, Nachos, Forget Me Not Burger, Waffle & Fruits, and Chicken Tenders.

24 Lilac St., Marikina City. Call 0917-8699104 for reservations.

What other parents are reading

3. Pink Chiffon 
Cakes and meals start at Php100

Many of Marikina's foodie destinations are small but cozy, and you can expect the same for this quaint bakeshop along Lilac street.

Customers flock the place for the cakes, and you can try some of the flavors per slice, like the Triple Chocolate Mousse, Sans Rival, and Blueberry Cheesecake. You can also order a whole cake starting at Php450 for the Jr. Cakes and Php650 for the full-sized ones.

If you want to enjoy a meal before dessert, it offers entrees and pasta at affordable prices (most of the meals range between Php100-150). It also has light snacks, pastries, cupcakes, and shakes.

#49B Lilac St., Marikina City. Call 0917-8231027 for reservations.

What other parents are reading

ADVERTISEMENT - CONTINUE READING BELOW

4. Capriserrie Bakeshop and Cafe
Cakes start at Php100

There's an old-fashioned feel to this space with its patterned sofas and wooden tables and chairs, but the cakes are really worth the visit. After all, the business first started as a customized cake shop before it expanded into a cafe.

Must-try includes Melissa's Chocolate Cake (named after the owner), Turtle Pie, Red Velvet, and Rainbow Cakes, as well as the Choco Mint cupcake and other pastries like muffins, brownies, and cronuts. It also serves coffee, smoothies, milkshakes, slushies, and Italian sodas.

#42 Gen. Ordoñez St., Marikina Heights, Marikina City

What other parents are reading
5. Udderly Delicious 
Milkshakes start at Php125

This beverage shop may look small upon entry (don't be fooled, they have a second floor), but they serve some of the best milkshakes in Marikina. We're sure the kids will be excited when they realize they can actually customize their drinks! ADVERTISEMENT - CONTINUE READING BELOW
There are three steps to making your own milkshake. Choose a base (soft serve or premium ice cream or frozen yogurt), a base flavor (like bubblegum, chocolate, banana, or cheesecake, among many others), and toppings (choose from chocolates, fruits, cookies, nuts, candies, and liquor for adults!). It also has ready-made options if you don't want to rack your head thinking of a combination. Not a fan of milkshakes? It has coffee, juice, and smoothies, too. They also have a pretty good lineup of ice cream-based desserts like S'Mores Dip Skillet, Banana Split, and waffles. Want something not sweet? The shop also has breakfast choices, pasta, sandwiches, and fries on the menu.
60-D Lilac St., Marikina City. Call (02) 577-0276 for reservations
What other parents are reading
6. House of Unicorns Café 
Meals range between Php130 to Php200
Your kids will squeal with delight once they enter this quaint café that's brimming with cuteness. From its unicorn mural, pastel-colored interior, and shelves filled with colorful stuffed toys, "every corner is Instagrammable," as one guest aptly puts it. It has kid-friendly options like waffles, burgers, and spaghetti Bolognese, while grown-ups can enjoy their main course offerings of steak, ribs, wings, among others. Or just order the set meals, which includes pasta, chicken, waffles, and a milkshake for just Php250! For dessert, the whole family can try the unicorn cupcakes or the Rainbow Sweet Treats, which include a baby unicorn cake pop, truffle, Funfetti bar, and cheese cake bar.
ADVERTISEMENT - CONTINUE READING BELOW
Your kids can wear unicorn onesies for a minimum order of Php250. The café's owner, Princess Co, assures that it is washed daily, so it's safe to wear. It even offers activity sheets to keep your kids busy while waiting for the food! The cafe also allow kids to play with the stuffed toys but request that the toys be handled with care since some of it end up getting damaged.
51 Lilac St., Marikina City. Call 0921-6240586 for reservations
What other parents are reading 7. Monster Milkshake 
Milkshakes start at Php165
A number of new malls have opened in the city, so this dessert place can be found right inside Ayala Malls Marikina. It's hard to miss with the cute "monster" faces on its packaging. Unlike Udderly Delicious, you can't customize milkshakes, but you do have 17 flavors to choose from. Try the Cheesecake in a Milkshake, which comes in three flavors — Cookies N' Cream, Strawberry, and Merry Berry (a mix of strawberry and blueberry). Or experiment with flavors like Bubblegum Pop and Mango Graham Surprise!

2/F Ayala Malls Marikina, Marikina Heights, Marikina City
What other parents are reading

Trending in Summit Network