Take a Look at This Gem of an Indoor Playground Hidden in Cubao

Among their unique features are a sandbox and an excavator for your little adventurer!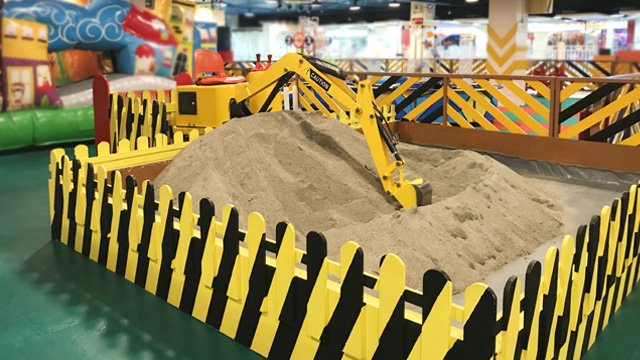 We sent a mom and her son to try two indoor playgrounds in Cubao. Find her review of the second play place here.

Don't let the façade of the oldest shopping center in the country fool you: Ali Mall may look like it's seen better days, but the inside has been updated and looks like any other shiny new mall. And its indoor playground, Fun City, is worth a visit. At P250 an hour for one child and one adult companion, you'll definitely get your money's worth!

Covering a lot of square footage, Fun City has different rooms and stalls housing different activities. The fire station and hospital come with outfits and hats (don't expect hairnets though), and the playroom has cooking sets, doll houses, and a variety of toys. The play things are scattered all over the place though, as there aren't really any staff members on hand to pick up after the kids.

ADVERTISEMENT - CONTINUE READING BELOW




CONTINUE READING BELOW

Recommended Videos

Other interesting areas are the water machines by the entrance, the sand "box," the gym with obstacles, and the bouncy house.




ADVERTISEMENT - CONTINUE READING BELOW

There is the usual ball pool with slides, and the balls were being run through a machine to be sterilized during our visit, so you at least know they're clean.

More from Smart Parenting




There are also a few things to keep even grownups entertained: a video game station (visitors are requested to limit use to 10 minutes), two videoke rooms, and a dance room where they can play Just Dance. Older kids can play some air hockey or shoot some hoops in The Dome.   

ADVERTISEMENT - CONTINUE READING BELOW




The piece de resistance of Fun City is the fully functional excavator. Kids can put on a vest and hard hat, get on the machine, and dig! Staffers aren't attentive (or even present) and some of the toys are old and worn, but the excavator alone is worth the price of admission!

ADVERTISEMENT - CONTINUE READING BELOW




At the entrance, a sign assures visitors that they'll be given P1,000 if Fun City fails to perform safety measures, such as having your photo taken with your child (in case you intend to leave and come back for him or her later on) and being issued a claim stub. But given the lax personnel, it might be a better idea to stay with your kid.

ADVERTISEMENT - CONTINUE READING BELOW

Fun City is located at the Ground Level, Ali Mall, Araneta Center, Cubao, Quezon City. Open daily from 10:00 a.m. to 9:00 p.m. P250/hour for one child and one adult companion; P350/3 hours. P100 for additional adult companion. Socks are required and are available for purchase at P30/pair.

Trending in Summit Network