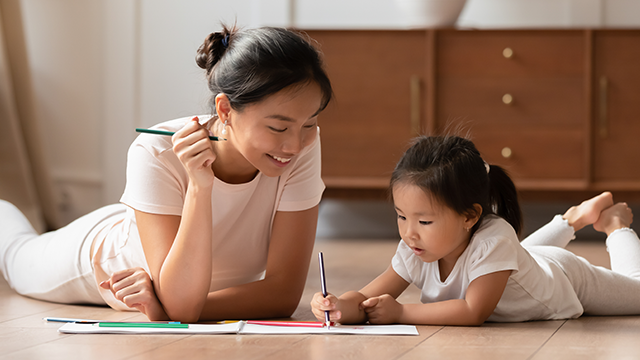 While we want to make sure our kids are still learning even as they spend more time at home, it can be a challenge for many of us, parents, who are working at home. Often, just handing over the TV remote control or a tablet to keep kids busy can become temptingly easy.
Letting them access high-quality online courses and apps is an excellent way to help children continue learning. Still, there are also fun and educational activities that will keep their minds AND bodies active. Here are a few ideas on how to keep kids busy indoors without increasing their screen time:
Read together and tell stories to develop their language skills
Reading to kids has many benefits. It helps develop their imagination and creativity, widen their vocabulary, and forge a stronger bond between the two of you. The more interactive it is—like asking them about the pictures in the book or about what they think will happen next—the more benefits it has for their literacy and communication skills.
[ads:3]
Telling stories and singing songs also help widen your kids' vocabulary and help them communicate. Also, they may even find these more fun!
Stay active together by exercising and playing games
Children under 5 years old need more time for active play to grow up healthy. It's important to flex their muscles—and yours, too! One way you can do this is to clear a space at home to stretch together.
You can also play games to get everyone moving and develop the kids' motor skills. Walk like animals: imitate how snakes slither, frogs hop, and birds fly. Play balloon volleyball and keep it from touching the ground. You can also have dance parties and do limbo rock! Work up a sweat together.
Let the creativity flow with fun arts and crafts projects
Letting your child draw and work on creative projects at home helps develop their creativity and their cognitive skills—and arts and crafts can keep kids busy even as you work from home! Give kids paper and coloring materials to draw with, or introduce more creative projects like paper masks, homemade (and edible) slime, bookmarks, and scrapbooks for the older ones. Parents can even help their kids put together art projects with recycled materials available at home.
[ads:9]
Teach them life skills by getting their help with chores
This may be a good time for your kids to learn household responsibilities and feel that they're making a contribution. One mom even opened a home quarantine store to teach her kids just that.
Toddlers can handle simple tasks like putting their toys away, dusting, and wiping up spills. Preschoolers can do even more, such as clearing the table, making their beds, and emptying trash bins. Get them involved in sorting laundry or preparing easy recipes! Just be sure to be specific with your instructions. Ease into letting them do it by themselves by demonstrating how it's done first.
In these times, it's more important than ever to give your kids the confidence to keep learning and playing—even if it makes a mess! Whether it's from getting dirty and sweaty from play or getting paint and glue all over themselves, every stain is part of your child's journey of discovery. And when you have the right partner, like Breeze, there's no need to worry about removing post-playtime crayon and food stains from clothes! Cleaning up and staying safe at home becomes easy, giving you more time to focus instead on letting kids be kids, and experience life to the fullest.
[ads:13]