Which One Are You? Meet All The Members Of Encanto's Familia Madrigal

Which one represents you best in your own clan?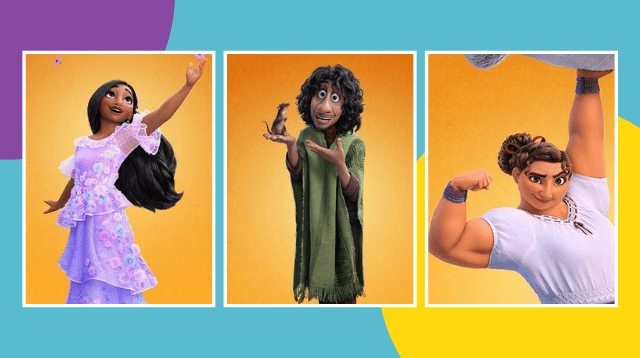 What makes Encanto such an endearing story are the unique characters that make up the Madrigal clan. Those who have watched the movie will have their favorites but it's hard to get past the spunky teenage protagonist, Mirabel.  Despite being the only member of her huge Madrigal family without a magical gift, Mirabel's curiosity, determination, and courage are traits that many young girls and boys would like to emulate. 

It is important to note however, that Mirabel would not be able to accomplish what she is set out to do in the movie without the help of the colorful characters around her. Each carries a unique trait and personality that extend to their magical gift but still, they remain real and relatable.

With the big Madrigal clan, it's easy to get confused who plays which so we made you a list. Tell us which character reminds you of a loved one or, better yet, who reminds you of you?

ADVERTISEMENT - CONTINUE READING BELOW

The Madrigal Family Tree

The matriarch: Alma Madrigal aka Abuela

Abuela is the family matriarch and the one who oversees the magical house and the gifts that everyone carries. On the one hand, she can be warm and tender and then formidable and controlling, on the other. Either way, Abuela only wants the best for her family. Each family has an Abuela, the one with the voice of wisdom, regarded with great respect, and a pillar of strength when a crisis arises.

The hero: Abuelo Pedro

Most Pinoy clans have an Abuelo or grandfather, a war hero whose story we love to recall during family reunions. Despite having no speaking lines, Abuelo Pedro is key in giving the family its magic and some theories even speculate that Abuelo is the Casita itself. When armed assailants forced the Madrigals and their community to leave their neighborhood, Abuelo Pedro stood between the marauders and his family - a heroic act that suddently gave birth to the magical candle, the enchanted house which they call the Casita, and the mountain range that protects the community from outsiders.

CONTINUE READING BELOW

Recommended Videos

The great cook: Julieta

Mirabel's parents make a perfect couple. Julieta, one of Abuela's triplets, is blessed with the gift of cooking foods that heal.  Her gift of healing perfectly matches her motherly and nurturing traits. Food is also central in every Filipino family, and most children would agree that nothing comes close, or is as soothing as their mother's recipes.

ADVERTISEMENT - CONTINUE READING BELOW

The loving husband: Agustin

Julieta's husband Agustin married into the Madrigal family therefore doesn't have a gift like the rest.  However, he is a loving husband to Julieta and an understanding dad to Mirabela and her sisters. He always finds himself being stung by bees but thanks to his healer wife, the swelling doesn't stay for long.

Little miss perfect: Isabela 

Who doesn't want to be her? Isabela is beautiful as she is graceful, and her gift of making flowers bloom at her command matches her attributes.  Mirabel mockingly calls her sister "Senorita Perfecta," but little did she know that Isabela has her inner struggles, too. She doesn't want being perfect all the time and neither does she want to marry the most eligible bachelor in town. By being able to express what she truly feels, Isabela discovered her authentic self and was set free. You are Isabela if you would rather be appreciated for who you really are. 

ADVERTISEMENT - CONTINUE READING BELOW

The strong one: Luisa

Blessed with super strength, Luisa is that reliable member of the family who is always ready to help. She is uncomplaining and is, most of the time, happy to help and lighten someone's burden. Beyond the physical, Luisa is also that person you can confide in, and she will readily listen. Once in a while, it is important to check in on the Luisas in the family because, like the movie, she can't be strong all the time. 

ADVERTISEMENT - CONTINUE READING BELOW

The odd one: Mirabel

Mirabel is truly a ray of sunshine and easy to love. She is an endearing and loving Ate to the young neighborhood kids, especially to her younger cousin, Antonio. However, being the only member without a magical gift, she is understandably restless and wants to know her purpose within the family. In her search, her true gifts are slowly revealed: determination, empathy, intelligence, leadership, authenticity, and compassion. Mirabel is every child in the family who is trying to find who she truly is. Her good values and optimism always win despite the many odds.

The emotional aunt: Pepa

Just like Juliet and Agustin, Pepa and Felix complement each other.  Pepa is Julieta's sister and one of Abuela's triplets. She has the gift of manipulating the weather through her emotions but because she is anxious most of the time, a stormy cloud tends to follow her most of the time.

ADVERTISEMENT - CONTINUE READING BELOW

The big boisterous uncle: Felix

Thanks to Felix's cheery nature, he balances Pepa's moods. Like Agustin, Felix married into the Madrigal clan and therefore has no gift of his own, however his positive disposition is a great balance to the many quirky characters around him.

The reserved 'Marites': Dolores 

Dolores is Mirabel's cousin blessed with 'enhanced hearing' abilities. While it's easy to label her as the 'Marites' or 'gossip monger' of the Madrigal clan, the reality is she can't help it. Her magic leaves her no choice but to hear everything from murmurs to the 'twitching of Luisa's eyes.' It was Dolores who gave Mirabel leads so she can find her Uncle Bruno. Thanks to her sharp ear, she can hear Bruno 'between the walls.' She may be chatty at times and brings the latest news to everyone but she knows when to keep a secret, too. 

ADVERTISEMENT - CONTINUE READING BELOW

The entertainer: Camilo

Camilo is often seen using his shapeshifting gifts both for his and other peoples' amusement. Sometimes he uses this to his advantage like that time when he took the shape of his sister Dolores so he could score extra arepa until his father caught him. Camilo is the happy-go-lucky kid and entertainer of the family. His pranks can be irritating but they are never offensive. This is also the reason why kids love him. If someone in your family makes you laugh all the time, then you are lucky to have a Camilo who is ready to keep the mood light.

ADVERTISEMENT - CONTINUE READING BELOW

The cute bunso: Antonio

Mirabel's cousin Antonio is every cute five-year-old in the family starting to assert his independence but still very much needs the help of someone older. He is anxious about getting a gift but when he does get it, he wastes no time enjoying what was given to him. Antonio was gifted with the ability to talk to animals and his magic brought so much life to the Madrigal home. 

The one labeled as 'malas' or 'black sheep': Bruno 

Mirabel's uncle is a clairvoyant but whose visions are mostly ominous and unfavorable that everyone began to see him as 'bad luck'. This led him to hide and live between the walls of magic Casita instead.  Bruno may be eccentric, shy, and different, but he has the biggest heart. Even while in hiding, he quietly tried to fix the cracks of the Casita to protect the family. He also made the ultimate sacrifice of protecting Mirabel by keeping his vision about the dark future of the Casita to himself. It was only when the rest of the Madrigal began to open their minds about Bruno that they began to understand that just like them, he only wants the best for the family. 

ADVERTISEMENT - CONTINUE READING BELOW

The family home: Casita

The fact that the Casita is alive makes it a vital character in the movie. It is a three-floor living, breathing house with rooms that reflect the magic that each family possesses.  It is always ready to makes things easy for the Madrigal family and will adjust the tiles to make it easier for walking, provide the stairsteps even before one asks, and repair itself when needed. The Casita can feel as well and knows when the family is happy or in trouble. There are theories going around that the Casita is actually Abuela's husband, Pedro. But whether that is the intention of the film, it remains that the story of Encanto will never be the same without the living Casita because it is the only character in the movie that pulls the Madrigal family together. In your clan, which family house is the usual place for get-togethers?

ADVERTISEMENT - CONTINUE READING BELOW

So, which character represents you the most in your own clan? Share away in the comments section!

Read the family lessons parents and kids alike can learn from Disney's Encanto, here.

What other parents are reading

Celebrate your pregnancy milestones!


Enter your details below and receive weekly email guides on your baby's weight and height in cute illustration of Filipino fruits. PLUS get helpful tips from experts, freebies and more!

You're almost there! Check your inbox.


We sent a verification email. Can't find it? Check your spam, junk, and promotions folder.
Trending in Summit Network