Pinay Pediatrician Writes Children's Book to Get Kids to Do Yoga

A doctor and yoga teacher encourages health and reading in her interactive children's book.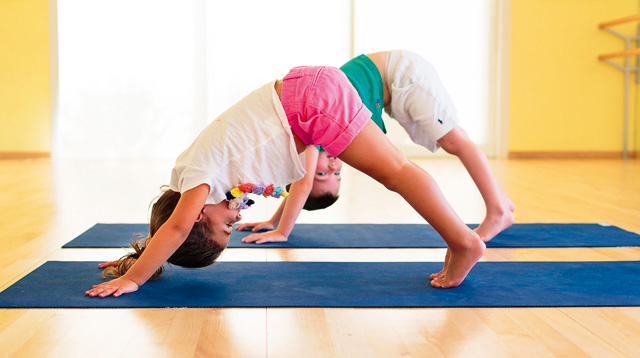 Those looking for a practical exercise routine and those searching for peace of mind have found yoga to be beneficial in many aspects of their health including physical, mental and even spiritual. In fact, it has been shown to provide huge benefits for kids as well. We recently had a story on how yoga can relax hyperactive kids, and another report on how one school uses meditation to help with misbehavior. Now, we've discovered a book by a Filipino pediatrician who wants to spread the good news of yoga for kids

Having first-hand experience with the benefits of yoga, Cagayan de Oro-based Dr. Raissa Paje-Bayawa, a practicing pediatrician and yoga instructor, incorporates the discipline into her practice as a medical professional. With a desire to reach as many Filipino kids as she can, she has written a wonderful children's book to encourage kids to do yoga at home: TODAY Tala's Adventure Begins. 

The book is an interactive storybook for children where kids follow a little girl named Tala as she goes about her day. She manages to weave into the story 14 yoga poses for kids, creatively and enthusiastically demonstrated by little Tala. In the beginning of the story, for example, Tala wakes up to greet the sun with an Upward Salute, a yoga pose where the arms are stretched upwards, perfect for early morning positivity. 

What other parents are reading

Dr. Raissa revealed that she first tried yoga during her medical student days at the Univeristy of the Philippines Diliman and University of the East Ramon Magsaysay Memorial Medical Center. But she really fell in love with it four years ago when she was already a practicing doctor and had more control of her schedule to do yoga regularly. From there, it was all a matter of combining her passions.  

"I love working with children so when I heard about a kids yoga teacher training, I was instantly intrigued!" Dr. Raissa shared in an email interview with SmartParenting.com.ph. The road to become a yoga teacher, she soon realized, was not going to be easy. "Yoga teacher trainings meant being on leave from my clinic and investing a good amount of money. It meant practicing yoga almost every day and studying. And studying. And more studying!" 

Fortunately, her husband Jerome, also a yoga instructor, was by her side throughout her journey. "I remember our conversation that served as a clincher for me," she shared. "He said that I always work with sick children and wouldn't I want a chance to work with children who are well, too. I thought, oh yes!"

Jerome and Dr. Raissa, who is currently eight months pregnant with their first child, a baby girl, practice prenatal yoga together in their home, which they also share with two dogs.

Dr. Raissa, completed training in four yoga schools in total including Kidz Yoga Australia and Birthlight Prenatal and Postnatal Yoga. She spoke to us further about her love of kids and yoga, her book, and what it's like being both a doctor and yoga teacher. 

ADVERTISEMENT - CONTINUE READING BELOW

What other parents are reading

As a pediatrician and yoga instructor, tell us how yoga benefits kids.
Kids yoga is a fun and exciting way of encouraging physical activity and learning in children. It is a form of play where kids can enjoy being active, be confident about themselves as they learn about the world and the people around them, and trust and share experiences with other children.

Some of the wonderful benefits of kids yoga are:

It promotes and maintains strength and flexibility of children's growing bodies, and over-all health of body and mind.
It teaches concentration, body awareness, responsibility, creativity and discipline.
It fosters kindness to others and good social skills in the setting of a group class.

For kids with special needs: 

It helps increase muscle tone and promote strength of core, arms and legs.
It helps develop balance and body awareness.
It develops a sense of achievement and gratitude for accomplishing even the little things.
They have fun, learn something new, and meet new friends in a group class!

What advantages does yoga have compared to other physical activities that also promote health like swimming, running or basketball?
Yoga is a great complement to any of the sports you mentioned. Athletes actually practice it for their cross-training. Yoga is a non-competitive practice; any child or adult can begin their practice coming from any background and regardless of their level of physical fitness. Yoga can also be "customized" for the practitioner so that those with ailments, like scoliosis and Down Syndrome, for example, can still do yoga. 

CONTINUE READING BELOW

Recommended Videos

What other parents are reading

When did you decide you wanted to make a yoga book for children? What inspired you?
To write a storybook for children was a dream that preceded my dream of becoming a doctor. I've always loved children's books since I was very young! I'm an avid collector of picture-books and storybooks for children.

I've had the story for my book in my notes right after I became a kids yoga instructor back in 2013. But it was not until last year that I really felt compelled to write down the details and make my dream a reality. At that time, my husband and I already decided that we would relocate to Cagayan de Oro City. A big part of me did not want to leave my pediatric patients and my kids yoga students in Manila! (In Manila, I would be at the clinic five times a week, then teach yoga three times a week. I even taught on Sundays!) So I thought that my book could be a way for me to still be a part of their childhood--of their lives--even if I am not with them anymore. In a manner of speaking, the kids under my care inspired me to create my book.

What's your schedule like now?
Hectic but fun and fulfilling! We moved to Cagayan de Oro City early this year, and since then I taught kids yoga in a couple of schools here during the summer and I also taught in our mini-studio at home. Though for now, since I am pregnant, I am mainly teaching prenatal yoga. After I give birth, I will teach postnatal yoga with babies and go back to teaching kids yoga again and yoga for adults, too.

I hold clinic most days of the week in Capitol University Medical Center and Maria Reyna Xavier University Hospital. For our yoga classes, I am currently teaching at our cozy space, Mana Movement Studio. For complete details, you can check our Facebook page.

ADVERTISEMENT - CONTINUE READING BELOW

What other parents are reading

The great thing about yoga is that it's portable and needs no special equipment, but perhaps that can make it less exciting for kids. As a supplement to your book, how else can a parent make yoga more enticing to kids? 
A tip would be to really engage the kids not just by reading the words in my book but also encouraging the kids to contribute to the story. Encourage them to really participate! For example, when I use my book in a kids yoga class, I would ask the kids to tell me what kind of a tree they want to be while we stand in tree pose. Or I would tell the kids that we will ride the waves five times and so we count and breathe one to five as we do the surfer (Warrior II) pose.

If a parent who buys your book has never practiced yoga, how does she and her kid start?
Oh, that's easy! Just find some floor space and read the story. Do the yoga poses that Tala is doing in each page and HAVE FUN with the kids!

TODAY Tala's Adventure Begins (hardbound) is available online via Milk&Honey for P545 and in several locations in Metro Manila, Cebu City, Davao City and Cagayan de Oro City. Learn more and connect with Dr. Raissa on Facebook and her blog Doctorraissa.com. 

ADVERTISEMENT - CONTINUE READING BELOW

Celebrate your pregnancy milestones!


Enter your details below and receive weekly email guides on your baby's weight and height in cute illustration of Filipino fruits. PLUS get helpful tips from experts, freebies and more!

You're almost there! Check your inbox.


We sent a verification email. Can't find it? Check your spam, junk, and promotions folder.
Trending in Summit Network