As a pregnant working woman, finding the time to prepare healthy meals to bring to work can be very challenging. Sometimes it's tempting and easier to order takeout and get fastfood than make your own meals. But because you need to be conscious about what you put in your body, you really have to make an effort to craft quick, easy and delicious meals everyday.
Sandwiches, finger food, salads and soups can be great options. You can also make your lunch and afternoon treats healthier and more interesting by using a variety of fresh ingredients like Arla Cheesy Spread. Real cheese like Arla Cheesy Spread is made from almost 90% fresh cow's milk. It is packed with Calcium and Vitamin A - great for a pregnant woman's body!
Here are a couple of easy recipes and packing ideas to help you maintain a healthy body and give your unborn baby the essential nutrients he needs.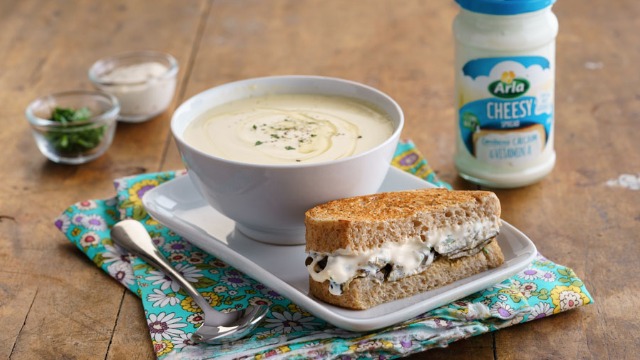 Creamy Potato Soup With Cheese
Now to beat the midweek stress at work, try out this delicious and creamy potato soup! You can have it with buttered wheat bread, garlic toast or some crackers.
2 cups cooked chicken, shredded or cut into thin strips
1 large onion, chopped
6 potatoes, peeled and cut into cubes
4 1/2 cups water
1 teaspoon salt
Arla Cheesy Spread, chopped
1/4 cup chopped scallions / chives
1 In a large saucepan, heat the chicken until soft
2 Add chopped onions, stirring occasionally for about 5 minutes or until translucent
3 Stir in the potatoes, water and salt and bring to a boil
4 Reduce the heat, cover and let it simmer, stirring occasionally, until the potatoes are tender
5 Add the chopped Arla Cheesy Spread and stir until melted
6 Remove the pan from the heat, add some salt and pepper to taste
You can serve this in jars and store in the fridge until you are about to go to work. You can top it with chopped scallions and more cheese before heating in the microwave. This creamy and cheesy soupd is also perfect with homemade garlic bread you can make ahead of time.
Grilled Eggplant And Cheese Panini
Here's a nice way to serve eggplant and cheese. Eggplants are a great source of dietary fiber and vitamin B1. 
2 tablespoons light mayonnaise
2 tablespoons chopped basil
8 pieces small eggplant, sliced
2 tablespoons olive oil
Wheat bread
Arla Cheesy Spread
Red onion, sliced
Salt
Pepper
1 In a small bowl, combine mayonnaise, basil and olive oil
2 Brush both sides of the eggplant and sprinkle salt and pepper to taste
3 Grill eggplants for 6 minutes or until soft
4 Top eggplants with Arla Cheesy Spread, continue grilling until the cheese melts. Set aside
5 Toast the wheat bread on the grill for 1 to 2 minutes
6 Spread mayo and basil mixture on wheat bread slices
7 Top bread with cheesy eggplant, red onions and the remaining slice of bread
You can serve your sandwich by cutting it into bite-size pieces and putting toothpicks through each slice to keep the eggplant and cheese in place. Then wrap it in foil and store in a mirowavable container.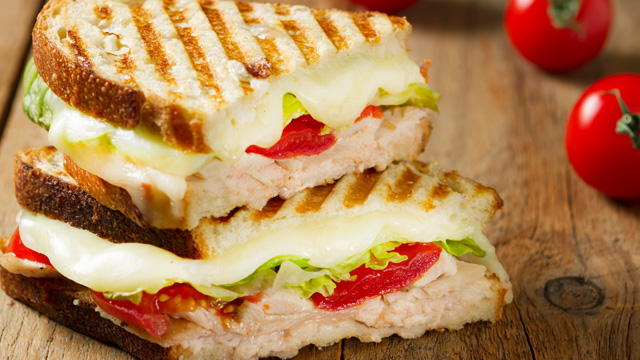 Chicken Salad Sandwich With Cheese
Here's a nice twist to your usual chicken salad - turn it into a spread! Just add Arla Cheesy Spread, which is rich in calcium and protein. This will go perfectly with some fresh fruit juice and tomato soup.
1 cup store-bought rotisserie chicken
½ cup light mayonnaise
1 tablespoon toasted sesame seeds
2 tablespoons sesame oil
2 scallions, chopped
½ red bell pepper
4 pieces wheat bread
Arla Cheesy Spread
Salt
Pepper
1 Pull the meat off the rotisserie chicken and chop into bite-size pieces
2 In a large bowl, combine pulled chicken, mayonnaise, sesame oil, scallions, red bell pepper and toasted sesame seeds
3 Season with salt and pepper to taste
4 Spoon chicken salad on a piece of wheat bread
5 Top chicken salad with Arla Cheesy Spread
6 Sprinkle a couple more of the toasted sesame seeds then top with another piece of wheat bread
You can also melt the cheese in the oven or the microwave first before topping with another piece of bread.
To serve your sandwich, you can slice it into bite size pieces - using a parchment paper, wrap the sliced sandwich and tie using paper twine. You can put in a brown paper lunch bag or use a microwavable container. You can also make a mason jar salad using leafy greens, light dressing ans cherry tomatoes.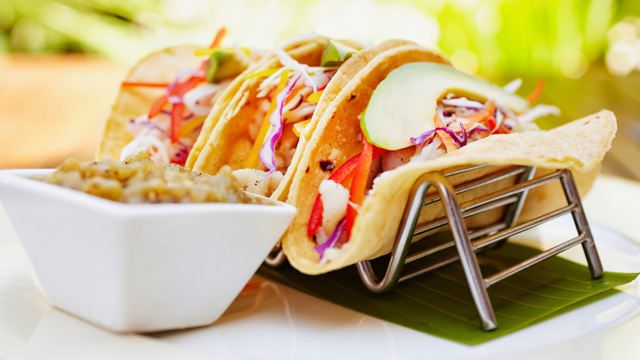 Cabbage and Avocado Tacos with Cheese
If you're a taco lover, here's a nice healthy twist to this savory treat. You can make this in under 10 minutes and it's a perfect snack after a series of meetings or paperwork in the office.
1 whole cabbage, thinly sliced
2 tablespoons freshly squeezed lime juice
1 tablespoon chopped fresh cilantro leaves
2 ripe avocados, pitted, peeled and cut into quarters
8 corn tortillas, warmed
Arla Cheesy Spread
Lime wedges, for serving
1 In a large bowl, toss the cabbage, lime juice and cilantro - season with salt and pepper
2 Using a fork, mash 1 avocado quarter over each tortilla
3 Top with the cabbage mixture and Arla Cheesy Spread
4 Garnish with lime wedges
You can wrap the tacos in foil and bring extra lime wedges and cheese that you can sprinkle on top before eating.