Craving for Carbs? Here Are The Stores Delivering Freshly Baked Bread

Their ovens are still fired up to satisfy your carbs cravings.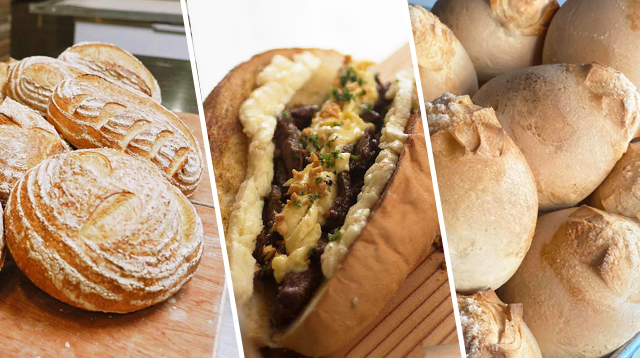 To add some variety to your everyday meals or even just for merienda, Filipinos often turn to bread. We love them nearly as much as we love rice. But due to the quarantine, bread is quite hard to come by. If you've been to a supermarket lately, not only do the lines take almost forever, but also some essentials may not be available depending on what time you arrive or get inside the store to shop.

If you need bread, it's best to check stand-alone stores. Yes, they're open for baking your favorite carb goodies. They're still producing freshly baked bread for those who are craving for it.  

13 stores that deliver freshly baked bread 

We've compiled a list of bread stores that remain open. Due to limited supply, you need to order a day or more in advance. You can pick up your order or have it delivered, subject to courier availability and as an added expense. Some stores take charge of the delivery for an added fee.  Here are bread stores that are still open and baking!  

What other parents are reading

Tinapay Online

ADVERTISEMENT - CONTINUE READING BELOW

Tinapay Online (facebook.com/tinapayonline) delivers freshly baked bread every day to Manila, San Juan, Mandaluyong, Pasig, and near Sta. Mesa customers. Minimum 20 pieces of any bread. Preorder via sending them a message on Facebook, pay via GCash or bank transfer.  

Marikina Bakery

Marikina Bakery is open from 11 a.m. to 8 p.m., but you need to order five days in advance. They arrange for delivery within Marikina, but customers who live outside of the city need to book their own courier to pick up orders for delivery between 4 p.m. to 7.pm. Contact them via Viber (0995) 017-9396 to order.

Buttery & Co.

CONTINUE READING BELOW

Recommended Videos

Open daily from 9 a.m. to 4 p.m., but place your orders one day in advance. Buttery & Co. accept orders for delivery or pick up at Scout Castor St. in Quezon City. Contact them via (0915) 333-3990 or send a message on Instagram (@butteryandco) or Facebook (facebook.com/Butteryandco).

Bianca's Breads

For your bagels, sourdough, ciabatta, dinner rolls, and rye bread, Bianca's Breads (@biancasbreads on Instagram) is ready to deliver them fresh. The delivery fee is Php90 within Metro Manila; free delivery for orders worth more than Php1,000. Payment via bank transfer or +Php25 for cash on delivery payments. 

Jipan

ADVERTISEMENT - CONTINUE READING BELOW

Jipan is open only weekdays from 6 a.m. to 5 p.m. for pick-up and delivery. To order, send a message to (0945) 997-1246 or (0917) 542-0034. They will reply to tell your total bill, the account details for bank transfer payment, and the date of delivery.

What other parents are reading
Trigo When you order bread from Trigo (@trigo_ph on Instagram), you also help send bread to street cleaners, security, and healthcare workers. See their menu on their website. To order, call (0917) 885-7446, (02) 7975-7446 for delivery or pick-up in Baticulin St, San Antonio, Makati City.
Hearty Bread ADVERTISEMENT - CONTINUE READING BELOW
Branches of Hearty Bread (@heartybreadphilippines on Instagram; facebook.com/heartybreadph) in Santolan Plaza, Shangri-La Plaza Mall, Glorietta Makati, Katipunan, and Paseo de Magallanes will cater to your orders. In the south, their Alabang Hub is also operational. Visit their website or contact them at (0917) 110-4225, (0926) 095-5374, (0933) 822-6527 and (02) 7964-2558.
Cinq Dessert Boutique Cinq Dessert Boutique posts its menu daily. They are open for take-out, pick-up, or delivery, which they can arrange for you. Cut off time for orders is at 5 p.m. To order, send a message on Instagram (@cinqdessertboutique on Instagram) or Facebook (facebook.com/cinqdessertboutique) or via (0917) 833-3445.
Salta! by Paparre Ristoranti ADVERTISEMENT - CONTINUE READING BELOW
For now, the Italian restaurant Salta! delivers their bestselling Ube Panrolls with Cream Cheese & Halaya Parmesan Pesto Cheeserolls, and bottled sun-dried tomatoes for delivery. They handle the delivery. To order, send a message on Facebook (facebook.com/saltabypappareph) or text/call (0927) 331-4046.
Boulangerie22
Apart from cakes and pastries, Boulangerie22 also offers bread: Spanish bread, banana bread, and more. Send a message on its Facebook (facebook.com/boulangerie22), Viber (0929) 852-8286, or call (02) 881-09774 to order. 
French Baker
ADVERTISEMENT - CONTINUE READING BELOW
Select branches of French Baker are open to satisfy your carb needs. You can have your bread delivered via GrabFood and Foodpanda.  
Custard Buns Aside from their custard buns in different varieties, you can also request your buns just how some kids want them: char-grilled and not grilled. Sent Custard Buns a message on Facebook (facebook.com/thecustardbuns) or contact them at (0995) 725-5358.
ADVERTISEMENT - CONTINUE READING BELOW
Chuck's Deli + Bakery Apart from delicious sandwiches, Chuck's Deli + Bakery is serving its handmade, frozen bread that you can easily reheat and enjoy at home!? Visit their website for what's available and order from there. 
More bread stores are open to serve but don't deliver. Pan de Manila has several branches open. You can call ahead to reserve your orders and pick them up. They are also available via MetroMart online grocery service. Acacia Estates Pandesal, in Taguig, is also open from 6 a.m. to 4 p.m. You can also get Conti's Bakeshop goodies in select Family Mart branches. Kambal Pandesal by San Miguel also has several store branches that serve freshly baked bread. 
What other parents are reading
Trending in Summit Network