Where To Buy Christmas Ham For Noche Buena, Starting At P500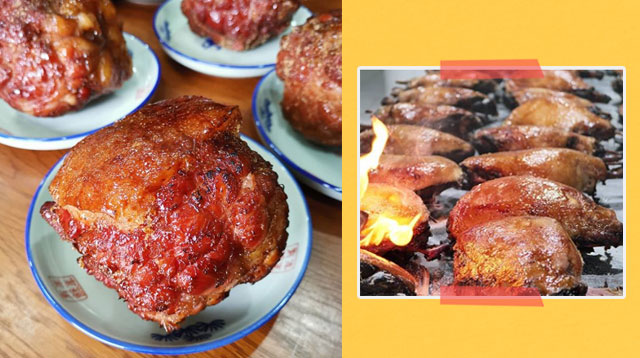 What is the Christmas season or Noche Buena without the holiday ham? For most (if not all) Filipinos, the Christmas season is ham season, whether that means it's paired with hot pandesal or steamed rice. As soon as the 'ber months start, you'll notice grocery freezers stocked with different kinds of ham while home cooks, restaurants, and small stalls are getting orders as we draw closer to Noche Buena.

You need to know now the kind of ham you're getting before all the stocks run out. If you want to try ham that you usually don't find in the grocery, let our list guide you on where to get your ham while staying within your budget!

What other parents are reading
Christmas ham that starts at P500
Roma's Ham & Empanadas
Since 1985, Roma's Homemade Hams has been making premium rolled ham that has a homemade taste with no artificial preservatives, no extenders, no chemicals, and no MSG. When it comes to flavor, the pork loin is smoky and sweet with the exterior slightly coated in white sugar to give it that added crunch.
ADVERTISEMENT - CONTINUE READING BELOW
Prices: The Sweet Loaf Ham is P580 per kilo, Christmas Chicken Ham is P580 per kilo to 1.4 kilos, while the Premium Rolled Ham is P750 per kilo. 
Message Roma's Homemade Hams on Facebook @RomasHamsAndEmpanadas.
Santi's Delicatessen
Besides charcuterie and wines, you can also find Christmas hams in Santi's Delicatessen. Its honey-cured Christmas ham is juicy and moist. If you need an affordable but delicious Noche Buena centerpiece, this is one of your best choices. Great for gift-giving, too!
Prices: The Honey-Cured Ham is priced at P605/one kilo; P757/small 0.95 - 1.25 kilos; P938/medium 1.39 - 1.55 kilos; P1,331/large 1.60 - 2.20 kilos; and P2,118/extra large 2.25 kil - 3.50 kilos.
For the full list of branches, go to www.santis-deli.com. Excelente Chinese Cooked Ham
The indicator you are at the right place in Quiapo is the long queue of customers. They line up for Excelente Cooked Ham just before the store opens. Since Excelente has Chinese roots, the ham is a combination of sweet and savory.
Prices: Cooked Pear-Shaped Ham costs P760 per kilo; Pineapple Sweet Ham costs P880 per kilo; De-Bone Ham costs P1,120 per kilo; Bone-In Ham is priced at P1,160 per kilo; Chinese Ham Sliced with Mixed Syrup costs P1,250 per kilo; the Chinese Ham Sliced with Separate Syrup costs P1,300 per kilo.
Address: 155-157 C. Palanca Street, Manila.
China Mommy
China Mommy, who is known for delicious and authentic Filipino-Chinese food, is now offering the China Mommy Christmas Ham, which uses the owner's mother's recipe from around 30 years ago. It's a Chinese-style ham served with pineapple sauce on the side. This is only available in limited quantities and ordering in advance is required.
ADVERTISEMENT - CONTINUE READING BELOW
Prices: China Mommy Christmas Ham is P880-950 for 800 grams to a kilogram.
Message China Mommy on Instagram at @chinamommyph.
What other parents are reading
Christmas ham that starts at P1,300
Adelina's
Adelina's is known for its Chinese-style cured hams, which uses a recipe that dates back to 1955. It's a sweet, smoky, and salty ham that is served with a sweet, thick (maple syrup-thick) sauce. This tender and juicy ham have a well-balanced flavor that isnât too overwhelming.
Prices: Boneless Ham costs P1,300 per kilo; Whole Leg Bone-In Ham costs P1,400 per kilo; while itâs also available as Sliced Ham for 1,480 per kilo (you can buy a quarter of the slices if you donât need as much)
Call 8706-3772 or message Adelina's Ham on Facebook @adelinashamofficial
The main branch is located at Unit 2 Gomega Condominium, 353 P.Martinez Street, Mandaluyong City. Outlets: They have outlets located at V-Mall, Greenhills and Fiesta Market, Market! Market!
ADVERTISEMENT - CONTINUE READING BELOW
The Plaza Premium Baked Ham
A recipe developed in the '60s, the Plaza Premium Baked Ham is a Swedish-inspired ham that's considered to be a cult-favorite amongst Pinoys. It's sweet and salty: cured, lightly wood-smoked, and then oven-baked. It's finished off with a glaze and a sweet sugary crust. You can pair it with their different sauces, the Premium Glaze (P90), Gustsy Garlic (P110), Wasabi Mayo (P150), and Sweet Mustard (P110).
Prices: The Plaza Premium Baked Ham is P1,300 per kilo. 
Call Petron Dasmarinas branch: 8843-4267 / SM Megamall branch: 8637-9261 / Rustan's branch: 8957-9563 / Petron Lavista branch: 8939-4267.
Main office: GF BJS Compound, 1869 P. Domingo St., Makati City. ADVERTISEMENT - CONTINUE READING BELOW
Majestic Ham
Majestic Ham, founded in 1956, is cured in oak barrels to preserve and lock in the flavor, smoked with special wood, and cooked in spices. After cooking the ham, the final touch includes a sweet glaze that coats the entire hamonado. It has the right amount of saltiness and smokiness to it that deserves a spot at your Noche Buena spread.
Prices: Whole Leg Bone-In Ham costs P1,375 per kilo (minimum weight of 4.5 kilos); Half Leg Bone-In Ham costs P1,375 per kilo (minimum weight of 2.5 kilos); Ham Chunk costs P1,515 per kilo (minimum weight of 3 kilos), and Sliced Ham costs P1,515.
Call 8995-066
Dayrit's Burger and Roastbeef House
Dayrit's Christmas Ham comes with a sweet glaze and pineapples. This sweet and savory Christmas ham is best accompanied by steamed white rice or warm pandesal and queso de bola. When we contacted Dayrit's, they informed us that 90% of their hams are already reserved for the holidays and their restaurants don't always have ham in stock. Itâs best to inquire now and reserve.
ADVERTISEMENT - CONTINUE READING BELOW
Prices: P1,568 for 1.6 kilograms of Christmas Ham.
Contact: (0917) 580-8740
Branches: Paseo De Magallanes: G/F, Mega Center, Paseo de Magallanes, Santiago St, Makati, Metro Manila, and SM BF, G/F, SM BF, Dr. Arcadio Santos Ave, ParaÃaque City.
This story originally appeared on Yummy.ph.
*Minor edits have been made by the SmartParenting.com.ph editors.
What other parents are reading

Trending in Summit Network